Budget 2011 - Government Admin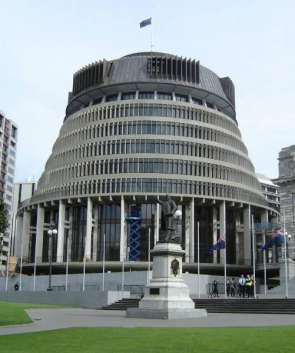 This table outlines the New Zealand Government's planned government administration spending for the 2011/12 budget year.
Actual spending for the previous four years is on the left and includes, for the sake of comparison, the previous Labour Government's final spending in 2008.
The numbers are drawn together from the Vote Audit, Vote Emergency Management, Vote Internal Affairs, Vote Local Government, Vote Ministerial Services, Vote Office of the Clerk, Vote Ombudsmen, Vote Parliamentary Counsel, Vote Parliamentary Service, Vote Prime Minister and Cabinet, Vote State Services, and Vote Statistics.
Links to the primary sources used, from Treasury's website, can be found at the bottom of the page.
Please note that some of the allocation titles have been shortened for the sake of space.
Figures for each allocation are in millions of NZ$.
| | | | | | | |
| --- | --- | --- | --- | --- | --- | --- |
| Actual 2007/08 | Actual 2008/09 | Actual 2009/10 | Forecast 2011/10 | Government Administration: | Budget 2011/12 | % |
| NZ$m | NZ$m | NZ$m | NZ$m |   | NZ$m |   |
| 0.000 | 0.000 | 0.218 | 0.000 | Holding costs for surplus properties | 0.000 | 0.0% |
| 0.846 | 0.000 | 0.000 | 0.000 | Significant community based projects fund | 0.000 | 0.0% |
| 1.000 | 0.000 | 0.000 | 0.000 | Grants to assist in land purchases | 0.000 | 0.0% |
| 4.549 | 0.694 | 0.000 | 0.000 | Parliamentary complex - minor capital works | 0.000 | 0.0% |
| 0.799 | 0.411 | 0.000 | 0.000 | Party and member support - New Zealand First Party | 0.000 | 0.0% |
| 0.000 | 0.000 | 6.457 | 0.000 | State sector industry training services | 0.000 | 0.0% |
| 23.764 | 23.240 | 0.000 | 0.000 | E-government development and operations | 0.000 | 0.0% |
| 21.712 | 13.222 | 0.000 | 0.000 | Government shared network | 0.000 | 0.0% |
| 12.241 | 11.778 | 0.000 | 0.000 | State Services people capability | 0.000 | 0.0% |
| 11.120 | 10.317 | 0.000 | 0.000 | State Services development, governance & performance | 0.000 | 0.0% |
| 2.779 | 0.000 | 0.000 | 0.000 | Mainstream supported employment program | 0.000 | 0.0% |
| 0.301 | 0.000 | 0.000 | 0.000 | KiwiSaver: State sector employer contributions | 0.000 | 0.0% |
| 0.019 | 0.020 | 0.015 | 0.023 | Governors'-General pension arrangements | 0.000 | 0.0% |
| 0.128 | 0.128 | 0.147 | 0.147 | Depreciation - B | 0.000 | 0.0% |
| 0.000 | 0.000 | 0.000 | 5.124 | Recovery from Christchurch Quake | 0.000 | 0.0% |
| 0.000 | 0.232 | 0.566 | 0.210 | Implementation of Auckland governance reforms | 0.000 | 0.0% |
| 0.000 | 0.000 | 0.000 | 0.328 | Loss on Sale of Crown Assets | 0.000 | 0.0% |
| 0.000 | 0.000 | 0.000 | 2.581 | Learning State equity injection | 0.000 | 0.0% |
| 0.000 | 0.000 | 0.000 | 4.100 | Chch Quake National Controller Costs | 0.000 | 0.0% |
| 5.728 | 3.912 | 4.635 | 4.430 | Visits and official events coordination | 0.000 | 0.0% |
| 0.000 | 0.000 | 0.000 | 5.000 | Local Government debt vehicle | 0.000 | 0.0% |
| 0.000 | 0.000 | 0.000 | 5.000 | Ex-gratia Chch Quake Payment | 0.000 | 0.0% |
| 0.000 | 0.000 | 0.000 | 8.000 | Revaluation Loss | 0.000 | 0.0% |
| 0.000 | 0.000 | 30.473 | 69.827 | Loan to the Auckland Transition Agency | 0.000 | 0.0% |
| 2.043 | 6.901 | 12.519 | 50.000 | 2011 Census of population and dwellings | 0.000 | 0.0% |
| 0.000 | 0.000 | 0.007 | 0.007 | Settlement of legal liabilities | 0.007 | 0.0% |
| 0.026 | 0.031 | 0.103 | 0.071 | Miscellaneous grants - Internal Affairs | 0.049 | 0.0% |
| 0.034 | 0.047 | 0.049 | 0.071 | Fees for the Commissioner of Security Warrants | 0.074 | 0.0% |
| 0.116 | 0.116 | 0.116 | 0.116 | Development of on-line authentication services | 0.116 | 0.0% |
| 0.119 | 0.131 | 0.131 | 0.147 | Depreciation - A | 0.147 | 0.0% |
| 0.150 | 0.150 | 0.150 | 0.150 | Audit and assurance services | 0.150 | 0.0% |
| 1.512 | 6.076 | 18.107 | 17.463 | Government House - capital investment | 0.150 | 0.0% |
| 0.000 | 0.000 | 0.000 | 0.000 | Annuities to Former PMs | 0.160 | 0.0% |
| 0.214 | 0.360 | 0.123 | 0.123 | Office of the Ombudsmen - capital expenditure | 0.165 | 0.0% |
| 0.095 | 0.047 | 0.000 | 0.097 | Member support - Independents | 0.169 | 0.0% |
| 0.298 | 0.202 | 0.187 | 0.187 | Party and member support - United Future Party | 0.187 | 0.0% |
| 0.000 | 0.000 | 0.168 | 0.168 | Ex gratia payment to the University of Auckland | 0.218 | 0.0% |
| 0.171 | 0.215 | 0.251 | 0.251 | Party and member support - Progressive Party | 0.251 | 0.0% |
| 0.000 | 0.000 | 0.000 | 0.000 | Governor-General's Travel outside NZ | 0.256 | 0.0% |
| 0.469 | 0.461 | 0.215 | 0.230 | Travel for former GGs and Prime Ministers | 0.270 | 0.0% |
| 0.232 | 0.468 | 0.700 | 0.766 | Dept of the Prime Minister & Cabinet - capital expenditure | 0.300 | 0.0% |
| 0.000 | 0.000 | 0.335 | 0.335 | Science Advisory Committee | 0.407 | 0.0% |
| 0.407 | 0.657 | 0.520 | 1.100 | Annuities to former GGs, PMs and their spouses | 0.435 | 0.0% |
| 0.352 | 0.523 | 0.035 | 0.478 | Public inquiries | 0.496 | 0.0% |
| 0.727 | 0.621 | 0.611 | 0.635 | Remuneration of Ombudsmen | 0.623 | 0.1% |
| 0.831 | 0.907 | 0.919 | 1.279 | Governor-General - remuneration and travel | 0.630 | 0.1% |
| 0.377 | 0.495 | 0.631 | 0.631 | Party and member support - ACT Party | 0.631 | 0.1% |
| 0.660 | 0.657 | 0.889 | 0.821 | Party and member support - Maori Party | 0.698 | 0.1% |
| 0.000 | 0.000 | 0.000 | 0.000 | GG's Programme | 0.730 | 0.1% |
| 2.711 | 0.989 | 1.202 | 1.306 | Inter-parliamentary relations | 0.766 | 0.1% |
| 0.699 | 0.716 | 0.662 | 0.803 | Remuneration of Auditor-General and deputy | 0.803 | 0.1% |
| 0.710 | 0.866 | 1.136 | 4.599 | Policy advice | 0.836 | 0.1% |
| 0.889 | 0.889 | 0.889 | 0.889 | Subsidies to local government | 0.889 | 0.1% |
| 1.139 | 0.834 | 0.800 | 0.958 | Contestable services | 0.908 | 0.1% |
| 0.868 | 0.927 | 0.879 | 0.977 | Policy advice – emergency management | 0.957 | 0.1% |
| 0.017 | 0.169 | 0.034 | 0.034 | Capital investments - Lake Taupo | 0.978 | 0.1% |
| 0.687 | 1.806 | 1.890 | 1.325 | Office of the Clerk of the House - capital expenditure | 1.122 | 0.1% |
| 0.864 | 1.076 | 1.246 | 1.246 | Party and member support - Green Party | 1.246 | 0.1% |
| 0.000 | 0.000 | 0.000 | 1.077 | Pike River Mine Commisions of Inquiry | 1.464 | 0.1% |
| 12.838 | 1.500 | 1.500 | 1.500 | Tuwharetoa Maori Trust Board | 1.500 | 0.1% |
| 0.000 | 0.000 | 0.000 | 0.000 | Crown Assets at Lake Taupo | 1.797 | 0.2% |
| 0.779 | 1.511 | 1.197 | 1.045 | Controller and Auditor-General - capital expenditure | 1.800 | 0.2% |
| 1.960 | 1.960 | 1.960 | 1.960 | Classification of films, videos and publications | 1.960 | 0.2% |
| 0.700 | 4.160 | 1.710 | 1.708 | Depreciation expenses on crown assets | 1.962 | 0.2% |
| 1.849 | 1.363 | 2.424 | 19.222 | Emergency expenses | 2.000 | 0.2% |
| 1.773 | 1.673 | 2.426 | 2.546 | Members' communications | 2.426 | 0.2% |
| 0.000 | 0.000 | 0.467 | 1.442 | Anti-money laundering & countering finance of terrorism | 2.500 | 0.2% |
| 2.315 | 2.457 | 2.460 | 2.310 | Supporting accountability to parliament | 2.860 | 0.3% |
| 0.000 | 0.000 | 0.000 | 0.000 | Gross Govt ICT Invest Proposals | 3.000 | 0.3% |
| 5.466 | 5.080 | 4.176 | 3.499 | Information, support and regulatory services - local government | 3.433 | 0.3% |
| 3.506 | 3.491 | 3.501 | 4.318 | Support services to the GG and maintenance of residences | 3.514 | 0.3% |
| 3.436 | 3.056 | 4.754 | 2.525 | Parliamentary Counsel Office - capital expenditure | 3.585 | 0.3% |
| 1.721 | 1.828 | 1.613 | 2.167 | Chatham Islands Council | 3.733 | 0.3% |
| 3.916 | 3.985 | 4.392 | 5.064 | Management of national emergency effort | 4.201 | 0.4% |
| 4.107 | 4.760 | 4.243 | 4.145 | Policy advice - Internal Affairs | 4.262 | 0.4% |
| 0.000 | 0.000 | 0.000 | 5.407 | Official Visits and Event Coordination | 4.435 | 0.4% |
| 9.731 | 7.182 | 1.525 | 1.055 | State Services Commission - capital expenditure | 4.750 | 0.4% |
| 7.093 | 6.679 | 5.582 | 6.700 | Parliamentary Service - capital expenditure | 4.770 | 0.4% |
| 3.339 | 3.378 | 3.413 | 3.780 | Intelligence assessments to support national security | 5.597 | 0.5% |
| 6.192 | 5.621 | 6.218 | 6.664 | Support services, information and education | 5.794 | 0.5% |
| 0.000 | 1.981 | 1.744 | 3.962 | Crown asset management | 5.873 | 0.5% |
| 4.653 | 5.712 | 6.144 | 6.144 | Party and member support - Labour Party | 5.994 | 0.5% |
| 4.228 | 5.670 | 5.691 | 5.982 | Services for Ethnic Affairs | 6.243 | 0.6% |
| 6.062 | 7.741 | 7.177 | 6.731 | Policy advice - local government | 6.489 | 0.6% |
| 6.743 | 6.713 | 6.321 | 7.345 | Personnel and accounting services to MPs and others | 6.516 | 0.6% |
| 3.003 | 4.444 | 2.972 | 3.018 | Information and advisory services | 6.549 | 0.6% |
| 6.223 | 6.159 | 6.587 | 6.237 | Performance audits and inquiries | 6.587 | 0.6% |
| 0.000 | 0.000 | 11.933 | 10.483 | Government Technology Services | 6.989 | 0.6% |
| 6.876 | 6.058 | 7.122 | 7.122 | Party and member support - National Party | 7.122 | 0.6% |
| 8.774 | 8.250 | 8.039 | 6.813 | Policy advice and Secretariat and coordination services | 7.170 | 0.7% |
| 7.303 | 7.653 | 7.399 | 7.468 | VIP transport | 7.947 | 0.7% |
| 6.148 | 6.854 | 7.407 | 7.957 | Investigation of complaints about government administration | 8.075 | 0.7% |
| 7.194 | 7.922 | 7.794 | 8.385 | Executive Council and members of the executive's salaries and allowances | 8.400 | 0.8% |
| 8.958 | 8.267 | 8.776 | 9.548 | Law drafting services | 9.595 | 0.9% |
| 0.000 | 0.000 | 0.000 | 0.000 | Support Services for Grant Funding Bodies | 9.699 | 0.9% |
| 0.000 | 0.000 | 11.492 | 11.134 | Public management system | 9.783 | 0.9% |
| 10.300 | 10.803 | 11.000 | 11.000 | Travel of members and others | 11.000 | 1.0% |
| 9.150 | 10.014 | 10.524 | 8.719 | Access to legislation | 11.646 | 1.1% |
| 10.596 | 11.278 | 11.740 | 11.590 | Members of the executive's internal and external travel | 11.790 | 1.1% |
| 10.960 | 10.787 | 11.274 | 12.474 | Depreciation expense on parliamentary complex | 12.474 | 1.1% |
| 11.502 | 12.605 | 13.748 | 12.416 | Remuneration and employment costs of chief executives | 13.235 | 1.2% |
| 10.863 | 13.177 | 14.014 | 14.491 | Parliamentary information services | 13.386 | 1.2% |
| 14.461 | 18.167 | 17.929 | 17.470 | Secretariat services for the House of Rep. | 17.263 | 1.6% |
| 14.407 | 14.110 | 15.045 | 12.411 | Coordination of Government statistical activities | 17.685 | 1.6% |
| 16.014 | 17.282 | 17.022 | 18.000 | MPs salaries and allowances | 18.000 | 1.6% |
| 14.854 | 17.187 | 17.696 | 18.823 | Services to members | 18.255 | 1.7% |
| 0.000 | 0.000 | 17.737 | 20.364 | Chief executive and agency performance management | 18.914 | 1.7% |
| 0.000 | 0.000 | 12.100 | 12.108 | Statistics New Zealand - capital expenditure | 22.000 | 2.0% |
| 25.494 | 25.166 | 25.797 | 26.248 | Regulatory services | 25.982 | 2.4% |
| 26.663 | 30.154 | 27.072 | 26.786 | Support services to members of the executive | 26.852 | 2.4% |
| 25.301 | 27.414 | 27.578 | 28.163 | Building and operations management | 28.225 | 2.6% |
| 30.951 | 31.356 | 30.680 | 30.582 | Economic and business statistical information services | 37.899 | 3.4% |
| 44.786 | 52.597 | 47.600 | 51.872 | Rates rebate scheme | 60.000 | 5.5% |
| 42.514 | 42.536 | 48.310 | 43.373 | Population, social and labour force information services | 60.167 | 5.5% |
| 58.474 | 60.452 | 62.937 | 64.797 | Audit and assurance services | 71.451 | 6.5% |
| 10.025 | 35.082 | 31.786 | 44.209 | Department of Internal Affairs - capital expenditure | 72.891 | 6.6% |
| 0.000 | 13.922 | 80.000 | 85.000 | KiwiSaver: State Sector employer contributions | 95.000 | 8.6% |
| 97.780 | 106.167 | 104.606 | 100.000 | State Sector Super Scheme: employer contributions | 104.606 | 9.5% |
| 86.226 | 84.704 | 95.823 | 112.367 | Identity services | 125.536 | 11.4% |
|   |   |   |   |   |   |   |
| 820.60 | 879.4 | 1,000.20 | 1,157.40 | Totals: | $1,100.50 | 100.0% |
You can get back to the main page that summarises all government spending here >>
Sources:
Audit: http://treasury.govt.nz/budget/2011/estimates/est11audit.pdf
Emergency Management: http://treasury.govt.nz/budget/2011/estimates/est11emerg.pdf
Internal Affairs: http://treasury.govt.nz/budget/2011/estimates/est11intaff.pdf
Local Government: http://treasury.govt.nz/budget/2011/estimates/est11locgov.pdf
Ministerial Services: http://treasury.govt.nz/budget/2011/estimates/est11minser.pdf
Office of the Clerk: http://treasury.govt.nz/budget/2011/estimates/est11offcle.pdf
Ombudsmen: http://treasury.govt.nz/budget/2011/estimates/est11ombud.pdf
Parliamentary Counsel: http://treasury.govt.nz/budget/2011/estimates/est11parcou.pdf
Parliamentary Service: http://treasury.govt.nz/budget/2011/estimates/est11parser.pdf
Prime Minister and Cabinet: http://treasury.govt.nz/budget/2011/estimates/est11pmcab.pdf
State Services: http://treasury.govt.nz/budget/2011/estimates/est11staser.pdf
Statistics: http://treasury.govt.nz/budget/2011/estimates/est11stat.pdf