Treasury's Budget 2011 forecasts more optimistic than achievable, Barclays Capital says
By Alex Tarrant
Surplus, GDP and debt forecasts put forward from Treasury in Budget 2011 appear "more optimistic than achievable," Barclays Capital economists say.
Treasury is forecasting government will return its books to surplus in the 2014/15 year, with net public debt hitting a peak of 29.6% of GDP in 2015. Most commentators have labeled the forecasts, which also predict wage growth will be about 2% above inflation over the next three years, as optimistic, although the government has come out in defence of Treasury's predictions.
While the Treasury consistently underestimated the fiscal surplus between 2003 and 2008, it had since consistently underestimated the subsequent deficits, Barclays Capital economist Joaquin Vespignani said in a research note on the budget.
Barclays Capital economists calculated the average error in Treasury forecasts over the past five and ten year periods, with calculations showing the debt track could be worse than expected, and in line with more pessamistic Reserve Bank forecasts.
"We amended the NZ Treasury's current forecasts for the fiscal balance by adding the average errors in its forecasts over the past 5 and 10 years. These errors have averaged 0.6% per ammum over the past 10 years and 1.4% pa over the past 5 years," they said.
Barclays economists also estimated the impact of Treasury's forecast deviations on net sovereign debt.
"Applying the 10-year average forecast error results in a sovereign debt load as a % of GDP of c.38% by 2015, while the 5-year average error produces nearly 42%. These estimates are in line with the latest's RBNZ's estimation," they said.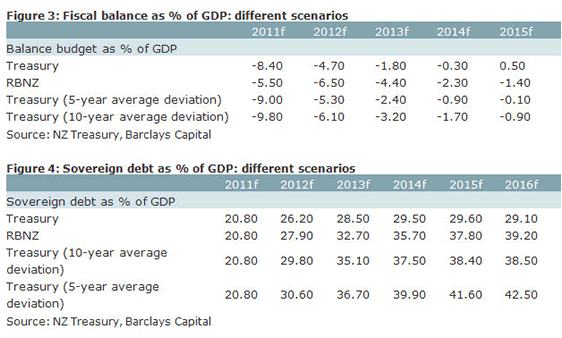 The Barclays economists also charted Treasury's government fiscal balance and GDP forecasts with the results, saying Treasury had underestimated surpluses, but had been too optimistic on deficits: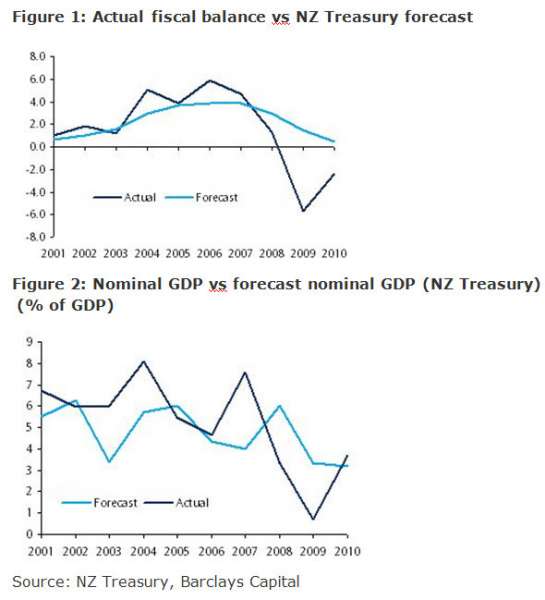 Key defends Treasury
Meanwhile following criticism of Treasury's forecasts, Prime Minister John Key last night moved to defend the predictions.
"There has been some commentary about the Treasury's budget forecasts for jobs and growth, suggesting they are too optimistic. Treasury's independent forecasts are in the pack of other forecasts. In fact, a number of them have described the budget forecasts as conservative," Key said at his post-cabinet media conference on Monday.
"Remember, Treasury is forecasting 1.8% growth in the year ending March 2012, and 4% growth in the year ending March 2013. That is not aggressive compared to previous recoveries," he said.
"If I was just to have a look briefly at the forecast comparisons that other banks have got, ANZ says: 'We think the Treasury has been a bit conservative in this regard, and we see upside risk to the tax revenue numbers'; BNZ says: 'Can we thus get the growth forecasts by Treasury needed to achieve the revenue objectives? – the answer, probably. Our forecasts for economic growth are not significantly different to Treasury'.
"Deutche Bank says: 'These forecasts are a little bit weaker than our own, and thus a prudent base for the government's fiscal planning'; Goldman Sachs says: 'overall, Treasury's economic forecasts are broadly similar to our own'; Westpac says: 'if anything, the Treasury's economic assumptions seem fairly conservative'."