Serious Fraud Office charges Allan Hubbard with 50 counts of criminal fraud in Timaru District Court. Hubbard lawyers 'strenuously deny' charges.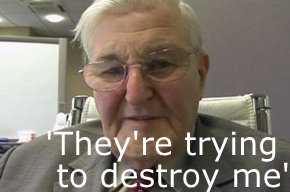 By Bernard Hickey
The Serious Fraud Office (SFO) has announced it has laid 50 charges against South Canterbury Finance President for Life Allan Hubbard that could see him face 10 years in jail.
Hubbard's lawyer has strenuously denied the charges and said the year-long process of investigation breached the octogenarian's rights.
Hubbard faces up to 10 years in prison if the charges are proven relating to a 'false statement by a promoter' (Section 242 of the Crimes Act), 7 years for ''theft by a person in a special relationship' (Section 260) and up to 10 years for 'false accounting' (Section 260). See details here of Crimes Act.
The decision to charge Hubbard but not his wife Jean with serious fraud ends months of uncertainty and will shock many of his supporters in Timaru who believe he is being persecuted in the wake of the collapse of South Canterbury Finance and Hubbard's Aorangi Securities.
"After an exhaustive investigation, we have concluded that there is sufficient evidence to lay fraud charges against Mr Hubbard," SFO Chief Executive Adam Feeley said in a statement.
The SFO said it did not intend to lay charges against Hubbard's wife and fellow Aorangi director Jean Hubbard.
Financial Markets Authority (FMA) Chief Executive Sean Hughes said the FMA had closed its investigation into Hubbard as it was satisfied any SFO action was proporationate.
Feeley said there were aspects of the case which challenged the conventional concepts of serious fraud.
"Whatever the public may think, in considering whether serious fraud has been committed, the motives or lifestyle of an alleged offender are ultimately irrelevant. We have to consider matters such as whether deceit has occurred; the losses caused by that that deceit; and whether the facts meet the prescribed elements of one or more criminal offences," Feeley said.
"Throughout the investigation we have been aware of the level of public interest in, and support for, Mr Hubbard, and the issues of Mr Hubbard's age and health which have been raised by his lawyers," he said.
"We are satisfied that, on balance, there is strong public interest in having this matter put before the Court, and any issues regarding fitness to stand trial will be matters for the Court to adjudicate on," he said.
The Hubbards were put in statutory management a year ago after the SFO received a tip-off about investment practices made by Allan Hubbard through his company, Aorangi Securities Limited. Another investment vehicle, Hubbard Funds Management and seven charitable trusts were also placed in statutory management.
'Strenuously denied'
Mike Heron from Russell McVeagh, who is representing Hubbard, said he had not seen the charges yet, but understood the SFO had not alleged Hubbard had stolen money or benefited personally.
"The charges are strenuously denied by Mr Hubbard. They mark the end of a process which, in our view, has been fundamentally unfair and amounts of a clear breach of Mr Hubbard's rights," said  Heron.
"We intend to file an application to stop the prosecution at the appropriate stage," Heron said in a statement.
Hubbard told the NZ Herald the SFO seemed intent on destroying him and he challenged the decision to pursue him.
"I suppose it is designed to destroy me ... but I see they are abandoning Hotchin now."
Viaduct Capital and Mutual Finance
Meanwhile, the SFO said it had closed its investigation into Viaduct Capital and Mutual Finance after finding insufficient evidence of fraud, however it said it found some concerning information which it had referred to the FMA.
(Updates with SFO statement, Russell McVeagh statement, Details on Viaduct Capital and Mutual Finance, Comment from Hubbard)