Air New Zealand, struggling with high fuel prices and earthquake fallout, eyes first bond issue in 20 years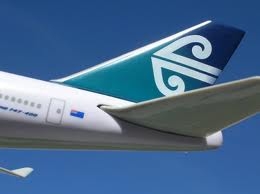 By Gareth Vaughan
Air New Zealand is understood to be mulling its first bond issue since 1991.
Interest.co.nz understands the national carrier, with the assistance of First NZ Capital, is testing investor appetite for a bond issue. The type of any issue, length of term and amount of money sought through any issue remain unclear.
Asked about a possible bond issue an Air New Zealand spokeswoman said the company, which is 74.69% government owned and bought a 14.99% stake in Virgin Blue earlier this year for A$145 million, didn't comment on rumour or speculation regarding financing.
News that Air New Zealand is considering a bond offer comes at a quiet time for the domestic corporate bond market where, aside from Z Energy's up to NZ$150 million seven-year issue that will pay investors' 7.25% per annum, there's a dearth of issuance.
Kiwi corporates are, however, eyeing cheap funding in offshore markets with several tipped to tap the US private placement market in coming months and Fonterra having just raised A$300 million in its first Australian bond issue at a spread of just 100 basis points over the five-year swap rate. Fonterra also recently raised about NZ$56 million in its first Yuan denominated issue. That issue will pay investors' interest of just 1.1% per annum.
Long time between drinks
Air New Zealand's last bond issue was a wholesale issue in 1991. Moody's Investor Services has a Baa3 credit rating on Air New Zealand, its lowest investment grade rating with a negative outlook.
In March Moody's changed the outlook on the rating to negative from stable. It said this reflected heightened operating uncertainty and the incremental effects of the Christchurch and Japanese earthquakes, on top of the high jet fuel price, on Air New Zealand.
Moody's move came after Air New Zealand said on March 15 it didn't expect to be profitable in the second-half of its financial year (January 1 to June 30) and full-year normalised earnings were expected to fall below NZ$100 million compared with NZ$137 million last year. The airline said the financial impact of the February 22 Christchurch earthquake was more severe than previously expected, and the Japanese earthquake and Tsunami on March 11 would also impact revenue in an important market. It also cited high fuel prices and passenger demand trends.
For the six months to December 31, 2010 Air New Zealand had normalised earnings before tax of NZ$112 million, including an NZ$18 million gain on equity swaps. This was up 17% from NZ$96 million in the same period of the previous year. Normalised earnings exclude the net impact of derivatives that hedge exposures in other financial periods. As of December 31, the airline had net cash of NZ$940 million and gearing of 42.8%.
In its interim results presentation Air New Zealand said it  had its operating cash flow exposure for the second half-year (January to June) hedged at an average New Zealand dollar to US dollar rate of 70 cents. Based on a US75c exchange rate, and the New Zealand dollar has been trading above US80c, hedge losses for the second half would be NZ$38 million on top of the NZ$75 million losses realised in the first half, Air New Zealand said. See Air New Zealand's fuel hedge position as of May 19 here.
This article was first published in our email for paid subscribers this morning. See here for more details and to subscribe.