NZ's biggest insurer of churches and heritage buildings stops covering earthquakes across NZ; Zurich also pulls quake cover in Wellington, ChCh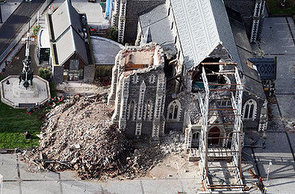 By Bernard Hickey
New Zealand's largest insurer of churches and heritage buildings announced late on Thursday it will stop offering earthquake coverage throughout the country.

The British-owned Ansvar Insurance suffered NZ$700 million of losses in the Christchurch Earthquakes, including losses on the Anglican and Catholic cathedrals and the Christchurch Arts Centre.

It is the first insurer to stop offering earthquake coverage nationally since the devastating series of quakes that are expected to cost insurers over NZ$15 billion. It raises fears that insurers and reinsurers worried about further aftershocks may stop offering earthquake cover across New Zealand, forcing the government to step with its own expanded scheme or coverage. Parts of Japan and California are practically uninsurable for earthquakes because of sky-high premiums.

Ansvar's Australia and NZ Chief Executive Andrew Moon said the scale of the damage was much greater for Ansvar relative to its business than for other insurers because of the number of stone buildings it insured. The risk of future earthquakes and the prohibitive cost of reinsurance had forced the decision, Moon told Interest.co.nz from Australia.


"We just can't expose ourselves to the risk," Mr Moon said.
Ansvar's damages bill represented a multiple of 20 times its annual premiums, whereas the industry generally had suffered damages of about 4-5 times premiums.

Ansvar's decision to drop earthquake cover for all of New Zealand is the first by a New Zealand insurer and comes just days after Earthquake Recovery Minister Gerry Brownlee accused the Insurance Council of scaremongering by claiming that New Zealanders may not be able to get earthquake coverage in future.

Brownlee returned from Monaco last week expressing confidence that reinsurers would return to New Zealand to offer earthquake coverage once the aftershocks had settled.
Brownlee confident
Brownlee told Interest.co.nz he was confident the withdrawal of Ansvar and Zurich would not spread to the other larger insurers.
"I'm not pessimistic. We're seeing an unfolding of positions. Some will come and some will go," Mr Brownlee said, adding he also expected reinsurers would return to New Zealand.

"We've spoken to the five big reinsurers and we know there's capital. The issue is going to be the price," he said.

Ansvar will continue to offer other types of insurance directly from its Australian branch. It insures around 40% of New Zealand's churches, along with many heritage buildings, rest homes and charity buildings. It has also indicated it would refer customers who wanted earthquake coverage to other insurers.
"We are also exploring whether it might be possible to provide future protection, either by offering earthquake cover as a standalone product or potentially as part of a broader cover, through an underwriting agency," said Michael Tripp, the Group Chief Executive of Ecclesiastical Insurance Office Plc, which is the UK-listed parent of Ansvar.
Ecclesiastical announced the withdrawal in a statement to the London Stock Exchange late on Thursday. It said there was no change in Ansvar's staffing levels in New Zealand, where it has 33 staff.

Customers with existing annual contracts would still be covered, but would not be renewed for earthquake coverage once the policy matured.
Ansvar's decision followed an announcement from insurance credit rater AM Best that it had downgraded Ansvar NZ's financial strength rating to B++ (good) from A- (excellent) and had placed the rating on review while Ansvar discussed its future with its British parent Ecclesiastical Insurance Office Plc.
"The rating actions reflect Ansvar New Zealand's weakened risk-adjusted capitalization and its significantly higher levels of reinsurance recoverables following the successive Christchurch earthquakes between September 2010 and June 2011," AM Best said.
Zurich pulls quake cover for Wellington, Christchurch
Swiss insurance giant Zurich also announced this week it would stop writing new earthquake cover for areas outside of Auckland, Northland and Waikato, which means the most earthquake prone areas of Wellington and Christchurch would no longer be covered.

"We are all experiencing challenges in our trading conditions following the Canterbury earthquakes and we face the need to actively manage our exposure to earthquake accumulation," Zurich's New Zealand General Manager Adrian Riminton said in a note to brokers announcing the changes that was obtained by Interest.co.nz.

Insurance Council of New Zealand Chief Executive Chris Ryan said he was not overly concerned by the decisions by Ansvar and Zurich to remove and reduce earthquake coverage respectively. He said they represented only a small part of the market and competitors were likely to fill the gaps created.

"I don't think it's a significant problem. When they leave and create a hole, others will tend to fill it," Ryan told Interest.co.nz.

Industry figures show the combined written premium of Ansvar and Zurich is around NZ$50 million, which represents 1.5% of the NZ$3.3 billion of premium written annually.
(Updated with comments from Brownlee, Michael Tripp, Chris Ryan)