Commerce Minister Simon Power joining Westpac, heading up banking services to its wealthy 'premium' personal customers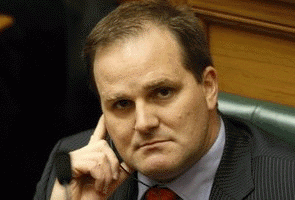 Commerce and Justice Minister Simon Power is to join Westpac New Zealand as head of its private bank in January.
Westpac says Power, who is quitting politics at the November 26 election, will bring a range of skills and experience to the position that fitted well with the purpose and focus of its private bank, which provides relationship banking services to premium - wealthy - personal customers.
"We are enormously excited to be joined by someone with such an outstanding record of leadership and achievement at the highest level," Westpac NZ CEO George Frazis says.
Meanwhile, Westpac quotes Power saying he's looking forward to a new challenge and a new environment.
"This is the beginning of a new and exciting chapter in my career," says Power. "One of my objectives after leaving Parliament is to contribute to the growth of New Zealand in the private sector and I feel that with my experience in working with and implementing change I can do that."
Power, 41, will join Westpac in January next year after 12 years as the Member of Parliament for Rangitikei and the past three as a Cabinet Minister.
Westpac Private Bank's website says membership is at the discretion of Westpac and typically requires a household income of NZ$250,000 and more than NZ$1 million in assets, excluding the customer's home.