Tax cuts, lower interest rates slice NZ$100 million off government's tax take
By Gareth Vaughan
The government's take from withholding tax on residents' interest dropped by NZ$100 million in the June year as interest rates fell and the government lowered Resident Withholding Tax rates.
Based on Treasury figures monitored by interest.co.nz, withholding tax collected from interest paid by New Zealand residents in the year to June 30 was NZ$1.704 billion, down from NZ$1.804 billion in the year to June 2010.
The tax is deducted from a New Zealand tax resident customer's interest income before they receive it. At October 1 last year the government cut Resident Withholding Tax rates, alongside its income tax cuts, with the key rates dropping to 30% from 33% and to 33% from 38%.
Lower interest rates were also a factor in the decline in tax on interest, with the one-year trading bank rate, for example, at 4.46% on July 1 this year, down from 5.07% a year earlier.
The lower tax take came as total household deposits in banks rose 7.7% to NZ$100.1 billion by the end of June from NZ$92.9 billion a year earlier. See deposit savings statistics at RBNZ.
Going back further, the interest tax take is down even further.
The take for the June 2008 year was NZ$995 million higher at NZ$2.699 billion with the one-year trading bank rate at 8.35% in early July 2008. The take in the June 2009 year was NZ$2.571 billion.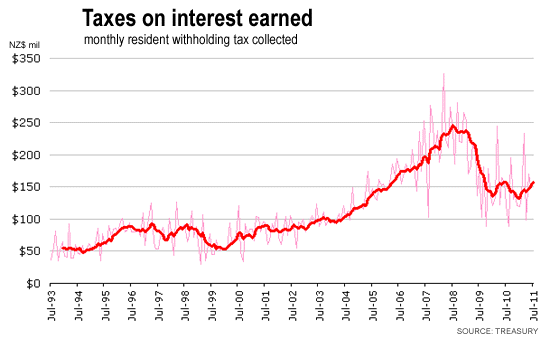 This article was first published in our email for paid subscribers this morning. See here for more details and to subscribe.