BusinessDesk: Italy sells €7.5 bil. of bonds at 7.89% yield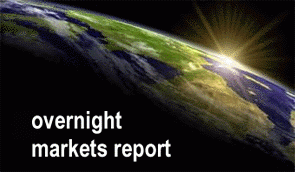 Italy found buyers for its debt but had to pay a premium, underpinning the sense of urgency for European Union leaders to contain the debt crisis.
Italy's debt auction met healthy demand but it came at a price. The country had to offer a record 7.89 percent yield to sell 3.5 billion euros of three-year bonds, up from the 4.93 percent it paid in late October, according to Reuters. It sold a total of 7.5 billion euros of bonds today.
"It is a great sign that the auction was oversubscribed, suggesting that we seem to be moving forward with progress there," Paul Zemsky, the New York-based head of asset allocation for ING Investment Management, told Reuters. "That said, the yields remain quite high, so we're not sounding an all-clear just yet."
The mood on equity markets on both sides of the pond was by and large positive, also helped by a report showing US consumer confidence increased in November. It was the biggest advance in more than eight years and bettered the most upbeat forecast in a Bloomberg News survey of economists.
The Dow Jones Industrial Average rose 0.79 percent, the Standard & Poor's 500 Index advanced 0.80 percent, while the Nasdaq Composite Index gained 0.04 percent.
In Europe, the Stoxx 600 Index closed 0.8 percent higher on the day. The euro was 0.2 percent stronger at US$1.3341.
EU finance ministers met in Brussels to discuss using their bailout fund, the European Financial Stability Facility, to insure sovereign debt with guarantees.
Separately, US President Barack Obama said agreeing on a sufficient response to Europe's problems was of "huge importance" to the US, following his meeting yesterday with EU President Herman Van Rompuy and European Commission President Jose Barroso.
Meanwhile, US Treasuries declined amid speculation that Europe's central bank will work with the International Monetary Fund to aid euro zone debt markets.
"We have a little bit of weakness amid talk that the ECB will lend money to the IMF for Italy," Larry Milstein, managing director in New York of government and agency debt trading at RW Pressprich & Co, told Bloomberg.
"Daily headlines are swinging us risk-on and risk-off, and equities have caught a bit of a bid which has taken some of the steam out of Treasuries."
Yields on 10-year notes rose three basis points to 2 percent.
There was a mixed bag of corporate news.
Facebook seems confident. The No. 1 social-networking site is considering raising about US$10 billion in an initial public offering that would value it at more than US$100 billion, Bloomberg reported, citing a person with knowledge of the matter. The company may file for the IPO before the end of the year, according to the person.
On the flipside, AMR Corp shares tanked 79 percent after the parent of American Airlines filed for bankruptcy protection and named a new chairman and chief executive.
Also suffering was Tiffany & Co, sending the stock down 7 percent, on its holiday quarter profit outlook that fell short of expectations.
(BusinessDesk)