BusinessDesk: 'If this was it, the market [will] become disillusioned quite quickly again. There's going to need to be follow-up of a more substantial order.'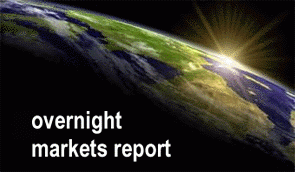 Equities advanced as central banks moved to boost liquidity by cutting the cost of US dollar funding in an effort to contain the impact of the euro zone's fiscal crisis on the global economy.
The US Federal Reserve, Bank of Canada, Bank of England, Bank of Japan, European Central Bank and Swiss National Bank agreed to lower the interest rate on US dollar liquidity swap lines by 50 basis points. China said it reduced the reserve requirement ratio for banks by half a percentage point from December 5.
"The purpose of these actions is to ease strains in financial markets and thereby mitigate the effects of such strains on the supply of credit to households and businesses and so help foster economic activity," the Fed said in a statement.
Markets on both sides of the pond welcomed the initiative. The Dow Jones Industrial Average soared 3.60 percent, the Standard & Poor's 500 Index climbed 3.46 percent, while the Nasdaq Composite Index rose 3.49 percent.
In Europe, the Stoxx 600 Index finished the session with a 3.6 percent gain. The euro also benefitted, rising 1 percent to US$1.3450
"It's been a major risk-positive move," Alan Ruskin, global head of Group-of-10 foreign-exchange strategy at Deutsche Bank in New York, told Bloomberg News. "This addresses the funding issue, but if this was it, the market would become disillusioned quite quickly again. There's going to need to be follow-up of a more substantial order."
European Union finance ministers agreed on Tuesday night on detailed plans to leverage the European Financial Stability Mechanism, but could not say by how much because of rapidly worsening market conditions, prompting them to look to the International Monetary Fund, according to Reuters.
"We are now looking at a true financial crisis - that is a broad-based disruption in financial markets," Christian Noyer, France's central bank governor and a governing council member of the European Central Bank, told a conference in Singapore.
As the debate continued on the role of Europe's central bank in combatting the region's crisis, a Reuters poll of economists showed a 40 percent chance of the ECB stepping up purchases with freshly printed money within six months, something it has opposed so far.
The poll forecast a 60 percent chance of an ECB rate cut to 1.0 percent next week and a big majority of economists said they expected the central bank to announce new long-term liquidity tenders to help keep banks afloat at its next meeting on December 8.
Meanwhile, the latest data on the world's largest economy were yet again encouraging. The private sector added the most jobs in nearly a year last month, while business activity in the US Midwest expanded faster than anticipated in November.
Separate data indicated pending sales of existing US homes climbed in October in its biggest monthly gain since November 2010.
"There's a perfect storm of bullishness. PMI came out better than expected, plus what happened overseas, and ADP was well above consensus," Donald Selkin, chief market strategist at National Securities in New York, told Reuters.
It seemed that investors paid little attention to the downgrade by Standard & Poor's late on Tuesday to the credit ratings of 15 major banks, mostly in Europe and the US.
S&P slashed the credit ratings of JPMorgan Chase, Bank of America, Citigroup, Wells Fargo & Co, Goldman Sachs Group and Morgan Stanley all by one notch.
(BusinessDesk)