BusinessDesk: US unemployment benefit claims drop to their lowest level since May 2008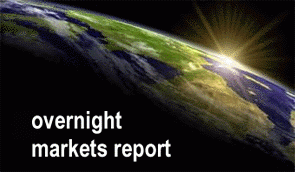 The Healthy appetite for another Spanish debt auction and better-than-anticipated economic data including an unexpected drop in the number of Americans filing new claims for jobless benefits last week underpinned stocks.
Also helping was FedEx, generally considered an economic barometre, as the company posted better-than-expected earnings. The stock soared more than 6 percent as a result.
In Europe, Spain drew good demand again for its bond auction today. The country paid more than 2 percentage points less to borrow over 5-years than Italy a day earlier, a sign investors believe budget cuts might save it from collapsing under its debt load.
"A good auction ... they managed to sell quite a chunk. It won't help to calm these fears everyone in the market is having about funding in 2012, but Spain is considered a far more attractive credit than Italy," strategist at West LB, Michael Leister told Reuters.
The positive tone helped equity markets on both sides of the pond.
Europe's Stoxx 600 Index closed the day with a 1 percent climb. In afternoon trading in New York, the Dow Jones Industrial Average gained 0.85 percent, the Standard & Poor's 500 Index advanced 0.57 percent and the Nasdaq Composite Index rose 0.29 percent.
Confirming a recent trend, today's data indicated a pickup in the world's largest economy.
Initial claims for state unemployment benefits dropped 19,000 to a seasonally adjusted 366,000 last week, the lowest level since May 2008, the Labor Department said.
Economists had predicted a climb to 390,000, according to Reuters.
More good news came in the form of two regional Federal Reserve Bank business surveys indicating a better-than-expected pace of expansion in December.
"The data is in line with a modestly improving overall economy here in the United Sates," Peter Kenny, managing director at Knight Capital in Jersey City, New Jersey told Reuters.
In Europe, gauges of manufacturing output in Germany and France contracted this month less than economists had estimated while services output unexpectedly rose in both countries, according to Bloomberg News.
In the US, however, data on industrial production reminded investors that there's still a need for caution. Output fell unexpectedly by 0.2 percent last month, compared with forecasts for a 0.2 percent increase.
While a positive sign, another successful Spanish debt auction doesn't resolve the major threat Europe's fiscal crisis poses to the global economy. There's still plenty of concern.
Today, International Monetary Fund managing director Christine Lagarde said that the "crisis is not only unfolding, but escalating" and cannot be resolved by one group of countries.
If the international community doesn't work together, "the risk from an economic point of view is that of retraction, rising protectionism, isolation," Lagarde said at an event in Washington. "This is exactly the description of what happened in the '30s and what followed is not something we are looking forward to."
(BusinessDesk)