BusinessDesk: The latest data on the US labour markets better than expected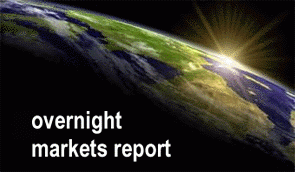 A slew of disappointing corporate results in the US and more red flags on Europe's debt crisis offset data showing American companies added more workers to their payrolls than economists had forecast.
In afternoon trading in New York, the Dow Jones Industrial Average fell 0.16 percent. The Standard & Poor's 500 Index rose 0.11 percent and the Nasdaq Composite Index gained 0.55 percent.
Financial stocks rose, with shares of Citigroup, JPMorgan Chase & Co and SunTrust Banks gaining after Deutsche Bank said it remained positive on banks and named the lenders as "top picks", according to Bloomberg.
However, American retailers slumped, weighing on the market, as JC Penney, Target, and Kohl's were among companies cutting earnings forecasts. Barnes & Noble plunged after it said it might sell its Nook e-reader business.
US retailers are battling for the consumer still cautious about its spending amid rising optimism about the recovery in the world's largest economy.
"I think it is a market-share game right now," Michael Niemira, chief economist of the International Council of Shopping Centers, told Reuters. "Some stores continued to impress, others to disappoint. The strong players in 2011 largely continued to perform well during the 2011 holiday season as well."
The ICSC expects same-store sales will climb just 3 percent in January.
The latest data on the US labour markets was better than expected.
Private employers added 325,000 workers to payrolls in December, according to a report from ADP Employer Services. That was the largest jump increase in records going back to 2001, according to Bloomberg, and surpassing the median projection in its survey which called for an advance of 178,000.
Meanwhile, the number of applications for jobless benefits declined by 15,000 last week to 372,000, according to Labor Department data. Economists had forecast a drop to 375,000.
"The idea from the data is that our economy is picking up, so for banks, they'll start to see some loan growth, which will feed into their profits," James Dunigan, chief investment officer at PNC Wealth Management in Philadelphia, told Reuters. "That's different than concerns about capital and stability in Europe, which the region is still dealing with."
Europe's Stoxx 600 Index closed with a 0.9 percent drop for the day.
UniCredit shares continued their plunge, shedding 17 percent today, following its plans, announced yesterday, to sell shares in a rights offer at a 43 percent discount.
Compounding concern about Europe's banks was Societe Generale which said it will slash corporate- and investment-banking staff. The stock dropped more than 5 percent.
France sold 7.96 billion euros of debt including 4.02 billion euros of bonds maturing in October 2021. It had to pay a higher yield on the 10-year issue to attract investors who are worried the debt-laden nation might lose its top-notch credit rating, paying an average yield of 3.29 percent, from 3.18 percent on December 1, according to Bloomberg.
(BusinessDesk)