BusinessDesk: NZ trade deficit widens in November on oil, fertiliser imports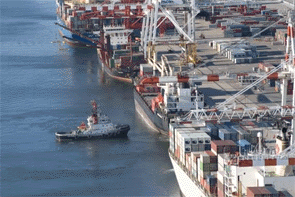 New Zealand's trade deficit widened in November as imports such as crude oil and fertiliser outstripped the country's pace of export growth.
The trade balance was a deficit of $308 million in the month of November, in line with market expectations of a $300 million shortfall, as a 10 percent lift in value of imports was bolstered by more foreign purchases of crude oil and fertiliser, Statistics New Zealand said today.
That's wider than the $177 million deficit in November 2010, and a shortfall of $208 million in the month of October. The value of exports rose 6.8 percent to $3.91 billion in November from the same month a year earlier, slower than the 10 percent lift in imports to $4.22 billion
. The annual trade balance was a surplus of $555 million.
"Crude oil and fertilisers were key contributors to the 10 percent rise in imports," overseas trade manager Stuart Jones said in a statement.
Today's release comes after data last month showed the country's current account deficit widened more than expected in the third quarter of last year on weaker prices for export commodities and fatter profits for the nation's Australian-owned banks. Imported petroleum and products gained 34 percent in November to $591 million, and the annual $7.97 billion of imports account for about 17 percent of the nations' $46.7 billion of imports in the year ended Nov. 30.
Still, imports of consumption goods rose just 1.1 percent in the month, despite retailers preparing for the traditionally busy Christmas period, and an unexpectedly bigger expansion in third-quarter gross domestic product was put down to an inventory build-up. Milk powder, butter and cheese underpinned export growth in the month, climbing 19 percent to $1.19 billion in November, while fruit exports surged 87 percent to $59 million.
The volume of milk powder, butter and cheese exports grew 16 percent to a seasonally adjusted 204,000 tonnes, while the volume of fruit sales was up 23 percent to 82,000 tonnes. Some $11.67 billion of annual dairy exports, including casein and caseinates, account for about a quarter of the nation's $47.25 billion of annual exported goods. New Zealand's foreign trade came under growing pressure through the latter half of last year as a slowdown in Europe threatens to capture global growth, including the nation's important trading partners in Asia.
Today's data showed local sales to Asian nations continues to grow, up 9.6 percent to $1.57 billion in the month of November, while imports climbed 12 percent to $1.97 billion. Today's release comes a day before Indonesia official joins the ASEAN-Australia-New Zealand free trade agreement, which HSBC economists predict will increase trade by an annual 7 percent over the next five years. Local exports to Indonesia grew 13 percent to $72 million in November while imports gained 81 percent to $111 million.