Households have paid back $21 bln more than they borrowed for housing in the past four years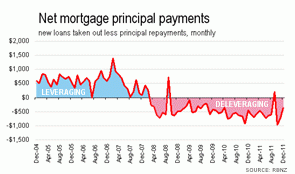 The New Zealand mortgage market has shown consistent signs of deleveraging since 2008.
Deleveraging happens when borrowers pay back their loans faster than they take out new ones.
We have been monitoring the deleveraging effects in the New Zealand credit markets by following the monthly release of data by the Reserve Bank.
Our chart series for rural lending, business lending, consumer lending, and lending for housing have all shown sharp slowdowns. In fact, all bar housing have shown declines - clear signs of deleveraging.
A bank's loan book grows when more new (or extended) loans are added than paid off.
Paying off loans can take the form of making regular principal repayments, lump sum paydowns, or outright settlement of the loan balance. That loan book grows by adding new loans, or topping up existing facilities. It also grows when the interest due is charged to the outstanding loan balance.
Assuming the vast majority of borrowers are current in their payments (and they are), each payment will be for more than the interest charged.
But one additional feature the RBNZ data reveals for housing loans is the interest rate for each the terms, variable or fixed.
This allows us the opportunity to calculate and exclude the current interest component from the loan balance.*
This then reveals the true extent of how households have deleveraged since 2007. In the four years since January 2008, New Zealand households have paid back banks $21.7 billion more than they have borrowed. (It is only the interest charged that keeps these mortgage loan books from shrinking.)
The cumulative effect of paying back more than is being borrowed is mounting up fast, and is one reason why banks are awash in cash and are very eager to lend. Deposits are growing much faster than lending, and if it carries on like this bank earnings will come under sustained pressure.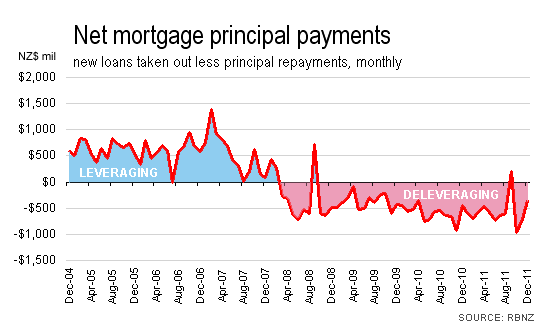 * True, there may be some interest-only loans, and a handful of borrowers who are paying down less that the interest being charged to their loan, but these elements will be tiny and immaterial to our analysis.