Labour leader David Shearer still keen on capital gains tax, but not so much on NZ$5,000 tax-free threshold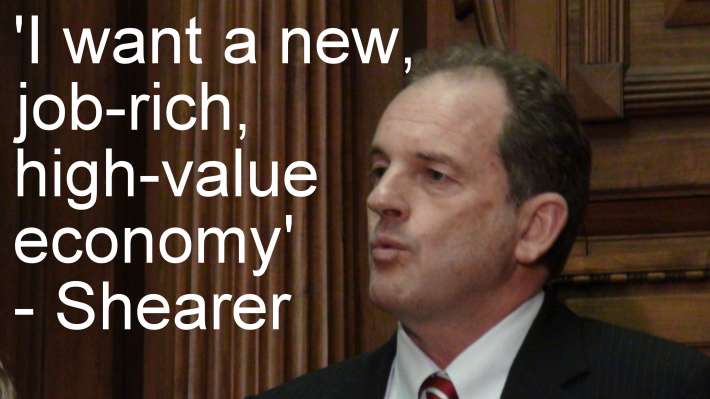 New Labour Party leader David Shearer has indicated he is keen to keep the party's policy to introduce a capital gains tax, but sees less need to keep the NZ$5,000 tax-free threshold policy Labour took into the 2011 election.
Giving his first major speech on the direction he wanted Labour to take over the next three years, Shearer said while policy matters would not be confirmed until closer to the next election, he wanted to give examples of policies, such as the capital gains tax, which would help grow the New Zealand economy in the direction he favoured.
"If ideas help to build a new New Zealand, we like them. If they don't, then out they go. That starts at home with Labour policy," Shearer said in a speech to a breakfast for lawyers in Wellington.
"For example, we campaigned last year on a bold fiscal policy, with a new capital gains tax, and a NZ$5000 tax free zone. Now I won't be setting out our fiscal policy today but I can tell you how I see things," he said.
"I've always believed the best argument in favour of a capital gains tax was the economic effect it had. A CGT is pro-growth. It helps switch investment from sectors such as housing, to the productive sector where we desperately need more capital. Over time I can also see the revenue it raises being used to offset the tax you have to pay in other areas. So I can see a role for CGT in transforming our economy," Shearer said.
"On the other hand, I would want to ask whether a tax-free zone that gives everyone the same sized tax cut is going to be as much of a priority. I believe we can look after everyone better, not by cutting taxes, but by earning more as a country and making sure that everyone gets a real chance to earn their share," he said.
"Let me be clear: these are policy matters that won't be confirmed until much nearer the election. But I present them today as examples that inevitably arise when you ask that larger overarching question:  does this help to build the new New Zealand?"
Shearer heralds 'new lens' for a 'new New Zealand'
By Pattrick Smellie of BusinessDesk
Labour Party leader David Shearer used his first major speech since taking the reins after last November's election defeat to promise a new urgency in fixing intractable and long-known problems with New Zealand's economy.
He told a packed breakfast meeting in Wellington the country had been talking about its problems since before Britain joined the European Common Market in the early 1970's and people were "growing tired of hearing about it."
"At a certain point, you have to stop talking about what you're going to do, and start doing it."
The speech was deliberately short on policy specifics, beyond Shearer expressing a personal view that Labour's unpopular capital gains tax proposals should be retained, but that the proposed $5,000 tax-free threshold for all taxpayers should be scrapped.
There were hints also of a willingness to strain relations with the left of the Labour Party, with a pledge to reward good teachers better but get bad teachers out of the classroom, and a willingness to "accept the best ideas, wherever they come from."
"I want to arrive in government on day one with a detailed plan that will actually achieve a shift to a new, job-rich, high-value economy," said Shearer, who billed his vision as "a new New Zealand."
"We won't be waiting around for officials to give us cautious ideas and suggest a few adjustments. We will be presenting them with detailed far-reaching policies. That means looking at everything through a whole new lens."
Shearer cited Finland, which had hauled itself out of the economic doldrums, based on high-quality education, science and technology policies.
"Today, Finland is way ahead of ours. Twenty years ago, though, its problems were the same as ours," he said.
Shearer dwelt on the importance of pursuing not just a better education system, but "the best educational achievement in the world".
"We need to value teachers. We need every teacher in our classrooms to be a good one. The vast majority are, but the truth is some are not," he said. "We will work with teachers to develop their professional skills, but ultimately we can't afford to have bad teachers in our classrooms."
"As a parent, I want to put badly run schools on notice," he said.
He also suggested the country needs to be more honest about how well it does as an exporter, with only 900 companies currently exporting more than $5 million of goods and services annually.
"What if we were to set a target of 2,000, and then 4,000 and then 10,000 companies to hit that mark?"
On capital gains tax, Shearer said it was a "pro-growth" measure which was less about the money it would raise than the behaviour it would induce among investors.
"It helps switch investment from sectors such as housing to the productive sector where we desperately need more capital. Over time, I can also see the revenue it raises being used to offset tax you have to pay in other areas."
Shearer spoke confidently in his 20 minute address to the business audience assembled by an employment law firm. But he appeared less sure-footed under questioning from journalists afterwards, repeatedly declining to discuss policy specifics or to answer questions on other key Labour policies at the last election, including the pledge to remove GST from fresh fruit and vegetables.
His views on the capital gains tax and $5,000 tax-free threshold were "personal preferences" which had yet to go through Labour's policy-making process.
(Updates with BusinessDesk)