Meridian Energy looking forward to partial sale; 'Is a strong cash generator with high yields and excellent dividend prospects'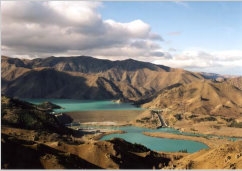 Meridian Energy is a strong cash generator with high historical yields and excellent dividend prospects, chairman Chris Moller says, as the company readies itself for a partial stock exchange listing.
In Meridian's interim report covering the six months to December 2011, Moller said Meridian was looking forward to its partial listing when the government sells off up to 49% of the company as part of its mixed-ownership model SOE share sell-down.
The share sale will see up to 49% of Meridian, Genesis Energy, Mighty River Power, and Solid Energy, be put up for sale by the government over the next five years, as it tries to raise NZ$5-7 billion to cover new capital spending over the next five Budgets. The government will also sell down its three-quarter holding in Air New Zealand to no less than 51% as part of the revenue raising effort.
Mighty River Power is set to be the first off the block in the third quarter this year, and either Genesis or Meridian are tipped to come second. Interest.co.nz reported earlier this month that issues surrounding the value of Solid Energy meant it was likely to be the last cab off the rank.
Meridian Energy carries the highest value of the four energy companies, with Macquarie analysts last year placing a NZ$6.53 billion value on the company, while Meridian's own statement of corporate intent gives a value of NZ$6.5 billion.
"The outcome of the general election in November means Meridian now looks forward to the prospect of inclusion in the Government's state-owned enterprise mixed ownership model," Moller said in the company's interim report.
"Once we proceed to an Initial Public Offering (IPO), Meridian is likely to become one of the largest companies listed on the New Zealand Stock Exchange as measured by market capitalisation. In the past six months we have directed considerable resource towards preparing for the possibility of an IPO and this will continue as we work closely with our shareholder on this matter," Moller said.
"A partial stock exchange listing, whereby the Government will retain majority control, is an exciting prospect for Meridian and investors. Meridian is a strong cash generator with high historical yields and excellent dividend prospects," he said.
"Meridian offers multiple future growth opportunities and will bring a unique and sizeable renewable proposition to potential investors and the market."
Meridian made an underlying net profit after tax of NZ$98.9 million during the six months to December 31, down by NZ$24.5 million in the same period in 2010.
"After adjusting for one-off impacts of the Rio Tinto New Zealand Aluminium Smelter dispute settlement (NZ$28.1 million net of legal costs before tax) in the prior year and the reduction in generation revenue that followed the sale of the Tekapo hydro stations (NZ$23.4 million before tax), underlying next profit after tax increased 13% on the prior year," Moller said.
"This underlying net profit after tax result excludes NZ$119.3 million (before tax) of negative non-cash accounting adjustments for fair value movements on financial instruments. Given the challenging trading conditions, this represents a sound result," he said. 
In its interim report, Meridian notes it paid a final 2011 dividend to the government of NZ$69.4 million in the six months ended December 31, 2011. 
In the year to June 30, 2011, Meridian paid a dividend of NZ$683.6 million to the government, which was up from NZ$353.5 million in the year to June 2010.
Since 2003, Meridian has paid an average annual dividend of NZ$377.3 million to the government. Payments ranged from NZ$17.4 million in 2004 to NZ$879.4 million in 2006.