Crimson Financial Service & Trust, an NZ registered, offshore financial services provider calls itself a 'trading bank' in Companies Office filing
By Alex Tarrant
Question: What do Panama, Delaware and Auckland have in common? Answer: The Crimson Group.
This entity appears to be yet another to have registered a company in New Zealand through the Ministry of Economic Development's registration system, which the World Bank and International Finance Corporation rank as the easiest out of 183 countries it has surveyed, and then trade off New Zealand's good reputation.
Transparency International ranks New Zealand the least corrupt country, also of 183 surveyed.
Crimson says it's a financial services & trust company and private bank offering "unique banking services worldwide."
Aside from the New Zealand registered Crimson Financial Service & Trust Ltd, the Crimson Group says it also comprises the Delaware USA incorporated Traders Group, and Republic of Panama incorporated Crimson Financial S.A.
'Trading bank operation'
On the Companies Office website Crimson says its business classification is none other than a K622120 Trading bank operation.
Although it's not illegal for companies registered in New Zealand to offer "banking services" either here or overseas without being licensed, they can only do so provided they don't call themselves banks or imply they are registered banks, and this only applies if these companies don't take deposits from the New Zealand public.
Only a bank registered with the Reserve Bank can call itself a bank.
Crimson's sole director and shareholder is listed as James McEvoy, 406 Mill Creek Lane, Centerville, 47330 , U.S.A. Its registered office address is ServCorp Ltd, 135 Albert Street, Level 20, ASB Bank Centre, Auckland, 1010, New Zealand, which is a serviced, or virtual office.
Crimson and McEvoy have a number of websites with all promoting their 'banking services'. This is probably the one the Reserve Bank wouldn't like to see: http://cfstprivate.com/.
"Crimson Financial Services & Trust, Ltd., represents a financial services & trust company and private bank offering unique banking services worldwide. We are fully focused on individual client needs. Our services are offered only to a limited group of select Clientèle worldwide," Crimson says on its website.
"We are an independent institution registered in New Zealand with a global reach. New Zealand is a constitutional monarchy. The Crown or Monarch is Queen Elizabeth II and is represented in New Zealand by a Governor General. New Zealand's resilient banking laws and systems and have proven its stability during times of worldwide economic prosperity and crisis," it says.
The latest of many
Crimson is the latest in a long line of at best questionable and at worst law breaking New Zealand registered companies either operating, or claiming to operate, overseas as financial service providers.
The Financial Markets Authority is now "engaging" with City Savings "Bank" after interest.co.nz recently revealed the entity, operating out of a small Auckland office and seeking to raise money from British investors, was using the word "bank" in its name when it was not permitted to, and claiming to be authorised by the New Zealand government when it wasn't.
And just this week the Reserve Bank issued a warning about First International Bancorp Limited, which claims to be registered under a non existent law called the 'New Zealand Commonwealth Offshore Banking Act of 1993.'
Former Commerce Minister Simon Power said last year the Reserve Bank believed about 1,000 shell companies incorporated in New Zealand over three years had been used to carry out banking activities free of regulatory oversight and "many" seemed to be undertaking fraudulent activities.
Furthermore, Power said 143 New Zealand registered companies were implicated, over a four year period, in criminal activities overseas including smuggling, money laundering and tax fraud, with New Zealand Police and the Customs Service receiving 134 enquiries about them.
So what about McEvoy?
On its website, Crimson says James McEvoy: "runs the day to day operations of the Crimson Group of companies. Which include Crimson Financial (Panama), The Traders Group LLC(Delaware, USD), Crimson Financial Services and Trust (New Zealand), and The Crimson Group Inc (Delaware). The Crimson Groups primary focus is in the Financial Industry, primarily banking and financial instruments. Mr. McEvoy is always involved with Recovery and Reclamation International, which has ongoing projects in Puerto Rico, Panama, and Florida."
A quick Google search shows, not far down the search list, two entries from scamradar.com. 
Beware of James McEvoy and his companies:

Crimson Financial Service and Trust Ltd
(Auckland, New Zealand)

Crimson Group, Inc.
(Newark, Delaware-USA)

Crimson Financial S.A
Panama city, Panama

Crimson Holdings LLC
(Newark, Delaware)

He will ask for upfront fees and never deliver anything. He is a smart ass.
Be careful.
Beware of CRIMSON FINANCIAL GROUP and all other CRIMSON companies owned by James McEVOY !

It is linked to an investment fraud asking for up-front fees ! The guy pretends to be a wealthy investor. He is very persuasive. Careful !
Further on down the search list is a report dated December 30, 2011 from the American Courthouse News Service website, titled Firm Says It Was Rolled in NHL Deal.
Martina Holdings sued The Crimson Group aka Crimson Financial, its president James McEvoy and employees Charles Demicher and Allan Zinman, and Zinman's company, Recover and Reclamation, alleging fraud and civil theft.

Martina says it began doing business with Crimson in July this year after Crimson said it could get Martina a €500 million bank guarantee.

Crimson requested an upfront fee of $225,000 - $8,000 of which Martina paid to a bank account in the name of Recovery & Reclamation, according to the complaint in Palm Beach County Court.
Remember Recovery & Reclamation? Check out McEvoy's bio above. The Court report concludes:
"However, despite of all of Crimson's assurances through emails and telephone conversations with McEvoy, Demicher and Zinman, despite the fact that MHI had wired $243,500.00 to Zinman's company Recovery in Boynton Beach, FL, despite all of the signed letters and agreements, and despite the access to online accounts that allegedly reflected almost $75,000,000.00 that MHI had in an account with Crimson, and despite the alleged wire transfer receipts signed by McEvoy evidencing that $20,000,000.00 had been wired to MHI's bank account, MHI has, to this day, received no monies from Crimson, there has been no BG of ¬ 500,000,000 [euros] to purchase the MTNs [medium term notes], and there has been no bond issuance for $500,000,000.00.

"The truth of the matter is that Crimson was never able to perform the services and procure the funds that it represented to MHI. McEvoy, Demicher and Zinman, have, from the inception of the relationship with MHI, used Crimson as a front and made misrepresentations regarding Crimson's capabilities in order to induce MHI to pay significant upfront fees. Once MHI paid the fees, McEvoy, Demicher and Zinman kept the money and failed to deliver any services."
What can be done?
Now, of course all these accusations and court hearings occurred after Crimson Financial Service and Trust Limited was registered as a company in New Zealand. We can't just expect MED and the Reserve Bank to be constantly monitoring every single company set up here day in, day out.
So what should be done? For its part the government says it has no plans to tighten company registration rules but has a "programme of work" that will crack down on the illegal overseas activities of New Zealand registered companies.
I'll leave you with Gareth Vaughan's concluding comments from his March post, How Bob Groover of Woodstock and his mates, with MED's acquiescence, bring New Zealand's reputation into disrepute:
"Perhaps a small team within the new super ministry could be established to comb, semi regularly, through the Companies Register and Google, and red flag anything that looks dodgy or smells fishy and then probe them further, stripping them of their New Zealand company registration if good reason is found to do so? I mean, doesn't a New Zealand company registering itself as Swiss Financial Corp sound dodgy to you?
"And perhaps you also need to make it a little harder for people to register companies, because let's face it, the current process is like a piece of Swiss cheese only with holes big enough for one of Air New Zealand's Dreamliners to fly through, once they arrive in 2014. You may also want to consider that with a couple of articles like the Naked Capitalism one in higher profile publications we'll be a laughing stock, if we're not already, in some quarters.
"Because at the end of the day if New Zealand loses this good international reputation we have, as a small country at the bottom of the world, the damage could be irreparable."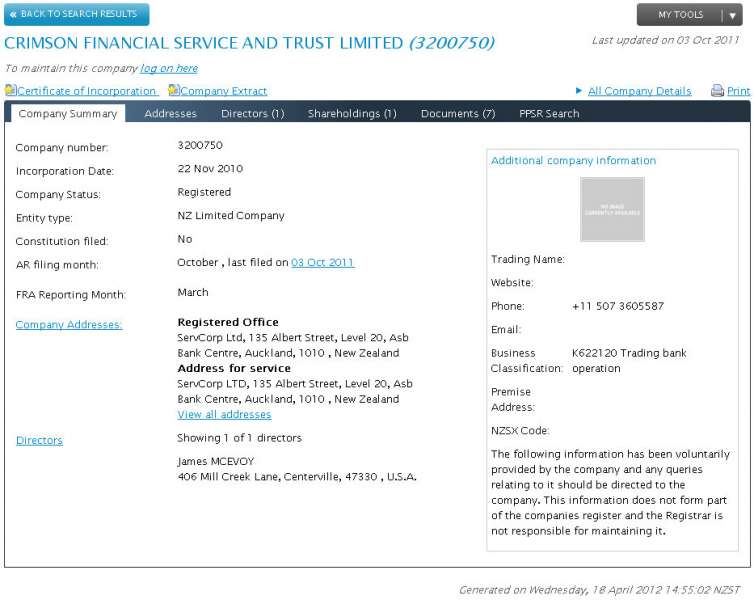 This article was first published in our email for paid subscribers this morning. See here for more details and to subscribe.