Commerce Minister Craig Foss says the regulatory systems in Japan and Britain ultimately worked by catching out the firm he worked for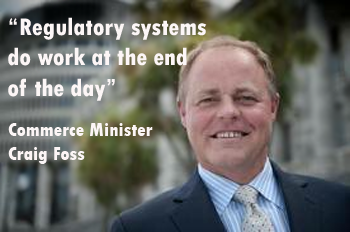 By Gareth Vaughan
Regulatory systems ultimately do work.
That's a key point Commerce Minister Craig Foss says he takes from what happened to the investment banking firm he once worked for.
Foss worked at derivatives specialist Credit Suisse Financial Products (CSFP) in London from 1993, and then in Tokyo in 1998 and 1999 where he was manager of CSFP's interest rate swap division for Japan and the Pacific.
On January 20, 1999 Japanese authorities raided the Tokyo offices of CSFP, launching a chain of events that - after a six-month investigation - led to the firm having its Japanese banking licence revoked in an unprecedented move and being criminally prosecuted. The firm was also hit with a record £4 million (about NZ$8.3 million at today's exchange rates) fine in Britain - where it had its headquarters - with Britain's Financial Services Authority (FSA) also fining the chief executive Christopher Goekjian £150,000 and banning two other British based executives for their roles in attempting to mislead Japanese tax and regulatory authorities.
Foss told interest.co.nz the first he knew of any accusations of untoward behaviour at the firm was when officials from the Japanese Financial Supervisory Agency appeared in CSFP's Tokyo office in early 1999, which "very much" came as a shock.
"One day we looked around and the authorities were there. And of course all the guys who weren't from Japan look around and wonder 'what on earth is going on here'," Foss, who is due to speak at a Future of Asia conference in Tokyo on Thursday, told interest.co.nz.
Ultimately the Tokyo Branch of CSFP had its banking licence revoked for violating both Japan's Banking Law and Securities and Exchange Law. The firm was found guilty of criminal charges and fined Y40 million (about NZ$666,000 at today's exchange rates) with Shinji Yamada, CSFP's former Tokyo branch manager, sentenced to four months in prison on obstruction charges.
Subsequently, in December 2002, Britain's FSA hit the London headquartered CSFP, by then known as Credit Suisse First Boston International, with the fine for its offences in Japan. Britain's FSA said that between April 1995 and December 1998, CSFP engaged in conduct designed to "deliberately mislead" the Japanese regulatory and tax authorities in Japan and failed to organise and control its activities in Japan in a responsible manner.
The British regulator said the conduct revealed "systemic weaknesses" at CSFP, given it occurred in both Tokyo and London, involved a significant number of employees and took place over a number of years. Credit Suisse Group itself took "disciplinary action" against what it described as the "limited number" of employees involved, with reports that eight staff were either fired or left the firm as a result of the regulatory sanctions.
Foss says he played no role in the activities that led to regulatory action.
"I've never been asked to explain anything, or have to justify, or been called in by any agency in my time in New Zealand or overseas, just never," says Foss. "Even though I worked for a company, and as it turned out the regulators prosecuted them."
'Window dressing' for Long-Term Credit Bank
A New York Times story noted that by revoking CSFP's banking licence Japanese authorities were halting the group's most lucrative business in Japan. It was the first time since before World War II a banking licence had been revoked in Japan, and the first time a company had been stripped of a licence for wrongdoing with this effective from November 30, 1999. The newspaper said Credit Suisse - along with other financial institutions - had been selling sophisticated derivatives that let Japanese companies defer losses, a practice known as "window dressing."
The newspaper said although window dressing wasn't illegal per se, Credit Suisse had been a particularly aggressive proponent of it, and the nationalisation of the debt stricken Long-Term Credit Bank and Nippon Credit Bank offered regulators insights into the practice with the two banks among Credit Suisse's best clients.
"But what seems to have especially angered the authorities was the firm's attempt to cover up its activities and interfere with the Financial Supervisory Agency's investigation, which started with a surprise sweep on the morning of January 20," The New York Times reported.
"Shortly after investigators arrived, Michael Winning, who oversaw Credit Suisse's legal affairs in Japan, sent email and verbal messages directing the documents be sent immediately to the firm's offices in London, beyond the reach of the regulators, or shredded."
"Mr Winning and seven other employees were suspended after Credit Suisse hired the law firm Wilmer, Cutler & Pickering to conduct an independent investigation into the incident, and all have either been dismissed or have resigned."
'Five legged trades'
Foss says the illegal activity took place in the equities and sales parts of the business, whilst he worked in the interest rate swap unit.
"My role in CSFP was to manage interest rate risk. The place was broken up into equities, commodities, interest rates, all those bits and pieces. The local operation, those that spoke to local companies, were the locals - the Japanese marketing and sales team. My side was interbank, wholesale, brokers. I actually never spoke to clients or anything like that. I managed a very, very large portfolio," Foss says.
"I didn't leave under duress or anything like that. It was just that enough was enough for us after 14 years in banking," Foss says of his departure from CSFP in mid-1999.
At CSFP in Tokyo, where Foss estimates between 80 and 100 people worked and he was  about "third tier", Foss says he managed a book with thousands of trades in it.
"I'd initiate wholesale trades, and of course people would bring trades for the interest rate component I'd look after, but you could have a trade in there which would have five legs or something to it."
A key lesson he now sees in the events at CSFP is that ultimately regulators work.
"Regulatory systems do work at the end of the day. The system did work as far as regulatory agencies are concerned in that there's a company that was found to be breaking rules and regulations and has been prosecuted, and at the time very severely."
"And I always have faith in the rules and regulations, be it what we have now in New Zealand or how we're trying to modernise them. It's no different to the acute awareness I always have about there being rules under which a market has to operate. These are the frameworks that you must be aware and conscious of, and that provides certainty to all the participants," says Foss.
Here's the summary of CSFP's activities from Britain's FSA, which it said the firm had admitted, released when it announced its £4 million fine:
1995-6

Until April 1997 CSFP marketed derivative products in Japan via another company within the Credit Suisse group called CS First Boston Japan Limited (CSFB JL). CSFB JL's licence only allowed it to undertake securities, not banking, business on behalf of CSFP. Over time, CSFP became concerned that the Japanese regulator might consider some of the transactions undertaken by CSFB JL on behalf of CSFP to be banking business.

As a result, in preparation for a regulatory inspection, CSFP arranged to stop sending reports that it normally sent to CSFB JL. These reports included monthly management accounts and estimates of trading revenue. CSFP also knew of suggestions made by CSFB JL staff to:

* conceal documents; and

* tell the regulator that CSFB JL staff only monitored CSFP's trading positions when in fact they had an active role in arranging CSFPs transactions.

1996-7

CSFP also thought there was a definite risk that it might have to pay tax in Japan on its Japanese activities. So, before and during the 1996/7 audit of CSFB JL by the Japanese tax authority, staff:

* removed documents offsite so that they would not be seen; and

* bought a shredder to destroy documents that should not be seen by the tax authority. In the event, there is no evidence that it was used.

They also planned to tell the tax authority falsely that:

* CSFB JL staff only had an administrative and liaison function when they in fact they were actively involved in making deals for CSFP;

* there were no records of deals done for CSFP.

Furthermore they arranged to:

* remove information about trades from lists to be given to the tax authority; and

* deny that some CSFB JL staff reported to CSFP.

1997-8

From 15 April 1997 CSFP had a branch with a banking licence in Japan which was not allowed to do securities business. CSFP thought that a significant part of its business was securities business and was told that this business had to be done via a licenced securities company, like CSFB JL. However, CSFP knew that its Tokyo branch was actively involved in this business but was trying to conceal this by:

* sending faxes in CSFB JLs name although CSFB JL staff were not involved; and

* filing the documents related to this business in a separate room where it was believed inspectors would not find them.

In addition, the branch instructed staff to keep separately and then shred duplicate documents showing the branches involvement in this business.

For the avoidance of doubt, it is not part of the FSA's findings in this case that CSFP was conducting business in Japan for which it did not have the necessary licence.
Credit Suisse apologised, took disciplinary action & suspended bonuses
For its part the Credit Suisse Group noted in a press release on May 21, 1999 it had received an independent report into the events at CSFP it commissioned from law firm Wilmer, Cutler & Pickering.
"The Independent Report discloses that some employees attempted to obstruct the (Japanese regulator's) inspection during its early stages. Credit Suisse Group deeply regrets this misconduct. It is taking swift and appropriate action to address the matter, and has apologised to the regulatory authorities in Japan."
Credit Suisse said the Independent Report revealed several managers and other members of staff attempted to interfere with the FSA examination during its initial stages by concealing and destroying documents.
"It concludes that the primary motivation for the misconduct was to conceal activities that may have violated the strict regulatory separation of the banking and securities business in Japan ("firewall-issues"). It also concludes that there was no evidence of efforts to conceal derivatives transactions, or transactions involving failed Japanese financial institutions. The Independent Report concludes that a few individuals in leadership positions failed both the company and its employees," Credit Suisse said.
The firm said it was initiating disciplinary action "including suspensions, which may ultimately result in separation from the company" against a limited number of employees of different nationalities in Tokyo and London.
"In addition, bonus payments for a number of employees have been suspended pending the (Japanese) FSA's final assessment."
Here's a further statement from Credit Suisse  and another. And here's a 1999 statement from the Japanese Financial Supervisory Agency.
'I'm not very good at sitting in the back row breathing through my nose'
Foss returned to New Zealand in 2000 and was elected National Party MP for the Hawke's Bay seat of Tukituki in 2005, and re-elected in 2008 and 2011. Last June Foss became a Minister outside Cabinet taking the Racing, Civil Defence, Senior Citizens, and Associate Local Government Minister and Associate Minister of Commerce roles from the retiring John Carter.
Then after last year's election he became a fully fledged Cabinet Minister, replacing the departed Simon Power as Commerce Minister, as well as becoming Broadcasting Minister and Associate Minister for both ACC and Education. Prior to becoming a Minister, Foss chaired Parliament's Finance and Expenditure Select Committee.
In his maiden speech to Parliament Foss told fellow MPs: "I have attended my first caucus. It may have been noticed that I am not very good at sitting in the back row breathing through my nose!"
He also noted that he was born on the fourth of July 1963, American Independence Day.
"Maybe that is why I am such an advocate of personal freedom," Foss said.
"How would you feel if you were paid your gross wage in cash, and then to have your pay packet forced open by the Finance Minister who would reach in and take out what he thought was appropriate. Well that is exactly what PAYE is. Why shouldn't we be paid our gross wage, and then as completely separate transaction, even on the next business day, we would make a payment of taxes due. Now that would certainly keep the borax on Government spending!" Foss added.
'Exciting, vast & wide portfolio'
Foss acknowledged he was excited to become Commerce Minister.
"Because I've been involved at looking at things in maybe a slightly different angle from a finance sector point of view or from a non-government point of view, I do bring new eyes to much of what we do. I find it exciting and I'm still surprised at how wide and vast the portfolio is," says Foss.
"I engage with (Finance Minister) Bill English, (Economic Development Minister) Steven Joyce, (Communications and Information Technology Minister) Amy Adams, (Trade Minister) Tim Groser all the time simply because I am the regulatory side of business and that goes everywhere. I'm the government side looking out, if you like, and Steven Joyce is more the business side looking in. And between the two of us is (the task of) how can we build frameworks and platforms for business to give business the oxygen to hire to create real growth in exports?"
Tasked, as Commerce Minister, alongside the Financial Markets Authority, with leading the Government's efforts to restore ma and pa retail investors' confidence in the financial markets after the demise of dozens of finance companies in recent years costing investors' billions of dollars, Foss says, first and foremost, it's crucial domestic investors have confidence that when they invest their savings somewhere, the risk they're choosing to take is in fact the risk that is taken and represented to them.
"That's all part of the financial services advisers work that Simon (Power) did, and crucially part of the Financial Markets Conduct Bill that's going through the House now," says Foss.
"But I look at it as confidence from their level as well as a sophisticated fund manager (who) needs to have certainty about rules, regulations, legislation, whatever. Because if they don't, that's priced in and that means to a debtor nation such as we are, a slightly higher interest rate than perhaps is necessary."
Furthermore, the financial services industry must play its part in bolstering investor confidence.
"We're all in this together because at the end of the day we (the Government) can supply the rules and regulations as robust as we can, but it is up to the industry as well to jump on board with the new rules and help build confidence and keep the integrity in the market," Foss adds.
This article was first published in our email for paid subscribers this morning. See here for more details and to subscribe.