Finance Minister English defends forecasts of worsening current account deficit; Says it's because investment intentions want more capital than NZ savings provide
Finance Minister Bill English is defending projections showing New Zealand's current account deficit almost doubling in four years, saying the main driver of the deterioration is that New Zealand's improving savings rate is still not good enough to fund investment intentions during that time.
Speaking at a post-Budget breakfast hosted by ANZ in Wellington on Friday morning, English said that was a positive factor given the fact the deficit was tipped to get worse, as rising investment would produce more earning capacity in the New Zealand economy.
Budget 2012 forecasts show Treasury expects New Zealand's current account deficit to worsen from NZ$8.7 billion in 2012 to NZ$16.8 billion in 2016. That's a move from 4.2% of GDP to 6.7% of GDP. New Zealand's net international debt position with the rest of the world is expected to deteriorate from 72.1% of GDP in 2012 to 80.8% of GDP in 2016.
While households had changed their behaviour more than expected and increased their savings rate, those savings were still not enough to fund rising investment intentions in the New Zealand economy, English told the breakfast function.
"That growth in investment is driven by businesses whose balance sheets are in pretty good shape actually, wanting to invest and expand because they are succeeding," he said.
"It's also driven by the one-off of Canterbury, and related to that, a shift in residential investment as people pick up a bit more confidence," he said.
New Zealand's current account deficit had blown out to eight percent in 2006/07/08.
"That was driven by excessive consumption, a lot of which was funded by excessive debt. All the wrong reasons to have a bad current account, and it was a sign of a very unbalanced economy. The export sector was shrinking right through that period [while] we all thought we were doing so well. And the non-tradable sector - government, finance companies, real estate - was booming," English said.
"Now we all know that party's over. The current account deficit is likely to deteriorate. The one positive factor is that it will be driven by investment, not consumption. That deterioration will be driven by people investing in future capacity and earning capacity," he said.
"But you can see our savings rate still has some way to go to fill that gap."
This also explained the inflow of investment into New Zealand from offshore.
'Because for that investment to happen, we can't source it all, someone else has to provide it. And it's all adding to that stock of long-term international obligations that New Zealand has," English said.
English said he thought the government was on the right track to turn the deterioration around, but that it could take perhaps a decade to get back to where the government wanted to be in terms of the current account.
What Treasury says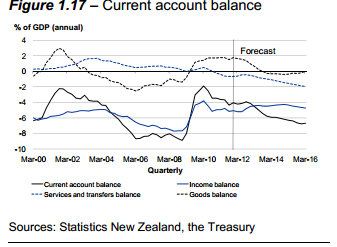 In Budget 2012 Treasury said the widening of the current account defecit reflected the expected increase in investment driven by the Canterbury rebuild and part-financed from overseas reinsurance inflows.
"The inflows are recorded in the capital account of the balance of payments. Statistics New Zealand estimates over NZ$15 billion of reinsurance inflows for the earthquakes have been paid to New Zealand insurers to date, reflecting the high level of insurance coverage by Canterbury businesses and households," Treasury said in the Budget.
"The large proportion of home and business equity protected by insurance policies means that households and businesses can continue saving, contributing to a rise in national saving.  The Government's programme of fiscal consolidation further supports national saving," it said.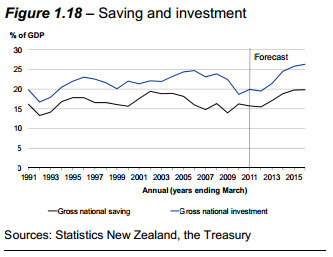 "The net international liability position is forecast to rise from 72% of GDP at the end of 2011 to 81% of GDP at the end of March 2016, driven by a fall in international assets as insurance claims are settled.  
"At the end of the forecast period, a small proportion of the insurance claims remain to be settled and the current account deficit remains above its sustainable level, suggesting that the net liability position will deteriorate further.  The Treasury estimates that a current account deficit of 4% of GDP would stabilise net international liabilities at 85% of GDP," Treasury said.