Sealegs narrows FY loss on rising sales, lower marketing spend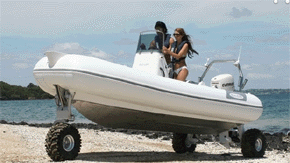 Sealegs Corp, which makes amphibious boats, halved its annual loss after boosting sales by more than a third and embarking on a restructuring programme that slashed its marketing bill.
The Auckland-based company made a loss of $1.9 million in the 12 months ended March 31, from a loss of $3.6 million a year earlier. Sealegs boosted revenue 38 percent to $13.8 million, while stripping $1.4 million from its annual marketing spend to $1.1 million.
Sealegs is working with a South Korean shipbuilding company to develop bigger vessels capable of carrying a heavier load, and has attracted "considerable interest" from boat builders in many global markets, it said.
"Our efforts to focus on growth and efficiency are starting to pay off," chief executive David Glen said in a statement. "We are confident that our patented technology has a real competitive advantage and we are confident that this new technology will enable it to enter new markets."
Last September the company embarked on a restructuring programme to carve out annual costs of $800,000 from a smaller workforce.
The board didn't declare a dividend. Its shares rose 10 percent, or 1 cent, to 11 cents, valuing the company at $13.7 million.
The company's operations and financing were cash-flow positive in the year, though it had a net outflow from investment activities, meaning there was a net outflow of $323,000. As at March 31, Sealegs had $4.2 million in cash or equivalents.
(BusinessDesk)