SBS Bank staying out of price wars with CEO Ross Smith saying if you attract customers on price you'll lose them on price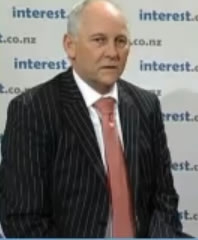 By Gareth Vaughan
CEO Ross Smith says SBS Bank won't be "buying customers", despite aggressive moves by bigger rivals to win customers off other banks, arguing that if you attract customers on price, you'll also lose them on price. And nor will SBS, which is also a building society, be doing what the Co-operative Bank is promising, return profit to members.
Speaking to interest.co.nz yesterday after SBS released its annual results, Smith said the current reality was weak lending growth.
"It's sort of in the 1% range and some of these banks obviously have targets of 2, 3 and 4%," Smith said. "Well, there's only one way you can get that and that's by taking market share and that seems to be the motive for them. It frustrates us from the perspective that they offer better rates to people who walk in off the street than they do to existing customers and that to me is against our philosophy. We've tended not to do that."
Interest.co.nz recently reported that the competition for mortgage business in a low growth market has got to the point where some banks are even prepared to pay, or contribute towards, break fees paid to other banks to help win business from customers on fixed-term mortgages away from rival banks. However, Smith said SBS is keeping out of this.
"We've not going to discount, we're not going to buy customers. Because we're of the belief that if you attract on price you'll lose on price so it's only a short-term (thing). We would rather have someone who wants a relationship, who is committed to the organisation, and we'll look after them," said Smith.
Asked how SBS's customer numbers had fared in recent months he said "there's no growth out there."
Rebates not coming any time soon
Meanwhile, Smith said SBS, as a building society, could do what the new Co-operative Bank - formerly PSIS - is pledging to do and pay rebates to members. But, although this has also been discussed at SBS, it's not currently on the agenda.
"We're of the opinion that when you've got 100,000 plus members and you give them $50 (each), it's a significant reduction in your balance sheet obviously, but does $50 really have a meaningful impact when you pay it out? I'd be surprised if it did. It becomes what is meaningful in terms of a rebate?"
"We'd rather just make certain that we remain competitive in terms of the offers we have for mortgages and investments and the level of service that we provide and the fees that we charge. We'd rather do it that way rather than give everyone $50 at the end of the year because I'm just not sure it would have that much of an impact," added Smith.
The April-May spate of banks giving to borrowers through mortgage interest rate cuts and taking from savers through term deposit rate cuts, has left SBS with some of the best advertised rates in the market. And SBS was named Financial Institution of the Year in April in Roy Morgan Research's inaugural annual New Zealand customer satisfaction awards.
Meanwhile, SBS, which bought the Hastings Building Society in 2010 in what was touted as the first step towards creating a national community bank, isn't currently involved in any further merger or acquisition talks.
"We would be happy to talk to a number of players were they happy to talk to us," said Smith. "But there are no discussions going on at the moment so they're obviously happy with their lot. If it might occur we'd certainly be keen on pursuing discussions, but no one's coming knocking at the moment and they all know that we're here if we wish to talk."
This article was first published in our email for paid subscribers this morning. See here for more details and to subscribe.