Westpac takes over funding of Instant Finance from Fortress Credit Corporation through securitisation deal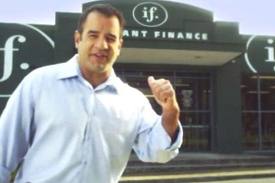 By Gareth Vaughan
Westpac has taken over the funding of consumer lender Instant Finance's loans from US vulture fund Fortress Credit Corporation through a new securitisation deal.
Instant Finance's just released annual report for the year to March 31 shows the Auckland-based firm repaid the about NZ$43.9 million owed to Fortress on May 9 and entered a financing deal with Westpac. Fortress does, however, remain a 10.3% shareholder in Instant Finance.
"Under the terms of the financing arrangement with Westpac, the company securitises loan receivables through the Instant Finance Warehouse A Trust," Instant Finance says in its annual report.
"Under the facility, Westpac provides funding to the Trust secured by loan receivables sold to the Trust from Instant Finance. The facility is for a term of two years and for a maximum amount of NZ$60 million."
Instant Finance specialises in personal loans of between NZ$200 and NZ$20,000 to what its CEO Richard de Lautour describes as "needs based" borrowers rather than people borrowing for "aspirational" purposes.
The company, which advertises heavily on TV using former rugby league star Stacey Jones, had a weighted average interest rate on its loans of 29.79% as of March 31, compared with the 11.23% paid on the Fortress loan. Instant Finance's net weighted average interest rate gap - between what it pays its lenders and what it charges its borrowers - was 16.84%.
Instant Finance's major owners are Auckland's Nausbaum family and Peter Mitchell, best known as owners of the famous race horse Bonecrusher. Fortress gained its 10.3% stake in October 2008 with the NZ$1.2 million it paid offset against a NZ$1.2 million facility fee it was owed through the wholesale funding it had provided to Instant Finance.
Meanwhile, the annual results show Instant Finance's annual profit after tax up NZ$985,000, or 18%, to NZ$6.3 million. Net interest income rose NZ$1.7 million, or 12%, to NZ$16 million. Total operating income rose NZ$2 million, or 7%, to NZ$29 million, which was a faster pace than the 4%, or NZ$658,000, rise in operating expenses to NZ$18.5 million. Impairments rose NZ$220,000, or 22%, to NZ$1.2 million.
Gross loan receivables rose NZ$4.8 million, or 6%, over the year to NZ$81 million. Individually impaired assets rose NZ$1.4 million, or 39%, to NZ$4.9 million.
This article was first published in our email for paid subscribers this morning. See here for more details and to subscribe.