NZ Govt still on track for 2014/15 surplus, despite prospect of 'subdued world growth, or even recession,' PM Key says; 'World is now a different place'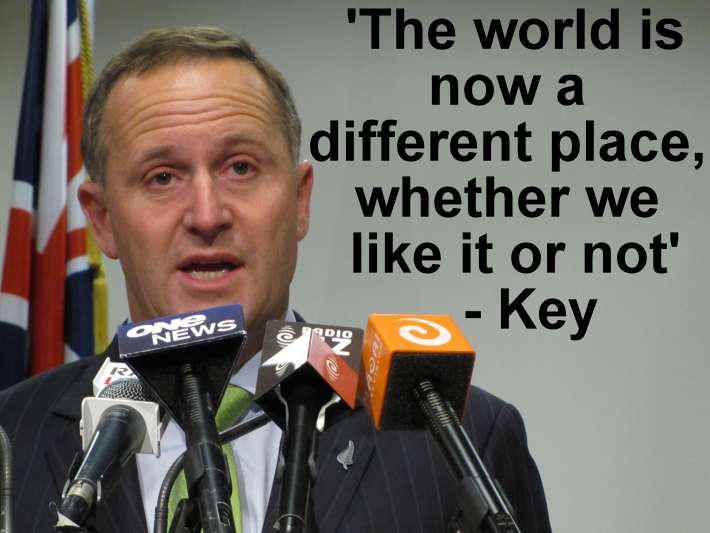 The prospect of slow world growth or even recession has not hit the Government's 2014/15 surplus target, according to Prime Minister John Key.
Speaking to the 2012 Local Government New Zealand Conference in Queenstown on Monday morning, Key told local government leaders they needed to do their bit to rein in debt, which "in some cases" had started.
Households, businesses and farmers had made changes to spending in response to the global financial crisis, as had the Government, which ran its second consecutive 'zero budget' this year, he said.
The Government was committed to returning its books back to surplus in the 2014/15 year, Key said. Budget 2012 documents showed Treasury expected a NZ$197 million surplus that year.
"That target is on track, despite recent events in Europe and the prospect of subdued world growth, or even recession," Key said.
"Our plan to grow the economy is on track. Growth in New Zealand over the next three years is forecast to be higher than the US, the UK, Canada, Japan, and the Euro area. It's also forecast to be similar to growth in Australia," he said.
This time it's different
The world was now a different place, "whether we like to accept it or not," Key said.
"We are in the middle of an economic crisis in Europe, which is one of the world's most important economic blocs and a key market for New Zealand's goods and services, despite the growth of Asia," he said.
"An illustration of the scale of the crisis is looking at unemployment. In Spain, the unemployment rate is currently around 25% and in Greece it's around 22%. That compares with an unemployment rate in New Zealand of 6.7%"
The outlook for Europe remained uncertain.
"A European slow-down will impact heavily on the world's other major economies, which in turn will impact on New Zealand's economic success," Key said.
"From New Zealand's point of view, the crisis is not some isolated event on the other side of the world. We make up less than a quarter of 1% of the global economy so we can't help but be affected by events in the rest of the world," he said.
"That means we need to focus even more on continuing to ensure we have the right balance in our economic plan. This means controlling debt and managing spending on the one hand, and setting the conditions for competitive and sustainable growth on the other."
Local government reforms
Key said councils needed to think carefully about the capacity of their communities to pay higher rates during difficult financial times.
"New Zealand's 78 councils make up 4 per cent of GDP, spending NZ$7.5 billion of public money each year. And they manage NZ$100 billion worth of assets," he said.
"They also perform a huge range of regulatory functions that affect households and businesses – from granting resource and building consents to issuing dog registrations. Councils have a role to play in creating an environment that is conducive to sustained economic growth – just as central government does."
The government would not be forcing more council amalgamations, but pending reforms to local government laws would allow councils to amalgamate if they wished to.
"The amalgamation and new structure in Auckland has worked well. It has reduced bureaucracy, cut costs and the creation of a single voice has given the Auckland Council the capacity to arguably do more," Key said.
The reforms, announced earlier this year, were "designed to help keep rates affordable and debt at prudent levels by focusing councils on their core role, setting clear financial prudence requirements, and giving councils more tools to better manage costs," he said.
A second phase of reforms involved setting a framework around central and local government regulatory roles, a review of development contributions and an investigation into efficient infrastructure provision.
"It will also consider the report by the local government efficiency taskforce, which was announced in June and is chaired by Auckland environmental and public law specialist, Michael Holm. This work will be fed into a second reform bill proposed for 2013," Key said.
The Productivity Commission's latest investigation is into the regulatory powers of local government. See last week's article, Productivity Commission asks: Is variation in council regulation good or bad? Does it impose costs on businesses? What should change?.
Also see:
Productivity Commission's latest gig to look at local govt productivity, regulation, and what central govt could do; MULs in sights again (March 20).
Council development levies, urban planning, building consent and inspection processes set to fall under Productivity Commission spotlight (March 27). 
Construction companies being forced to build identical houses differently to meet the divergent demands of different council inspectors and their councils (April 6).