Westpac says containerised mobile branches used in post-quake Christchurch could be used in 'multiple ways'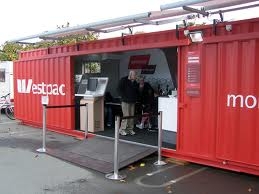 By Gareth Vaughan
Westpac says there are other potential uses for the mobile branches built inside containers it has used in Christchurch post the devastating February 2011 earthquake.
The suggestion the bank is considering a wider role for its containerised branches emerged in a report from the London-based Lafferty Group entitled The Bank Branch of the Future. Case studies of innovative bank branch developments included in the report feature one on Westpac's earthquake response, noting the bank's move to use 30-square metre shipping containers.
"The bank is considering using the containers as mobile branches in the long term, transportable on lorries," Lafferty says.
Its report includes quotes from Westpac's project manager Andrew Tasker and national procurement manager Dean Adams.
A Westpac spokeswoman told interest.co.nz there were "multiple ways" the containerised branches could be used after they're no longer needed in their current locations, especially when the bank needs to react quickly as it did in Christchurch. It has three mobile branches, but no plans for any more at this stage.
"We have one mobile branch in Christchurch at Cashel St Mall, and this will remain there for as long as it's needed. We have two other mobile branches - one in Foxton and one in Paihiatua, while branches there are refurbished," the spokeswoman said.
This article was first published in our email for paid subscribers this morning. See here for more details and to subscribe.