Kiwibank, the Warehouse and SolarCity launch solar power push with Warehouse vouchers and Kiwibank 'sustainable energy' loans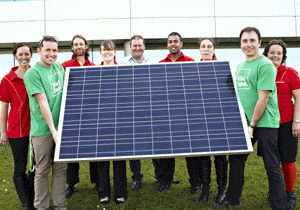 Kiwibank is launching "sustainable energy loans"- tied to home loans - to help people buy solar power systems provided by SolarCity from the Warehouse.
In a press release today the three companies said they were aiming to help New Zealand families instal solar power for as little as NZ$2.50 a day.
The initiative, dubbed "the Warehouse Solar Roof Shout" is aiming to instal 27,000 systems on rooftops to generate up to 65 million kilowatt hours of renewable energy annually, which the companies say is the equivalent of powering more than eight thousand homes. They say this would provide up to 30% of each homeowner's energy use at a price below what they are currently paying for power.
The initiative comes with the government's plans to sell up to 49% of the shares in state owned electricity generators and retailers Mighty River Power, Meridian Energy and Genesis Energy on the back burner after the delay of the first float, Mighty River Power, from this year until at least March next year.
SolarCity solar power systems will be showcased in six Warehouse stores every weekend, starting today, reaching 42 stores across New Zealand over the next year, and offering a NZ$250 voucher for every system sold.
Meanwhile, Kiwibank's "sustainable energy loan" will see the bank contribute up to NZ$2,000 towards the cost of financing each system installed. The companies said the Kiwibank loan would allow eligible customers to pay for their system as part of a Kiwibank home loan, with Kiwibank "kicking in" NZ$2,000 over four years.
"The sustainable energy loan can be included when you move your current home loan to Kiwibank, as a top-up on an existing Kiwibank home loan or on a new Kiwibank home loan. Kiwibank will contribute NZ$2,000 (over four years) towards the cost of the system and if you're already a Kiwibank home loan customer, Kiwibank will waive the top-up fee."
Kiwibank's lending criteria, terms and conditions, plus fees apply.
The information released by the three companies didn't mention anything about the cost of buying and installing a solar power system. However Brendan Winitana, chairman of the Sustainable Electricity Association of New Zealand, recently told interest.co.nz installation ranges from NZ$3,000 to NZ$4,000 per kilowatt, with the average size of installation about 3.5 kilowatts.
"The price of electricity has increased by 84% in the past ten years and many of our communities are struggling to pay their power bills," the Warehouse CEO Mark Powell said.
"New Zealand has plenty of sunshine so we want to educate Kiwis about solar power, and help make it more affordable for families," Powell added.
He said having SolarCity experts in different Warehouse stores around the country would help people understand how to reduce energy costs.
SolarCity CEO Andrew Booth said research showed upfront costs were the most common barrier to people adopting solar power. The Kiwibank loan and the Warehouse voucher would help people enjoy the financial benefits of solar immediately.
"SolarCity's standard Panasonic solar power system has a 25-year power output guarantee, so once the system is paid off, it will generate free power for decades," said Booth.
(Update adds additional detail).