Grant Samuel puts NZ$260 mln to NZ$285 mln valuation on consumer lender Fisher and Paykel Finance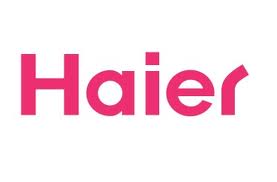 Grant Samuel & Associates, the independent valuer of Fisher & Paykel Appliances following the takeover bid for the company by China's Haier, has slapped a valuation on the whiteware maker's consumer finance business of up to NZ$285 million.
In its independent report included in F&P Appliances's target company statement, Grant Samuel puts a valuation on F&P Finance of between NZ$260 million and NZ$285 million. Haier has indicated it might sell F&P Finance should its takeover bid for F&P Appliances succeed.
Grant Samuel says its F&P Finance valuation is a full underlying one, assuming 100% of the business was acquired, having regard to earnings and asset multiples of comparable listed companies. (See further details of the valuations in the tables lower down in this story).
"There is very limited transaction evidence of comparable businesses having changed hands, largely due to the specialised nature of F&P Finance's product offering, and as a result there are insufficient transactions from which to draw any meaningful conclusions," says Grant Samuel.
"Grant Samuel has also had regard to discussions held between F&P Finance and potential purchasers of the business. The valuation takes into account the market position of F&P Finance's consumer credit products, the diversity of F&P Finance's funding sources and the resultant robustness of its financial position and the business' positive outlook for growth."
In terms of  F&P Appliances itself, Grant Samuel has given it an equity value of between NZ$926 million and NZ$1.137 billion, or between NZ$1.28 and NZ$1.57 per share, which is above Haier's NZ$1.20 a share takeover offer. F&P Appliances's independent directors, - chairman Keith Turner, plus Philip Lough, Lynley Marshall and Bill Roest, therefore say Haier's offer doesn't adequately reflect their view of the value of F&P Appliances based on their confidence in the strategic direction of the company.
"We note that the Independent Adviser's opinion is that the full underlying value of FPA shares is in a range of $1.28 to $1.57 per share. We therefore recommend that shareholders do not accept Haier's takeover offer," the independent directors said.
F&P Appliances shares were last trading at NZ$1.23.
'Certainty v significant risk'
For its part Haier said F&P Appliances's shareholders will need to decide between the "certainty" of Haier's offer or taking a "significant risk" on the achievability of Grant Samuel's valuation range. Haier described Grant Samuel's valuation range as "overly optimistic" saying it doesn't adequately take into account the risks contained in F&P Appliances's five-year strategic plan. Allan Gray Australia, F&P Appliances's second largest shareholder with 17.46%, has accepted Haier's offer.
Haier's NZ$1.20 per share offer represents a 60% premium to F&P Appliances's share price as at the close of trading on Friday September 7, which was the last trading date prior to the company announcing a potential offer from Haier, its 20% shareholder. 
Meanwhile, financial forecasts in the independent report predict F&P Finance will post a NZ$7.1 million, or a 32%, rise in profit after income tax for the year to March 31, 2013 of NZ$29.6 million. That's on total net income of NZ$107.4 million, up NZ$4.8 million, or 5%, and a NZ$4.5 million, or 6%, fall in total expenses to NZ$67 million.
And Grant Samuel points out if Haier's bid for F&P Appliances succeeds, a change of ownership means the consent of the whiteware maker's banking syndicate - ANZ, BNZ and Westpac - will be required for the loans to remain in place. F&P Appliances's management believes it unlikely the facilities would be withdrawn or reduced, the independent report says. The facilities stand at NZ$335 million, of which NZ$245 million was drawn down at March 31. F&P Appliances also had NZ$111 million of debentures on issue at March 31, and a NZ$194 million securitisation programme.
Grant Samuel's valuation of F&P Finance implies the multiples included in the table below.

Grant Samuel says the table below covers the relevant earnings and asset multiples of listed companies broadly comparable to F&P Finance.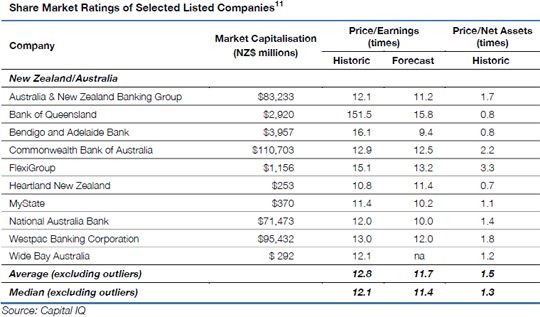 (Update adds comments from Haier).