NZ needs to look at decumulation in retirement income debate, expat economist says; 'How do you convince retirees to start selling down their homes?'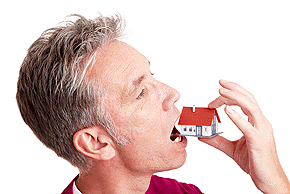 By Alex Tarrant
The retirement income debate of 'pay more, work longer, get less' needs a fourth point: 'sell your home,' according to an expat economist at a London think-tank.
Reform chief economist Patrick Nolan told a Treasury-Victoria University conference on the government's long-term fiscal projections this week that the topic of decumulation, particularly via housing equity release, needed to be brought to the front of the retirement income conversation in New Zealand.

There was currently a lot of talk in New Zealand about accumulation of financial assets for retirement, but the other side of the coin received little attention (Auckland University's Susan St John was an exception).
As well as equity release, more needed to be done creating an annuity market for the draw-down of pensions, Nolan said.
"I think New Zealand has a massive opportunity in that a big part of any [retirement income] funding solution is already there, in the sense that there is a lot of housing wealth in this country," he said.
"So we're going to have to think quite seriously about how we start to use housing wealth. I understand that could be one of the most unpopular things that anyone could ever say; a message to sell your home does not go down well."
But equity release was a massive issue in the UK, while in Australia a lot was being done on the annuities side of things.
Health insurance
Another topic that needed to be discussed more in New Zealand was private health insurance, which was more widespread in Australia.
"Something like 83% of health funding in New Zealand comes from the government, and in Australia it's only about 69%. There's much more contribution from the use of private insurance," Nolan said.
While there were some problems in Australia surrounding private health insurance, these largely stemmed from the cost of government subsidies in place to encourage more people into it, which could be avoided here.
'John Key absolutely wrong'
On top of decumulation and private insurance, discussions in both Australia and the UK comfortably involved talk and action on raising the pension age.
"There are also proposals to link this to longevity. Now that's a relatively uncontroversial policy, both in the UK and in Australia, and I think this is one area where New Zealand does stand out at being behind the curve," Nolan said.
"I think the Labour Party here have been very bold, and are quite right to talk about lifting the age, and – someone has to say it – I think Prime Minister John Key is absolutely wrong to rule it out," he said.
"If you look around the world, increases in retirement age are included in packages of reform. It's not a controversial policy in most countries."
Different treatment
Ring fencing certain benefits from the agenda merely made reforms harder.
"Politicians tend to think they're clever by ruling changes to certain areas out in order to make the short-term politics a bit easier. But generally, what it does is it just weakens your case for change," Nolan said.
"The first question you're asked is, 'if they're not facing reform, then why should I?' This is particularly relevant in the New Zealand Superannuation debate, because why should that benefit be outside the value-for-money agenda?" he said.
"If we're going to increasingly ask quite hard questions about working-age benefits, why aren't we going to start asking the same question about New Zealand Superannuation?"
The path forward would continue to grow more difficult, Nolan said. He quoted the European Commissioner: 'Effectively what we're telling people is to pay more, work longer, and get less.'
"An extra dimension is that, you'll also have to sell your home," Nolan said.
"Now you can imagine how hard politically that is ... but people do actually understand that," he said.
"There is one way you can make your life easier, and that's by moving quickly. As soon as you do, the cost of change is less."