Strong sales of both new cars and new commercial vehicles pushes total to over 100,000 for year, third highest on record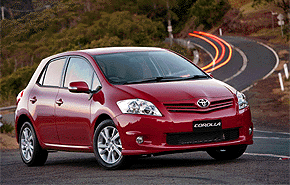 Strong sales of both new cars and new commercial vehicles pushes total to over 100,000 for year, third highest on record
Preliminary industry registration data shows total new vehicle sales for 2012 topped 100,000 units, claimed the Motor Industry Association.
"The 19.0 % increase in overall sales was an outstanding result in an apparently depressed economy. We are delighted with this result", said Perry Kerr, the associations chief executive.
"MIA data for December saw a total of 7,750 registrations for the month. This combined with previous months gave the industry a total of 100,794 sales for the year, broken down by passenger cars 76,870, up 20.7 % ( 12,851 units) and commercial vehicles of 23,924 which were up 16 % (3,303 units) on 2012. This is only the third time since 1990 new vehicle sales have broken the 100,000 mark" said Mr Kerr.
In 2003 the industry sold 103,448 vehicles, and in 2007 it sold 102,345.
For the year Toyota continued its now 25 year dominance of the New Zealand new vehicle market topping in both passenger cars (14,992) and commercial vehicle (6,628) sales giving them a total of 21,620 registrations for the year.
This was an all-time record yearly sales for Toyota.
Ford was in second place with 11,132 registrations and Holden third with 9,446 registrations.
In the luxury car market BMW finished in first position with sales of 1,646 ahead of Audi (1,540) and Mercedes Benz (1,094).
The top selling passenger car models for the year were the Toyota Corolla (5,324), followed by the Suzuki Swift (3,321) and the Holden Captiva ( 2,506).
In the commercial segment the Toyota Hilux retained first position (4,182) followed by the Ford Ranger (2,815) and the Nissan Navara ( 2,586).
Growth in this category was particularly strong in Q4.
Here are the 150top selling cars of 2012. Four on this list are SUVs.
| | | |
| --- | --- | --- |
| Make | Model | 2012 sales |
|   |   |   |
| Toyota | Corolla | 5,324 |
| Suzuki | Swift | 3,321 |
| Holden | Captiva | 2,506 |
| Holden | Commodore | 2,439 |
| Toyota | Yaris | 2,252 |
| Ford | Focus | 2,158 |
| Hyundai | I30 | 1,909 |
| Holden | Cruz | 1,864 |
| Toyota | Highlander | 1,799 |
| Hyundai | Santa Fe | 1,733 |
| Mazda | Mazda3 | 1,724 |
| Ford | Mondeo | 1,623 |
| Toyota | Camry | 1,502 |
| Toyota | RAV4 | 1,486 |
| Ford | Territory | 1,386 |