BNZ goes Facebookesque with new online banking service aimed at 'neglected' 18-29 year-olds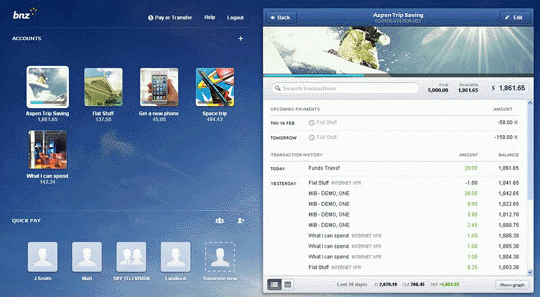 By Gareth Vaughan
BNZ says its new youth-oriented, customisable internet banking platform will ultimately be rolled out to small and medium sized business customers as well.
Under the catchphrase "banking that works like your brain does", BNZ yesterday unveiled YouMoney, a new Facebookesque online banking service that has been 12 months in the making. Up and running now, it comes for a monthly flat charge of NZ$5 that will include mobile phone access via Android and iPhone platforms from March. Students are exempt from the monthly fee.
Andy Symons, BNZ's director of retail banking, told interest.co.nz he expected YouMoney to drive a "significant uplift" in the number of 18 to 29 year-olds signing up as BNZ customers. In the 18 to 29-year old market BNZ was currently back "in the pack" with marketshare "slightly under our natural market share".
"We're certainly looking to boost that," Symons said. "That would be a great outcome."
He said YouMoney was primarily aimed at the youth market, which banks had traditionally neglected.
"Over and above some gimmicky type stuff and some fee concessions, I don't know if banks have really paid enough attention to creating a different experience that actually makes what they're doing relevant to young people," said Symons. "It has maybe been more about incentivising people to use existing stuff rather than thinking about doing something really compelling and relevant."
YouMoney allows customers to set up, and have, as many accounts as they want, establishing individual accounts for the likes of rent money and holiday savings complete with pictures of their own choice. It also includes a customised financial network, and standard list of transactions. YouMoney was developed by BNZ staff in house, with Symons saying it was a "significant investment".
There are initially no saving incentives for YouMoney users, but Symons said this is something BNZ has been looking at and wants more customer feedback on.
'Facebook's really easy but banking's not'
He said BNZ staff  talked to hundreds of young people and one of six key statements that came up was: "Facebook's really easy but banking's not." Asked whether Facebook had therefore been the key model for BNZ he said: "Kind of."
"The key model for this has been talking to actual people about how they use things these days to interact with other people because this is about interacting with money. Therefore it's no surprise with Facebook being as good as it is with this stuff that it (YouMoney) is going to look and feel a bit like Facebook looks and feels. I think the other thing about Facebook is that it has got billions of users but everybody's Facebook page feels quite personal," Symons said.
"So the whole talking to these young guys about putting photos on their different pots of money has been about creating that same kind of personal  interaction with your money. That's probably another reason it feels a bit like Facebook, it's personalised for everybody who goes in there."
But 'discomfort with Facebook being involved in my personal finances'
Rival ASB has, since last July, allowed its mobile banking customers to make payments to Facebook friends without using a bank account number. The payee has to be an ASB customer who has downloaded and registered the ASB mobile app. But Symons said BNZ's feedback had been that although paying people through Facebook sounds cool,  there was "a level of discomfort" with Facebook being involved in customers' personal finances.
"It's actually more important for us that we have great tools for managing our money on an everyday basis, kind of important to have new and innovative ways to pay other people, but the majority of people who you want to pay are already in your payee list and then every now and again you'll have someone who's not in your payee list and it takes a minute to set up," Symons said.
"So we chose to prioritise actually helping people manage their money really well. And now we'll start looking at how we blend the innovation that we've been doing in the payment space into it. In the future I definitely think you'll see a come together of this kind of stuff with new and different ways to pay people."
Coming to SMEs in the medium to long-term
Meanwhile, Symons said YouMoney would also be offered to small and medium sized enterprise (SME) customers in time. It could also been worked in with other BNZ products and services including the bank's TotalMoney home loans, which take the combined balances of a customer's accounts and subtract them from the total owing on their mortgage, thereby reducing the amount of interest they pay.
"We will look at expanding this to SMEs," Symons said. "Early indications are that this way of interacting with your money is resonating with a much broader population than just 18 to 29 year-olds. So absolutely, we'll be working on a evolution path for it that who knows, it could go right across the bank's products and services eventually."
He said YouMoney wouldn't be offered to SMEs within the next couple of months, but was likely to be in the medium to long-term.
"This (YouMoney) would be a nice thing to bring in behind some of the work we're doing in video, for example. Video accessibility to small business bankers from home is one of the things that we've been working on lately and that's really resonating well."
Symons also said YouMoney could even lead to young customers making more visits to bank branches, or stores as BNZ calls them.
"As we've talked to young people in focus groups there have been a couple of things we've talked to them about. This has included 'if we set up a YouMoney kiosk in a BNZ store, would you see yourself popping in and using it every now and again?' And interestingly enough, particularly a lot of the younger ones, have said 'absolutely that'd be great because then we're not burning up our minutes and data plans on our mobile devices'."
This article was first published in our email for paid subscribers. See here for more details and to subscribe.