Sales volumes show their strongest quarterly increase in six years; dollar takes off again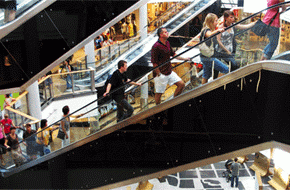 Retail sales volumes had their strongest quarterly increase in six years, Statistics New Zealand said today. The announcement gave further impetus to the already rampant Kiwi dollar, which hit new post-float highs.
After adjusting for seasonal effects, the volume of total retail sales rose 2.1 % compared with the September 2012 quarter. The last time sales volumes rose as strongly was in the December 2006 quarter.
The news sent the already buoyant New Zealand dollar even higher as it achieved a new post-float high on the Trade Weighted Index basket of currencies of 77.3. The flying Kiwi topped the US85c mark, reaching its highest level against the greenback since August last year.
"Twelve of the 15 retail industries had higher sales volumes in the latest quarter," business statistics manager Blair Cardno said.
The industries that led this quarter's increase were: fuel retailing, hardware, building, and garden supplies retailing, motor vehicle and parts retailing.
"This is the second large increase in a row for the hardware, building, and garden supplies industry, which was again boosted by stronger-than-usual sales in Canterbury," Mr Cardno said.
When price effects are included, the value of total retail sales rose 1.7 percent.
ASB economist Daniel Smith said the retail figures were much stronger than expected, providing some encouragement that the economy bounced out of its third quarter soft patch to good effect.
He said the economic data picture has been a little clouded lately, with the Household Labour Force labour market data for Q4 particularly weak, but retail spending apparently very strong.
"The true state of the economy probably lies somewhere in the middle, with most indicators pointing to a gradually improving economy being led by increasing construction activity in Canterbury," he said.
Part of the four quarter retail strength also appeared overstated by larger than normal seasonal movements in fuel sales over 2012.
"From an inflation viewpoint, today's data reinforce the view that pricing pressures remain very weak, although part of that will be due to the strong NZD. With inflation pressures remaining muted, we continue to expect that the RBNZ will keep the OCR on hold until March 2014."
South Island sales values were up 1.9 percent in the December 2012 quarter, while sales values in the North Island rose 1.3 percent.
Statistics NZ says the trends for total sales volume and total sales value have been generally rising since low-points in 2009.
Immediately following the announcement, the NZ dollar surged higher, passing through 77.5 on the TWI. Live rates are here »