Offshore operator Kiwi Deposit Building Society continues legal sparring with ASB, won't be drawn on previously touted launch of NZ financial services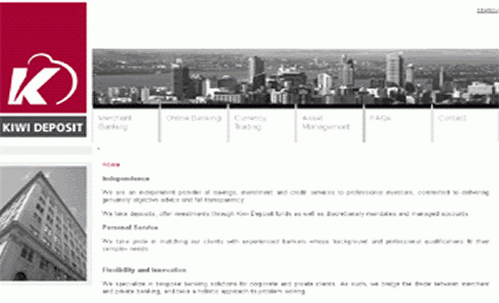 By Gareth Vaughan
Kiwi Deposit Building Society, a New Zealand registered entity that operates overseas, is staying mum on its previously stated plan of launching financial services within New Zealand.
Kiwi Deposit, and related entity Equinor Trust which provides trustee management services, recently took legal action against ASB when the bank moved to terminate its relationship as Equinor and Kiwi Deposit's bank. As reported by the Sunday Star-Times, this action was unsuccessful.
Asked by interest.co.nz about the plans he outlined last April for Kiwi Deposit to launch financial services within New Zealand, managing director Lachlan Williams declined to comment. He also declined to comment on whether Kiwi Deposit and Equinor had secured alternative banking arrangements after unfruitful efforts to obtain services from BNZ, and if so, whether these were with a New Zealand registered bank. And nor would he be drawn on any ongoing legal action against ASB.
However, an ASB spokesman told interest.co.nz: "We can confirm that an unquantified damages claim remains before the Court following the unsuccessful attempt by Equinor Trust Limited to prevent the closure of its accounts. If this claim is pursued, ASB will defend its actions in closing the accounts as it was entitled to take these steps and did so with reasonable notice."
Last April Williams told interest.co.nz that Kiwi Deposit, which is incorporated under the 1965 Building Societies Act and is able to offer banking type services overseas without falling under the jurisdiction of the Reserve Bank of New Zealand, ultimately wanted to offer domestic services for "ma and pa" retail investors as well as those legally classed as sophisticated investors.
'Not a freeloader'
He said Kiwi Deposit wasn't "freeloading" on New Zealand as a "fabulous jurisdiction" from which to run a global financial services business, and ultimately wanted to take deposits from the New Zealand public and offer "vanilla" mortgages, seeing an opportunity through "insufficient" domestic competition.
"We believe that our presence in New Zealand can be of benefit to the average New Zealand investor, and as a responsible corporate citizen, regulated in New Zealand, feel an obligation to make a contribution to the domestic market," Williams said last year, but wouldn't be drawn on where the funding for such a push might be sourced from.
Interest.co.nz's story last year also noted that a wholly-owned Danish subsidiary of Kiwi Deposit Building Society was referred to the police by Denmark's equivalent of the Financial Markets Authority - Finanstilsynet - in 2010 after buying into a sharemarket listed Danish company and waiting nine days before informing the market of its obligation to make an offer to minority shareholders. It was fined. Williams said the delay was unintentional and blamed his firm's Danish lawyer.
Injunction attempt stymied
Meanwhile, in a High Court judgement issued in January, Justice Patricia Courtney turned down a request from Equinor, Kiwi Deposit and other related entities for an interim injunction against ASB that would've required the bank to maintain their accounts for 21 days, or to refrain from remitting the funds held in the accounts.
Williams told the court that ASB's decision to end the relationship was driven by its concerns that Kiwi Deposit presented a commercial threat to ASB's services for high net worth individuals. Justice Courtney said this concern apparently centred around Kiwi Deposit's efforts to open a "nostro" account service system, which would allow access to the SWIFT interbank messaging system.
Equinor and Kiwi Deposit, whose website offers merchant banking, online banking, currency trading, and asset management services, had held ASB bank accounts since 2007 and 2009, respectively. They hadn't been able to find a new banker, and there was no suggestion negotiations were underway with any other banker, Justice Courtney said. There were 97 accounts in question, with 65 being foreign currency accounts. Some trusts involved were trading trusts, others received dividends or investment returns and wouldn't be able to distribute these without banking services.
ASB commercial manager Matt Allen told the court concern over the accounts grew through 2012 as a result of the nature of their transactions, and the lack of clear response to queries about them.
"He (Allen) gave as one example a transfer of US$1 million in October 2012 from a Tunisian company to an Islamic bank in the United Arab Emirates via a Kiwi account," the judgement states. "The ASB did not get satisfactory answers about the nature of this transaction. Then in November 2012, the ASB was contacted by the Royal Bank of Scotland regarding a suspicious Kiwi transaction."
Shortly after this, Justice Courtney says, ASB decided, due to a lack of confidence in Williams and concerns over its own position in terms of risk and anti-money laundering compliance issues, to end the banking relationship.
"Mr Allen rejects as nonsense any suggestion of the ASB being driven by concerns over competition from Kiwi."
Trusts under more scrutiny thanks to new anti-money laundering laws
New Zealand banks are preparing for the introduction of the Anti-Money Laundering and Countering Financing of Terrorism Act on June 30. New Zealand Bankers' Association CEO Kirk Hope told interest.co.nz last year that banks would be stepping up customer due diligence under the anti-money laundering laws and that trusts in particular would come under greater scrutiny.
Justice Courtney said the crux of the case was whether ASB gave sufficient notice of its decision to terminate the banking relationship.Initially four weeks notice was given on November 8 last year. This was subsequently extended to 64 days. The judge said that despite this including the Christmas holiday period, it was reasonable and agreed to by the plaintiffs, albeit from a position of weakness given they had no alternative options.
Ultimately Justice Courtney said she wasn't satisfied that interim relief would assist Equinor and Kiwi Deposit.
"Mr Williams has referred only to his unsuccessful efforts to obtain banking accommodation with the BNZ. However, he provides no details of other possible arrangements. There is no suggestion that negotiations are on foot with any other banker. Given the relative complexity of the the plaintiffs' banking needs, it is inconceivable that alternative arrangements could be put in place within the 21 days sought. There is, therefore, no basis on which I can find interim relief of the kind sought would have any utility."
"That being the case, there is, in truth, no benefit to the plaintiffs in my granting interim relief and, to the contrary, significant disadvantage to the defendant to be forced to continue this relationship," Justice Courtney said.
The Equinor and Kiwi Deposit accounts at ASB were closed on January 17.
This article was first published in our email for paid subscribers. See here for more details and to subscribe.