New Zealand wages attract among the lowest net tax burden of all OECD countries, lowest for families on the average wage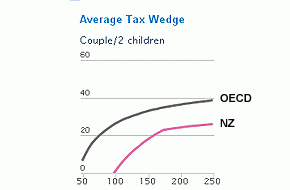 We don't know how lucky we are.
New Zealand tax wedges are among the lowest in the world - or in the OECD at least.
For families - that is a one earner married couple with two children and earnings at the average wage level - we have the lowest in the OECD.
For single people, only Chile has a lower level in the 34 nation survey.
France and other European countries score the worst.
A 'tax wedge' measures the difference between before-tax and after-tax wages. It measures how much the government receives as a result of taxing the labor force.
New Zealand outcomes benefit from having lower income tax rates, no separate payroll tax or superannuation tax, and adding back the substantial Working for Families benefits.
In the end, New Zealand families on the average wage get back almost as much in benefits as they pay in tax.
This data was released for 2012 by the OECD in an emailed statement.
Over the past two years, income tax burdens have risen in 23 out of 34 countries, largely because a higher proportion of earnings was subject to tax as the value of tax free allowances and tax credits fell relative to earnings. In 2012, only 6 countries had higher statutory income tax rates for workers on average earnings than in 2010, the OECD said.
Australia's rose because of the introduction of a temporary additional levy to finance post-cyclone reconstruction.
New Zealanders who emigrate chasing higher wages should consider the tax impact on gross earnings in other countries in addition to the costs of living there.
(If the following interactive graphic doesn't load, refresh the page.)