Govt strives to broker a deal to save aluminium smelter and guarantee that 15% of NZ's power remains utilised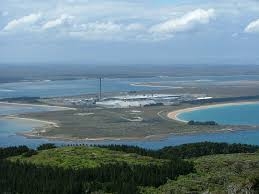 The Government has stepped in to try and broker a deal in what appear to be deadlocked talks between SOE Meridian Energy and global mining giant Rio Tinto over electricity supply to Rio's Tiwai Point aluminium smelter near Bluff.
The smelter consumes something like 15% of New Zealand's power. If a deal cannot be struck and in a worst-case scenario the smelter closes, this has huge ramifications for the whole country's energy industry. Meridian was today indicating it doesn't think it can reach a new deal at the moment.
The issue also has huge ramifications for the Government's proposed partial sale of state assets. A sale of 49% of Mighty River Power is already on the starting blocks, with 440,000 Kiwis having registered interest in buying shares. Mighty River does not supply any energy to the smelter, but obviously the company would be affected if as much as 15% of the country's available power suddenly had to find another home. Meridian itself, which is much the biggest of the SOEs on the block, is also slated for a partial sale.
Meridian has been in talks with Rio subsidiary Pacific Aluminium, the majority shareholder of New Zealand Aluminium Smelters Ltd since July 2012, over potential changes to its existing electricity contract.
Meridian Energy chief executive Mark Binns said that his company had advised Pacific Aluminium of its 'bottom line' position.
"Despite significant effort by both parties there remains a major gap between us on a number of issues, such that we believe that it is unlikely a new agreement can be reached with Pacific Aluminium," says Binns.
In the event no agreement can be reached, Meridian will seek to engage with Rio Tinto and Sumitomo Chemical Company Ltd, the shareholders of New Zealand Aluminium Smelters, who will ultimately decide on the future of the smelter.
Meridian signed a new contract with New Zealand Aluminium Smelters in 2007, after three years of negotiations. This current contract commenced on January 1, 2013 and remains unaltered and binding on the parties.
In October 2011, Rio Tinto announced it would restructure its worldwide aluminium business and said interests in six of its Australian and New Zealand assets (including the smelter at Tiwai Point) would be transferred into a new business unit called Pacific Aluminium, and sold.
State Owned Enterprises Minister Tony Ryall said the positions of Meridian and Pacific Aluminium were reasonably close in terms of the short to medium term electricity price, "but they remain well apart in the longer term".

"With this in mind, the Government has been in contact with Pacific Aluminium's international parent company Rio Tinto this week to discuss helping to bridge the gap in their positions over the short to medium term, if this could be of assistance in concluding an agreement.

"In the meantime, we understand Meridian's existing contract with Pacific Aluminium remains in place at least until January 1, 2016 with significant financial and other obligations beyond that.

"As we've said previously, all relevant information – including about the smelter electricity contract – will be reflected in the Mighty River Power offer document which is currently being finalised."