SBS Bank sets up shop in Auckland, preparing first mobile banking services alongside online banking upgrade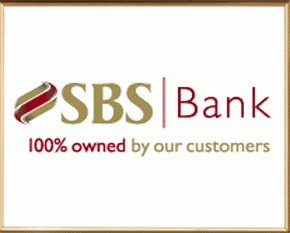 By Gareth Vaughan
SBS Bank has appointed an Auckland area manager as it looks to develop a mortgage book in the Auckland market. It's also working on an upgrade of its online banking platform and is set to launch its first foray into mobile banking.
In its annual report the bank and building society says it plans to establish a presence in Auckland, following its "tried and proven rules of careful, quality lending."
Tim Loan, SBS' general manager for finance, told interest.co.nz SBS had appointed Matt Isbister, formerly its Nelson branch manager, as its Auckland area manager. Isbister started at the beginning of June and is working out of SBS subsidiary Finance Now's Auckland offices. He's currently looking to develop relationships with mortgage brokers.Ultimately SBS will move to a "multi-branch" strategy in Auckland, although branches could be two to three years away, Loan said.
"We will probably be more conservative (in Auckland)," Loan said. "We're a small bank so we don't need a huge amount of the Auckland market. We'll price very competitively, but we'll not be exposing ourselves to too much of the high LVR (loan-to-value) lending in Auckland."
10% target
Loan said SBS would be comfortable with growing its Auckland mortgages to as high as 10% of its total book over the longer term.
"We only have 25% of our lending in the North Island, and anticipate Auckland will be a reasonable chunk of that in time."
The Auckland push comes after Loan told interest.co.nz in February that  SBS was keen to develop a presence in the Auckland banking market, but was taking a cautious approach to doing so.
SBS, which bought the Hastings Building Society in 2010 and outlined an ambition to become a national community bank, says it still wants to be a national player in the banking market, from its Invercargill base.
"To help nurture our ambitions, we will be using technology as our ally. In the coming year we will upgrade our online personal banking products, develop mobile banking and introduce a debit MasterCard to help customers better manage their finances," the annual report says.
Loan said it would be SBS' first move into mobile banking, with a combined new internet and and mobile banking platform to be launched in the next few months. Loan said this was an investment of between $750,000 and $1 million..
Annual profit up 22%
Meanwhile, SBS' annual report shows a $2.5 million, or 22%, rise in its net surplus for the year to March 31 to $14.3 million.
This came as net interest income rose $1.5 million, or 2%, to $71.4 million, and total operating income rose $2.9 million, or 3%, to $91.5 million.  The bank's provision for credit impairment fell $4.7 million, or 21%, to $17.3 million, but its operating expenses rose  $4.4 million, or 9%, to $53.3 million.
SBS's gross loans shrank by almost $206 million, or 8%, in the year to March 31 to $2.252 billion. Individually impaired assets dropped $17.5 million, or 42%, to $23.7 million, and past due assets fell $12.9 million, or 3%, to $30.3 million.
The overall value of the SBS' redeemable shares also fell, down $59.3 million, or 3%, to $2.180 billion. Total assets fell 0.42% to $2.829 billion and total liabilities fell 1% to $2.598 billion.
The bank's tier one capital ratio, as a percentage of risk weighted assets, rose to.13.34% at March 31 from 13.03% at December 31 last year. Its total capital ratio fell to 14.34% from 15.10%. The Reserve Bank mandated minimums are 6% and 8%, respectively.
Balance sheet growth the focus
So far in the current financial year, lending was up "a little bit up," Loan said, with profitability tracking well on the back of reduced impairment charges.
Balance sheet growth was now the major focus.
"It's tough. It's a very aggressive and competitive environment. And the issue that we've always had is we're not going to go out and treat new customers better than existing customers because it just does not fit with our mutual model. That makes it doubly hard for us because the other banks are basically subsidising their new customers through existing customers and paying out big dollars to get new customers on board. That just doesn't fit with us philosophically," said Loan.
This article was first published in our email for paid subscribers. See here for more details and to subscribe.