Papers released by Treasury show that it was John Key who first approached the Tiwai Point smelter owners with a taxpayer 'sweetener'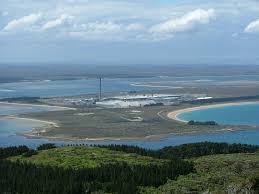 The Prime Minister John Key himself stepped in with the offer of a taxpayer-funded "sweetener" for owners of the Tiwai Point aluminium smelter earlier this year.
Last month the Government announced it had agreed to pay $30 million of taxpayers' money to the smelter's ultimate owners Rio Tinto for that company's agreement to enter into a renegotiated power deal with SOE Meridian Energy.
Back on March 28 the Government revealed that it had made an effort to "bridge the gap" in negotiations between Rio and Meridian, but that offer was ultimately rejected.
However, a series of papers released by Treasury detailing the lead up to the settlement of the power contract and the agreement for the Government to pay the sweetener, show that the Prime Minister himself, on March 27 telephoned senior Rio company officials and put an offer on the table.
While the details of the amount of money offered have been blanked out, other documents also released by Treasury indicate that the offer from Key may have been for a similar amount to that ultimately agreed to.
A letter from Rio on March 28 thanked Key for becoming "personally involved", but rejected the offer.
In a "stand up" interview with news media that same day Key said he had been "tangentially involved" in the process.
The media statements from the Government on March 28 came from SOE Minister Tony Ryall and gave no indication of the Prime Minister's involvement.
Also, the Government did not say the deal had been rejected till April 2, and said Rio had rejected it "over the weekend" (bearing in mind that it was Easter weekend).
The documents released by Treasury paint a picture of seemingly frantic activity within the Government in late March after Meridian had apparently put an ultimatum to the smelter's owners and was preparing to disclose that fact to the stock exchange.
Meridian did indeed go public with the difficulties it was having over negotiations on March 28.
Finding a resolution to the crisis was vital for the Government. In March it was involved in plans to float SOE Mighty River Power, while now it is planning to float 49% of Meridian.
The successful floats of these two companies were crucial to the Government's targeted returns of $5 billion to $7 billion from SOE partial privatisations.