Outgoing SFO boss welcomes OECD report suggesting lax NZ attitude to tackling bribery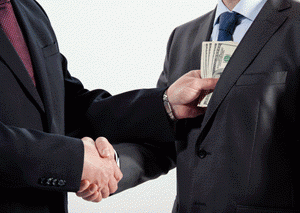 By Gareth Vaughan
A report from the Organisation for Co-operation and Development (OECD) raising concerns about New Zealand's efforts to combat bribery has been welcomed as a "endorsement" of the direction the Serious Fraud Office (SFO) is heading in by its outgoing CEO.
Acting CEO Simon McArley told interest.co.nz the OECD report was welcome.
"We really welcome this because this is what we've been saying in our Statement of Intent," said McArley. "We need to improve detection. This (OECD report) is pointing straight at what we're doing."
"We've got a strategy that talks about improving detection and we've got in place an organisation that brings together the international (crime fighting) organisations. So we're quite pleased. We see this as a bit of an endorsement of the direction we've been heading in."
As reported earlier by interest.co.nz a report on implementing the OECD anti-bribery convention in New Zealand, from the OECD, raises concerns about "outdated perceptions" that New Zealanders and New Zealand companies don't engage in bribery. It says these perceptions could undermine detection efforts.
"Since becoming a Party to the Convention in 2001, New Zealand has not prosecuted any foreign bribery cases," the OECD says. "Only four foreign bribery allegations have surfaced. New Zealand opened its first investigations into two of these allegations in July 2013."
'I can't see how it can't be happening'
McArley said he believed New Zealanders and New Zealand companies were involved in bribing foreign officials, although he couldn't point to any concrete evidence.
"I can't see how it can't be (happening) because you get reports of this happening in other jurisdictions who trade in the same markets as we do," said McArley. "I can't see how we can be that unique and still be effectively trading in those markets. (But) I don't have any evidence where I can say 'yes, I know this, that and the other company have been doing this'."
'It happens in Australia and we're very similar markets. We suspect there is offending out there, but it's a matter of getting, and encouraging, either the corporates to self report or people within those, or (people) with knowledge to come forward and tell us. Because otherwise we have no way of looking inside these organisations to see what's going on," McArley added.
He suggested another difficulty with bribery and corruption was that, unlike with fraud, you don't necessarily have a victim with knowledge of the offence.
"Usually fraud you find out about because someone has lost some money and they're jumping up and down. The other factor is the recipient of the bribe is in a foreign country and that country's law enforcement agencies sometimes aren't as cooperative as they can be."
'They say it never happens'
McArley said the SFO asks lots of companies whether they have any experience of bribery.
"And they say it never happens."
In February the SFO hosted the inaugural meeting of the Economic Crime Agencies Network. Its members include the Federal Bureau of Investigation (FBI), the European Anti-Fraud Office, agencies from Britain and countries throughout Asia excluding China. McArley said building relationships with enforcement agencies from other countries was a key prerequisite to tackling international bribery. The head of the bribery agency from Shanghai had visited New Zealand three weeks ago, McArley added.
He said of the four cases outlined by the OECD involving allegations of New Zealand individuals and/or companies involved in bribery of foreign public officials, three were ongoing. However, he declined to comment on them.
"We've investigated every complaint we've received but the complaints have been few and far between," said McArley. "So the issue is detection and how do we get these things detected. And we've given this quite a lot of thought. Our Statement of Intent talks about early intervention through intelligence led detection and also through promoting whistle blowers."
Justice Minister plays down OECD report
Justice Minister Judith Collins said the OECD report focuses on a single criminal offence, being bribery of foreign public officials in international business transactions. It doesn't assess New Zealand's enforcement of domestic bribery or other corruption offences, Collins added.
"As we know from recent cases, New Zealand has a zero-tolerance approach to domestic corruption, and takes the same approach to investigating foreign bribery, when it's reported," said Collins.
See Collins' full statement here and see my recent video interview with McArley here.
Separately, the SFO laid charges against Peter John Scutts in September allegedly the former CEO of the New Zealand Wine Company dishonestly used a document and received secret reward for procuring contracts. The charges relate to an arrangement to supply wine to an Australian based wine wholesaler. The SFO alleges that while in the role of CEO for the New Zealand Wine Company, Scutts received payments from the same wholesaler based on the volume of wine sold by the New Zealand Wine Company. It says the payments invoiced amounted to about $64,000.
And earlier this year Zespri's Chinese subsidiary was fined about $960,000 and one of its employees was sentenced to five years prison following charges of under-reporting the import duties on Kiwifruit imported into China between 2008 and 2010.
Julie Read, an Australian litigator who has worked for the Australian Securities and Investment Commission, takes over as SFO CEO on Monday from McArley.