NZ out of international anti-money laundering dogbox as lawyers, real estate agents and others face having to comply with strict rules within 4 years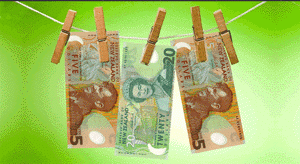 By Gareth Vaughan
Lawyers, accountants, real estate agents and dealers of precious metals and stones are likely to have to comply with stringent anti-money laundering laws within four years.
The Financial Action Task Force (FATF), an inter-governmental body established by the Group of Seven (G7) that sets policies and standards on anti-money laundering and combating terrorist financing, says this in a just completed report on New Zealand.
The report, a follow-up report, sees New Zealand removed from a follow-up assessment list. This comes after the Anti-Money Laundering and Countering the Financing of Terrorism Act (AML/CFT Act) took effect from June 30. However, one area FATF still wants to see more progress on from New Zealand is in dealers of precious metals and stones, and company service providers such as lawyers, accountants and real estate agents, becoming subject to AML/CFT requirements.
A Ministry of Justice spokesman told interest.co.nz in August the Government was considering introducing AML/CFT obligations for businesses and professions, including lawyers, accountants, conveyancing practitioners, real estate agents and businesses that deal in high-value goods such as auctioneers and bullion dealers. However, the Ministry of Justice was in "the early stages of policy development" with these so-called phase II reforms, and no precise timeframes for any legislative changes had been set.
And in a statement welcoming the FATF report, Justice Minister Judith Collins said the Government was "already moving" to address recommendations in the new FATF report, such as improving monitoring of institutions' efforts to prevent terrorist financing and considering extending the AML/CFT Act to cover professions such as lawyers, accountants, real estate agents and high-value dealers.
However, the FATF report itself indicates a specific timeframe for extension of the AML/CFT Act.
"The Ministry of Justice is currently carrying out initial scoping work on the phase II reform, including setting timeframes for policy development, consultation and the legislative process. While the ultimate timing of the reform will be subject to government approval and priorities, it is anticipated that the phase II reforms will be enacted and in force by 2017," the FATF report says.
Collins, meanwhile, said the "stamp of approval" for New Zealand's anti-money laundering and countering the financing of terrorism laws was important.
 "Being in step with the rest of the world is crucial to New Zealand as a trading nation, as more authorities around the world are requiring compliance with AML/CFT standards," Collins said. "Being internationally recognised for our progress is an important validation of New Zealand's efforts. As a trading nation and good international citizen, we must keep in step with our major trading partners and do our part in tackling serious economic crimes."
The FATF report itself said: "In October 2013, the FATF recognised that New Zealand had made significant progress in addressing the deficiencies identified in the 2009 mutual evaluation report and could be removed from the regular follow-up process." 
Currently the Reserve Bank is tasked with overseeing compliance with the AML/CFT Act by banks, life insurers and non-bank deposit takers such as finance companies, building societies and credit unions. The Financial Markets Authority (FMA) is tasked with overseeing compliance by issuers of securities, trustee companies, futures dealers, collective investment schemes, brokers, and financial advisers. And the Department of Internal Affairs oversees compliance by casinos, non-deposit taking lenders, money changers, and any other financial institutions not supervised by the Reserve Bank or FMA.
This article was first published in our email for paying subscribers. See here for more details and to subscribe.