About 1,300 BNZ staff to start returning to Wellington's Harbour Quays building in December after ceiling strengthening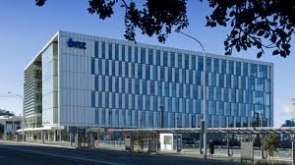 BNZ's Harbour Quays Wellington area headquarters, which staff vacated three months ago, is undergoing work to bring it inline with changes to the building code introduced after the Christchurch earthquakes.
BNZ CEO Andrew Thorburn told interest.co.nz it was now expected staff would begin moving back into the building before Christmas with most returning in January. In early September he had indicated a November return was on the cards.
About 1,300 BNZ staff have been working elsewhere since the July 21 Wellington region earthquake. The Harbour Quays building is owned by CentrePort and was completed in 2009.
"All our people are out. They're not going back in until we're absolutely certain that it's safe and the ceiling is upgraded to a higher standard. That is underway," Thorburn said. "We've been working with CentrePort on that. So it's proceeding but we've been wanting to make sure it's done properly."
"It has cost us some money but in the scheme of staff safety and welfare it's not an issue. And we're a considerable company so we can absorb such things. We hope to have our people starting to go back in before Christmas with most resettling in January 2014," added Thorburn.
After the July 21 earthquake BNZ said the building was structurally sound but, due to internal damage caused by burst pipes, would be closed for at least six to eight weeks. Then after the August 16 quake BNZ said no significant new damage had occurred, but staff would make a "graduated return" to the building in about nine weeks time.
Staff have been housed in three or four other rented buildings around Wellington. In early September Thorburn told interest.co.nz the big issue was with ceiling tiles and it was "not a negotiable point" that the building be altered to bring it in line with the post-Christchurch earthquake building code.
This article was first published in our email for paying subscribers. See here for more details and to subscribe.