Bill English, 'a quiet achiever who will deliver the Govt's promised surplus', is politician of the year according to Trans Tasman Political Alert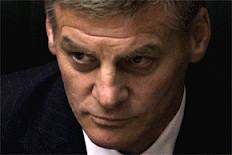 Finance Minister Bill English is Politician of the Year, according to Trans Tasman Political Alert, which says his selection was a relatively simple choice.
In its 9th annual Roll Call TransTasman says English polled highest among its editors, contributors and Wellington insiders who comprise the panel that puts together Roll Call. English was given a score of 9 out of 10, up from 7.5 last year.
"English is restoring the Crown Accounts to surplus, he is getting the economy 'set to fly' and he does more than his fair share of the heavy lifting on policy," says Trans Tasman.
"He's driven reform in the state sector, to use resources more effectively and deliver higher quality services. In the House he's become a commanding performer, blunting Opposition attacks. He and John Key make a formidable team, with English's intellectual grunt complementing Key's instinctive political feel."
English was further described as a quiet achiever who will deliver the Government's promised surplus next year.
Prime Minister Key, meanwhile, scored 8.5 up from 8 last year.
"Still remarkably popular for a second term PM, but not as bouncy and spontaneous as he was a while ago, and he's learned to be a lot more cautious with the media. The opposition's ranting attacks show they know he's the one who can undo their 2014 election campaign, meanwhile he's recognised the vital importance of coalition partners," Trans Tasman says of Key.
Labour's new leader David Cunliffe scored 7.5, up from just 4.5 last year.
"Due to changes in Labour's rules managed to pull off the unthinkable and become leader despite many in the caucus not wanting him. He is clever, articulate and a good communicator. Has the potential to be the next PM, but he will only get the one shot. Caucus has no choice but to get behind him. The great fear is he could still be an accident waiting to happen," Trans Tasman says.
Labour's finance spokesman David Parker scored a 7, up from 6.5.
"Experienced, articulate and good-humoured his biggest challenge will be convincing business a Labour/Green Government would not harm the economy," Trans Tasman says of Parker.
And here's what Trans Tasman says about some of the other MPs
Peter Dunne - "Lost his ministerial portfolio and, for a while, his party as well after some serious brain fades. Bounced back though and at year end was claiming to be a born-again politician. He'll stand again in Ohariu and despite all the trauma he could hold it - with a bit of help from National. Loses points for appalling judgment calls but we think he'll be back." His score fell from 6.5 to 4.

John Banks - "Pushed Charter schools through the House. A media magnet for all the wrong reasons. Huge political liability for National with Key forced to defend him. Another problem the PM didn't need. Determined to stand again in Epsom but issues still to be decided could thwart that." His score went from 0 last year to 1.

Shane Jones went from a 4 to a 5 on the back of his gutsy leadership challenge, but - "Economic development is a big job and he isn't doing it in the House. Jones vs Joyce - no contest. Where's the policy promotion, Shane? Must David Parker do it all? Leadership challenge raised his profile but there's no follow up."

Former leader David Shearer's score headed lower - "Was put out of his misery as leader. Really up to him now to make something of his political career. Should do the policy work and rebuild."

Some of Labour's other "stars" also get harsh comments. Our panelists say there's no sign of policy work from Jacinda Ardern while Grant Robertson also needs to develop some policy to take on Steven Joyce a bit more.

National's top players are all given solid scores for a year of solid achievement. Gerry Brownlee drops half a point after showing frustration about the Christchurch rebuild. Hekia Parata gets a big jump from 2 to 5 after settling into her Education role and improving her management and communication. Paula Bennett picks up a point for pushing contentious welfare changes through the House unanimously, while Anne Tolley's performance in Police and Corrections gets her an extra point.

Nathan Guy cops some flak for his performance at MPI - "Leaden delivery, leaden performance. Too often appears to be a mouthpiece for his officials, it would be good if he showed he was capable of saying something he had thought of himself." He goes down from 5 to 4.

Pita Sharples takes a hit this year, losing two points - "The fire has gone out. Hung on to the Maori Party co-leadership for too long and hasn't tackled tough issues facing his department. Worthy ambitions for Maori, he's done his bit and it's time to go."

Among the other Govt stand-outs is David Carter - "Rocky road when he took the Speaker's chair but he's getting on top of it and winning respect in the House. Opposition worked him over in the beginning but he came through it and says he's enjoying the job. Carter has the makings of another very good Speaker from National's ranks."

Katrina Shanks is one of the decliners in National's ranks falling from 4 to 3.5 - "Never had much chance to show her talent but didn't try very hard, and now she's retiring. Easily forgotten."

In the ranks of the Greens, Russel Norman is recognised for another standout year, although he gets points off for attitude - "Still one of the best performers in Parliament, Must ensure those who say they vote Green actually vote, and reassure business about a Green influenced Govt. Assertive, but relentlessly negative and will be tough in a coalition." He scored 7, down from 8 last year.

And despite the years catching up Winston Peters is still at the top of his game - "Still the best attack MP in Parliament but he's starting to suffer from grumpy old man syndrome. Still gets massive media coverage, and knows he can be a key player post-election if he gets NZ First back - he'll die trying."

As for the numbers - 33 of National's 59 MPs achieved a score of 5 or over. 32 of them managed a higher score this year, while 17 of them went down. 10 kept the same score as last year.

For Labour 14 of their 33 MPs scored 5 or higher, 18 of them moved their score up, while 7 of them went down. 6 kept the same score as last year.

Of the 14 Green MPs, 6 scored 5 or higher, 6 scored higher than last year and 2 went down.

Of NZ First's 7 MPs 2 of them scored 5 or more, 3 made higher scores then last year, 2 saw their score fall, while 2 managed the same mark as they did in 2012.