Mayor sets out economic plans, including attracting more investment, attracting more migrants, and public-private partnerships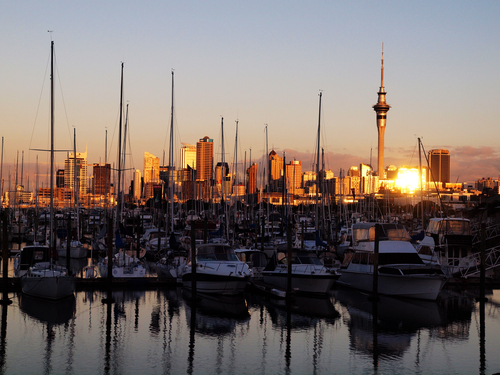 Auckland Mayor Len Brown's set out his economic strategy for the city, which includes attracting more international investment, more migrants and public-private partnerships.
In a "state of Auckland" speech titled: "Transforming Auckland's Economy" to the Greater East Tamaki Business Association today, Brown said Auckland needed to attract international investment and talent "on a much bigger scale than we have in the past".
He laid out five major strategies for pushing the Auckland economy - and this included another plug for getting the Government to agree to bringing a start on the proposed city rail link (CRL) brought forward to 2016.
Brown said Auckland had achieved great international recognition for high liveability, but now needed to back it up "with much greater openness to business and investment".
He said a new international development office, part of council offshoot Auckland Tourism, Events and Economic Development (ATEED) was "now open for businesses and will soon be making it's mark".
The role of this office was to "oversee the packaging of Auckland's major investment opportunities into a single living prospectus and investment bureau for on-shore and off-shore investors".
Initially, the investment office would be offering opportunities for investment in large Auckland and council controlled organisation projects.
"This service will then be offered in partnership to owners of other large projects, such as NZTA, universities and the private sector."
Promoting Auckland to migrants
The second step being taken this year "towards transforming Auckland's economy", was to to "actively promote Auckland to the international migrant market".
"International research tells us that liveability is the biggest driver of migration. As Auckland becomes an increasingly liveable city the potential provided by international migration as an economic development tool multiplies," Brown said.
"That's why I want us to develop a promotional campaign, actively informed by the work of a commercial private sector advisory group. This will complement the fantastic visitor marketing campaign ATEED is beginning to rollout, along with the launch of a Visitor Plan Mark II."
The third leg of the strategy involved building a reputation as a modern, wired city.
Brown said there had been "too many excuses and delays in rolling out ultra-fast broadband and providing decent Wi-Fi".
"Auckland Council will be developing a Digital Auckland – Kick Start programme so we are playing an active role in picking up the pace in this area. My intention is that this will include working with business partners to roll out free Wi-Fi in public places and public transport and finding commercial partners to help expedite the rollout of ultrafast broadband."
Bring on PPPs
The fourth part of the strategy was that Auckland needed to begin to make public private partnerships "part of how we deliver large scale projects", Brown said.
"At the end of last year the council and I agreed a way forward for the SkyPath project – a walk and cycle-way across Auckland's harbour bridge. The SkyPath will be Auckland's first PPP, and will eventually enable a great vision – a cycle and walking path stretching from St Heliers to Devonport.
"This will act as a real game changer for building pedestrian and cycleways around our city. This is a chance to cut our teeth on PPPs and show that we can deliver real value for money and better outcomes for ratepayers."
PPPs were "not a free ticket to be clipped by the private sector", he said.
"We need to use our considerable scale and position to nail down the best possible deals for Aucklanders, learning the lessons from international experience and retaining public ownership. Beyond the SkyPath, there will be major opportunities for transport projects, including the CRL, better waste management and other major transport projects."
Build the CRL
The fifth part of the strategy was that Auckland needed to start building the CRL in 2016, Brown said.
"The clearest message from Aucklanders in the past three years is that we need to get our transport problems fixed once and for all. Auckland has suffered from decades of under-investment in public transport and a lack of joined-up planning.
"We are only now beginning to put in place the foundations of a world-class public transport system. Last year the government agreed to back the City Rail Link project (CRL) – this will be the central plank of our work to improve Auckland's transport network.
"The CRL will double the capacity of Auckland's rail network - offering twice as many train journeys and passengers across the entire rail network and trains at most stations every 5-10 minutes at peak."
Brown said he welcomed the government's backing for the CRL.
"...But the fact is their proposed start date of 2020 is too long for Auckland to wait."
Without the CRL, by 2021 Auckland's bus network would have reached capacity, and speeds on city roads would have "dropped to a creeping 7km per hour during peak time".
"I have taken my proposal for an early start to Prime Minister John Key and begun what I am confident will be productive discussions with the government this year. The PM has asked the government to look at the proposal."