Stats NZ reports NZ current account deficit of NZ$600 mln in March quarter; annual deficit falls to 2.8% of GDP from 3.4% in December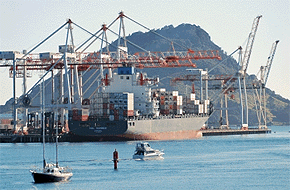 By Bernard Hickey
Statistics New Zealand has reported the current account deficit fell on a seasonally adjusted basis to NZ$585 million in the March quarter from NZ$921 million in the December quarter, due largely to a surge in meat exports and still-elevated dairy exports.
The quarterly deficit was the smallest since the March quarter of 2010 and in line with market expectations.
Statistics NZ said the annual current account deficit fell to NZ$6.3 billion (2.8 percent of GDP) for the year ended March 2014 from a deficit of NZ$7.6 billion (3.4 percent of GDP) for the year ended December 2013 and was NZ$2.0 billion smaller than the deficit for the year ended March 2013, when it was 3.9 percent of GDP.
This improvement in the annual deficit was largely due to the surge in dairy exports.
New Zealand's net international liability position, which measures the value of our overseas assets less our overseas liabilities, was NZ$148.0 billion (65.3 percent of GDP) at 31 March 2014. The net liability position increased NZ$1.1 billion from 31 December 2013 (when it was 66.4 percent of GDP) due to valuation changes increasing the value of our overseas liabilities.
The unadjusted current account was in surplus by NZ$1.4 billion for the March quarter, up from a deficit of NZ$1.5 billion in the December quarter and better than the NZ$107 million surplus in the same quarter a year ago.  This was in line with market expectations and the best unadjusted quarterly surplus on record.
"Exports of goods increased $360 million across a range of commodities, with meat the most significant contributor to the rise," Statistics NZ said.
"Dairy product exports fell from last quarter's peak, but remain high. Exports of services also increased, as overseas visitors to New Zealand spent more while they were here," it said.
Statistics NZ said total international reinsurance claims from all Canterbury earthquakes were estimated at NZ$19.1 billion by the end of the March quarter, revised from an estimate of NZ$19.0 billion in the December 2013 quarter. At 31 March 2014 a total of NZ$14.2 billion of these claims had been settled with overseas reinsurers, leaving NZ$4.8 billion of claims outstanding.
Reaction
ASB Economist Christina Leung said strong spending by overseas visitors had increased services exports receipts by more than expected.
"Partly offsetting these upside surprises was the slightly weaker than expected income balance, as income outflows held up at a high level. Higher bank sector profits were offset by a decline in profits earned by overseas companies in NZ," Leung said.
(Updated with more details, reaction)