Key suggests mid-level MFAT diplomat "considers career options"; Labour sets NZ$60 mln family violence plan;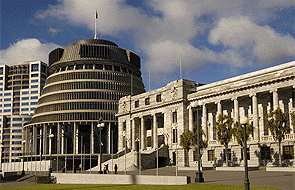 By Bernard Hickey
The fallout from the Malaysian immunity debacle has continued for the Government with Prime Minister John Key accused of over-stepping the mark in directly criticising an official before the results of an official inquiry are in.
Meanwhile, David Cunliffe appears to have stumbled in issuing a apology for being a man at a Womens' Refuge symposium in announcing Labour's family violence reduction strategy. John Key questioned whethered Cunliffe would apologise for being a man when he visited a rugby club.
Earlier, Key told reporters the official, since named as MFAT's deputy chief of protocol Mary Oliver, should assess her career options.
"If that person doesn't have clarity about that position then they need to think very strongly about whether they're in the right job," Key said.
Oliver declined to comment to Fairfax , saying she was still a public servant "as far as I know."
The Public Service Association (PSA) said Key was at odds with both the Cabinet manual and the State Sector Act in suggesting the MFAT be sacked.
"The Prime Minister must not prejudice the result of the inquiry," said PSA National Secretary Richard Wagstaff.
"This is an operational issue and the responsibility of MFAT Chief Executive John Allen, not of the Prime Minister. The MFAT official in question deserves a fair investigation, rather than simply being told by the PM that she should go before the inquiry has even started," Wagstaff said.

"John Allen needs to step up and make clear that Ministers should keep their noses out of operational matters. Natural justice should not be compromised for the sake of political expediency," he said.
Labour Foreign Affairs spokesman David Shearer said Key had hopelessly compromised the investigation.
"Mr Key has decided who is to blame and wants action taken to protect himself and Minister McCully. He's taken on the role of judge, jury and executioner," Shearer said
Shearer took the unusual step of criticisng MFAT CEO John Allen: "the man who was blithely unaware of the issue under his own nose."
"He (Allen) too shares responsibility for this debacle and has just as much incentive to save his skin and blame the lowest ranking official as McCully," Shearer said.
"Mr McCully seems to be a serial avoider of responsibility when things go wrong in his department. Now his boss has made it worse with comments that will make any investigation prejudiced from the outset. It is totally inappropriate for John Key to be menacing individual staff members of MFAT through the media."
Labour launches family violence policy
Meanwhile, Labour responded to the Government's NZ$9.4 million package on Wednesday with a plan to spend NZ$60 million reducing family violence.
David Cunliffe said a Labour Government would adopt an action plan driven by the Department of Prime Minister and Cabinet.
Labour would spend NZ$60 million over four years on front line services, primary prevention, and education to reduce family violence, including increased support for transitional housing.
Labour would also "reform the justice system to provide real justice to survivors while protecting the right to be presumed innocent."
Labour would review prosecution guidelines and Protection Orders. Here is the full policy document
However, the event was over-shadowed by comments (reported on both Stuff and NZ Herald) from Cunliffe apologising for being a man.
Cunliffe said "bullshit, deep-seated sexism" was still prevalent in New Zealand.
"Can I begin by saying I'm sorry," Cunliffe was quoted as saying.
"I don't often say it. I'm sorry for being a man right now, because family and sexual violence is perpetrated overwhelmingly by men against women and children," he said.
"So the first message to the men out there is: wake up, stand up and man up and stop this bullshit!"
Key later told reporters Cunliffe's comments were silly.
"The problem isn't being a man, the problem is if you're an abusive man, and I think it's a bit insulting to imply that all men are abusive. A small group are and they need to change their behaviour and be held to account," Key said.
"Is he really sincere about that statement? Tomorrow afternoon is he going to go down to the local rugby club and say 'I'm sorry for being a man'? I don't think so."
Tablets for schools?
Stuff reported Labour is expected to announce a plan to provide tablet computers or laptops for schools at its Congress in Wellington this weekend. Labour promised in 2011 to spend NZ$75 million over 4 years buying laptops for 31,000 students in years 7 to 13.
(Updated with more comments from Shearer, detail on Labour family violence plan, Tablets for schools, Cunliffe apologising for being a man)