NZIER's Shamubeel Eaqub says recruiting young immigrants could help address problems in the provinces where there are more old people than Japan
By Gareth Vaughan
Young immigrants could be used to help tackle the effects of an ageing population in New Zealand's provinces, but such immigration would need to be handled with care, says New Zealand Institute of Economic Research principal economist Shamubeel Eaqub.
In a Double Shot interview on his new book, Growing Apart, Regional Prosperity in New Zealand, Eaqub described immigration as a very sensitive topic that's difficult to talk about in New Zealand even though it's in the very fabric of our history.
"In part I think that's because we haven't had an honest debate about how much population we want. Do we want to be a small country or a big country? I don't think we have decided," Eaqub said.
"But nevertheless I look at examples of places like Southland, where they had this intense need for workers but they could not get it at home, and they relied on immigration. That has been a really positive outcome. But we also know that Southland is a very homogenous community and bringing in a lot of people who are different, who look different, who have different culture preferences and all those kinds of things, means there's a risk you create a rift within a community."
"So what we're saying is with immigration, it's not just about getting the people in, you've got to get them in, give them jobs, but also integrate (them) into the community where you can,"said Eaqub. "And it feels to me like immigration can be a good thing, but only if handled with a lot of care and done right."
More old people than Japan
Eaqub's book points to 23 New Zealand territorial authorities, (city and district councils), where the age dependency ratio, the number of people over 65 relative to working age people, is higher than Japan, the country with the oldest population in the world. There are significant healthcare, superannuation and rating issues entailed in this.
"The ageing one is really interesting. It can either be your comparative advantage like it is for places like Bay of Plenty. They're doing really well on the back of an ageing population. And there are other places like Gisborne, which is also ageing quite quickly, but because of its weak economy it's very difficult. In the last census we saw that in Gisborne the biggest area of growth was people living alone, the number of families actually going backwards, so this ageing story is becoming quite prominent, quite an important driver," said Eaqub.
"But as people age you've got fewer people who are entrepreneurs and workers, but it also means you have got a lot of people who are income poor but asset rich, which makes it very difficult again for local governments to increase rates and spend."

"There's so many examples right around New Zealand of these territorial authorities. And it's really about having the conversation about what is it that we want from these places. What does success look like, and how do we manage it without making undue demands of our citizens?
In the book Eaqub says; "We need to seriously consider reducing the impact of ageing with immigration by bringing young people to New Zealand." And; "Handled with care immigration's benefits should significantly outweigh any stress placed on social cohesion."
Poverty an 'uncomfortable truth' in NZ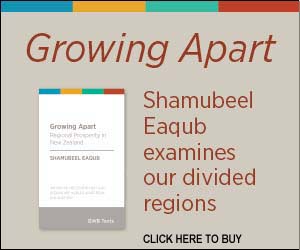 He also makes the point that it's difficult to talk about poverty because it's an "uncomfortable truth" in New Zealand.
"New Zealand has poverty, particularly in child poverty which has life long consequences. So very much the message from me is 'have a read of the narrative' because it's about creating empathy for our regions that are not sharing in the opportunities of all of New Zealand. And I think we need to see a big shift in mindset to say that 'yes we're in it together and we need to have a change in mindset and policymaking to get a better outcome for all New Zealanders'," said Eaqub.
The book describes some regions as representing 'burning platforms requiring urgent attention. Eaqub highlights Northland, Gisborne, and Manawatu-Whanganui. In Manawatu-Whanganui he says 9,000, or 8%, of jobs were lost between 2006 and 2013. And in Gisborne he says employment grew by 1.5% over the 12 years to 2013 versus the national rate of 16%.
"When we looked at some of these regions it became very clear that they seemed to be stuck in this paradigm of weak growth, weak population and poverty. And the ones that really stand out are places like Northland, Gisborne, and Manawatu-Whanganui where economic opportunities just don't seem to be there for the people who are there," said Eaqub.
"This is not a criticism of the places themselves. It's a whole bunch of big forces that are really being quite caustic and destructive for these economies. It really backs up what we see in the deprivation indices, for example, by Otago (University) where we see these real pockets of poverty and deprivation across New Zealand. Really that's why we're saying, that current policy is not doing enough and that's the burning platform. And if we do change we can make a real difference in people's lives."
What to do with 'zombie towns'
He acknowledges some provinces are doing really well, but says others are stagnant or falling behind, and the focus needs to be on the places that are falling behind.
"Yes, we should absolutely celebrate the successes. But the failures or the weaknesses that we have in our economy, the places that are trapping people in poverty, if we can improve those, if we can change those, imagine the difference it makes even to one person's life."
Then there are what Eaqub describes as a handful of "zombie towns" where a strategy to wind them down is needed.

"We've got small towns around New Zealand that have got large infrastructure, but declining populations and ageing populations and very little income and employment opportunities. What is the strategy for that? I'm not sure we have a strategy to wind down places. I think we do (need one). I think we need to be serious that in some places it might be better to merge or move people to somewhere else, or give them an option to live without some of the very expensive infrastructure and services that we have become used to," Eaqub said.
He declined to name any "zombie towns", suggesting if he did he'd never be able to visit them again.
The importance of mobility
The book, which Eaqub hopes will be a starting point for a robust discussion, includes what he terms two key messages, three recommendations and five following steps. The key messages are enable mobility, and accept some places can't continue in their current make-up.
In terms of enabling mobility, he says education outcomes need to be much better in some smaller regions.
"We need to make sure that people who are not able to get jobs in those places have the ability and the wherewithal to move to places where there are jobs. It can be very difficult. You can't go from, say, Northland to Auckland without some significant financial cost in terms of transport and housing costs so being aware of that and enabling people to engage in that is really, really important."
Eaqub argues regional disparities need to be tackled at both a national and local level.

"I think it's a job for everyone. In some ways the community is too apathetic. Civil engagement at local government is very, very low, less than 50% turnout in the last election. Local governments can have a very big influence in generating the conversation and discussion with central government, departments and politicians, we're not doing enough of that."
"Central government already spends huge amounts of money on welfare, education, health, justice, but quite often they're done at a very national level as you should for a country of 4.5 million people. But when we look at the weaknesses in certain geographies, it suggests to me that we need more focus in certain places. Maybe we need to spend more effort on education and welfare in places like Northland where we are not seeing the same kinds of outcomes we are seeing in places like Auckland or Wellington," said Eaqub.
'No easy answers'
Eaqub said every time he has looked at regional issues over the past few years an "underbelly of weakness and lack of opportunity" in parts of New Zealand showed up. This was the impetus behind writing the book.
"Sometimes the national debate, the national conversation, misses some of the nuances that are happening in the small places that don't have a national voice. So the idea for this book was really to give a voice for some of that lack of opportunity, especially for young people. But also to describe why some of these tensions are pushing some of these regional economies into fairly weak positions and what can we do."
"I don't give any easy answers because I don't think there are any. It's a very complex situation. I've tried to tell the story in the book with some empathy because I think we need to be able to really do something. Because it feels like there are people in parts of New Zealand that are getting trapped in poverty and that's not right. That's not what New Zealand is about," Eaqub said.
---------------------------------------------------------
The book Growing Apart can be purchased on-line here. It is $14.99 delivered.