PM Key says 10 new 'agreements and arrangements' reached with China including agreement to amend free trade agreement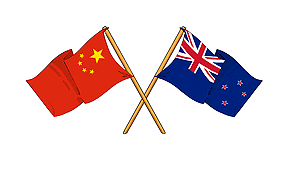 Saying New Zealand's relationship with China has never been in better shape, Prime Minister John Key says the two countries have signed 10 new agreements or arrangements during President Xi Jinping's visit.
These include an agreement to "amend" the six year-old free trade agreement between New Zealand and China. Details, issued by Key's office, are below.
China and New Zealand Agreements and Arrangements
1. Arrangement between the Government of New Zealand and the Government of the People's Republic of China on Climate Change Cooperation

This arrangement signals New Zealand's intention to work more closely with China on developing carbon markets, emissions trading and other market mechanisms.

It also shows the two sides' mutual interest in seeking progress on common areas of interest in international climate change negotiations, domestic policies and initiatives in specific sectors, including agriculture.

2. An Exchange of Letters Constituting an Agreement to Amend the Free Trade Agreement between the Government of New Zealand and the Government of the People's Republic of China

Since the FTA entered into force in 2008, the economic relationship has developed quickly. The goal of doubling two-way merchandise trade to NZ$20 billion by 2015 was met in August 2014, and a new target of NZ$30 billion per annum by 2020 is in New Zealand's sights.

It is important that New Zealand continues to look at ways to build upon and modernise the FTA, keeping it in step with the evolving nature of our bilateral relationship.

This Exchange of Letters is required in order to conclude the Television Programmes Co-Production Agreement.

3. Television Programmes Co-Production Agreement between the Government of New Zealand and the Government of the People's Republic of China

This agreement will allow New Zealand and China to work together on official television co-productions.

New Zealand is the first country in the world to sign a Television Co-production Agreement with China, and joins the 2010 Film Co-Production Agreement between the two countries.

This will enable approved joint television projects to gain "official co-production" status, which gives approved producers access to funding and incentives in line with those available for 'national' programmes in each country.

This agreement will provide opportunities for New Zealand producers to secure broadcast slots on Chinese TV, as well as overseas finance, and assistance with temporary immigration and importation of equipment.

4. Food Supervisory and Traceability Cooperation Programme between the China Food and Drug Administration of the People's Republic of China and the New Zealand Ministry for Primary Industries
New Zealand and China share a common interest in providing safe food to all consumers in our domestic and export markets.

New Zealand and China are both developing and implementing new domestic food laws where traceability features as a key consideration. This programme will allow them to share information, ensuring both countries have the best possible food safety practice.

5. Arrangement between The National Tourism Administration of the People's Republic of China and the Ministry of Business, Innovation and Employment of New Zealand on Dialogue and Cooperation on Tourism Matters.

This arrangement will broaden areas of cooperation between government tourism policy departments. The two departments will work together to enhance the tourist experience in both countries, and manage any emerging risks.

With tourist numbers from China reaching 242,800 for the year ended September 2014, an increase of 2.7%, it is important that both sides learn from each other in a changing tourism industry.

6. Arrangement on Mutual Recognition of Academic Qualifications in Higher Education between The Government of New Zealand and The Government of the People's Republic of China
New Zealand values its education relationship with China. The economic contribution to New Zealand from Chinese International students was $800 million in 2012, up from $600 million in 2008.

The two countries will work together to increase further education cooperation including encouraging teacher and student exchange programmes, and increasing Chinese language learning in New Zealand.
This arrangement updates existing guidelines that allow the qualifications students achieve in New Zealand to be recognised for further study in China, and vice versa.

7. Arrangement between Immigration New Zealand and China UnionPay on Visa Processing Facilitation for Qualifying UnionPay Card Holders

This will provide streamlined visa processing for holders of UnionPay premium credit cards.

The agreement with China UnionPay will enable holders of Platinum and Diamond UnionPay credit cards to provide evidence of their 'premium card' status in lieu of employment and funds documentation.
Applicants will still need to meet all other requirements, including being of good character and an acceptable standard of health.

8. Cooperation Arrangement between the China Chamber of Commerce of Foodstuffs and Native Produce and New Zealand Trade and Enterprise.

NZTE and CCCFNP will regularly discuss new technologies, marketing techniques and events, investment promotion, training, and visits to enhance agricultural cooperation, at an important time for food trade between the two countries.

9. Memorandum of Understanding on Cooperation on Project Development among China Development Bank Corporation and PF Olsen Limited New Zealand and China Forestry Group.

This MOU will facilitate further Chinese state investment in the New Zealand forestry sector, and also will enable PF Olsen to help improve the productivity of China's own forests.
NZ Forestry exports to China for the year ended September 2014 were worth $1.6 billion (MPI, Stats NZ).

10. Arrangement between the Government of New Zealand and the Government of the People's Republic of China on Antarctic Cooperation

The arrangement allows New Zealand to engage more closely with China on environmental management, science and logistics.

As future neighbours in the Ross Sea region, New Zealand looks forward to working constructively together with China in Antarctica.