Cost of public service chief execs falls to $11.6 mln, the lowest since 2008. We list who gets what for all 141 top bosses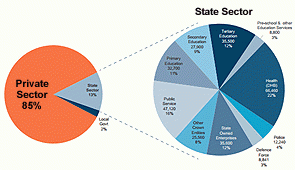 On December 12, the State Services Commission released its list of 128 public service chief executive pay.
There are another 13 positions who are chief executives and other senior staff under the jurisdiction of the Remuneration Authority and that list is at the bottom of this page.
This covers 141 public insitutions and departments for the year to June 2014.
In the year to June 2014 the total amount spent on remuneration and related employment costs for Public Service chief executives' was $11.583 million, $0.5 million less than in 2012/13. This is the lowest expenditure on Public Service chief executive pay since 2007/08.
The total pay for all 141 state sector CEOs in the year was $53.1 mln which is an average pay of $375,000 each.
You can find the original data release here.
The following lists are both in ascending order of remuneration. We have apportioned the part-period data to place it in the corrected ascending row.
We have also repected the three separate classes that the SSC uses.
In addition 12,776 people in the organisations controlled by these chief executives had pay levels of $100,000 or more. That is an increase of 7% on the previous year. Of these more than 5,600 of these were in the tertiary education sector.
In total, 229,600 people worked for these chief executives as at June, a census rise of +1.5% in a year.
Public Service chief executives
 
 
1
Education Review Office
$110,000 to $119,999

3 Dec 13 to 30 June 14

2
Ministry of Women's Affairs
$240,000 to $249,999
 
3
Ministry of Pacific Island Affairs
$270,000 to $279,999
 
4
Serious Fraud Office
$200,000 to $209,999

21 Oct 13 to 30 June 14

5
Statistics New Zealand
$270,000 to $279,999

26 Aug 13 to 30 June 14

6
Department of Conservation
$280,000 to $289,999

14 Sep 13 to 30 June 14

7
Land Information New Zealand
$360,000 to $369,999
 
8
Ministry for Culture and Heritage
$380,000 to $389,999
 
9
Ministry of Health
$250,000 to $259,999

9 Nov 13 to 30 June 14

10
Ministry of Defence
$390,000 to $399,999
 
11
Ministry of Maori Development
$400,000 to $409,999
 
12
Ministry of Transport
$400,000 to $409,999
 
13
New Zealand Customs Service
$410,000 to $419,999
 
14
Ministry for the Environment
$440,000 to $449,999
 
15
Ministry for Primary Industries
$280,000 to $289,999

18 Nov 13 to 30 June 14

16
Department of Corrections
$460,000 to $469,999
 
17
Department of Internal Affairs
$510,000 to $519,999
 
18
Inland Revenue Department
$520,000 to $529,999
 
19
Ministry of Justice
$540,000 to $549,999
 
20
Dept of the Prime Minister and Cabinet
$550,000 to $559,999
 
21
Ministry of Education
$550,000 to $559,999
 
22
Canterbury Earthquake Recovery Authority
$590,000 to $599,999
 
23
Ministry of Social Development
$590,000 to $599,999
 
24
Ministry of Business, Innovation and Employment
$620,000 to $629,999
 
25
Ministry of Foreign Affairs and Trade
$640,000 to $649,999
 
26
The Treasury
$650,000 to $659,999
 
 
 
---------------------
 
 
Subtotal these 26
$11.6 mln
 
 
Chief executives of Crown entities and tertiary education institutions
1
Careers New Zealand
Under $100,000

26 May 14 to 30 June 14

2
Productivity Commission
Under $100,000

16 Dec 13 to 30 June 14

3
Standards Council
Under $100,000

1 Jul 13 to 6 Sep 13

4
Worksafe New Zealand
Under $100,000

17 Mar 14 to 30 June 14

5
Drug Free Sport New Zealand
$140,000 to $149,999
 
6
Social Workers Registration Board
$150,000 to $159,999
 
7
Broadcasting Standards Authority
$160,000 to $169,999
 
8
NZ Walking Access Commission
$160,000 to $169,999
 
9
Universal College of Learning
$160,000 to $169,999
 
10
Telarc SAI Ltd
$150,000 to $159,999

19 Aug13 to 30 June 14

11
Maori Language Commission
$100,000 to $109,999

1 July 13 to 19 Jan14

12
Western Institute of Technology
$130,000 to $139,999

29 Oct 13 to 30 June 14

13
New Zealand Artificial Limb Board
$200,000 to $209,999
 
14
Maori Broadcasting Funding Agency
$200,000 to $209,999
 
15
Broadcasting Commission (NZ On Air)
$310,000 to $319,999
 
16
New Zealand Teachers Council
$210,000 to $219,999
 
17
Transport Accident Investigation Com
$220,000 to $229,999
 
18
External Reporting Board
$230,000 to $239,999
 
19
Human Rights Commission
$230,000 to $239,999
 
20
Real Estate Agents Authority
$230,000 to $239,999
 
21
New Zealand Film Commission
$120,000 to $129,999

1 Jan 14 to 30 June 14

22
Bay of Plenty Polytechnic
$250,000 to $259,999
 
23
Heritage New Zealand
$250,000 to $259,999
 
24
New Zealand Food Innovation
$250,000 to $259,999
 
25
New Zealand Symphony Orchestra
$250,000 to $259,999
 
26
Tai Poutini Polytechnic
$250,000 to $259,999
 
27
International Accreditation NZ
$250,000 to $259,999
 
28
Families Commission
$260,000 to $269,999
 
29
Health Promotion Agency
$260,000 to $269,999
 
30
New Zealand Fire Service
$360,000 to $369,999
 
31
Northland Polytechnic
$260,000 to $269,999
 
32
Creative New Zealand
$270,000 to $279,999
 
33
New Zealand Antarctic Institute
$130,000 to $139,999

6 Jan 14 to 30 June 14

34
Takeovers Panel
$270,000 to $279,999
 
35
Energy Efficiency & Conservation Authority
$280,000 to $289,999
 
36
Nelson-Marl Institute of Technology
$280,000 to $289,999
 
37
Waiariki Institute of Technology
$280,000 to $289,999
 
38
Eastern Institute of Technology
$290,000 to $299,999
 
39
South Canterbury DHB
$290,000 to $299,999
 
40
Education New Zealand
$300,000 to $309,999
 
41
Maritime Safety Authority 
$300,000 to $309,999
 
42
Electricity Authority
$310,000 to $319,999
 
43
Manukau Institute of Technology
$310,000 to $319,999
 
44
Tairawhiti DHB
$310,000 to $319,999
 
45
Environmental Protection Authority
$320,000 to $329,999
 
46
Museum of New Zealand Te Papa
$270,000 to $279,999

1 Jul 13 to 9 May 14

47
Open Polytechnic of New Zealand
$320,000 to $329,999
 
48
Whitireia Community Polytechnic
$330,000 to $339,999
 
49
Aoraki Polytechnic
Under $100,000

14 Mar 14 to 30 June 14

50
Ch-ch Polytechnic Institute of Technology
$340,000 to $349,999
 
51
Civil Aviation Authority 
$340,000 to $349,999
 
52
New Zealand Blood Service
$340,000 to $349,999
 
53
Otago Polytechnic
$340,000 to $349,999
 
54
Pharmaceutical Management Agency
$340,000 to $349,999
 
55
Health Research Council
$350,000 to $359,999

1 Jul 13 to 28 June 14

56
Wellington Institute of Technology
$350,000 to $359,999
 
57
Sport New Zealand
$360,000 to $369,999
 
58
Whanganui DHB
$360,000 to $369,999
 
59
Commerce Commission
$370,000 to $379,999
 
60
Health Quality and Safety Comn
$370,000 to $379,999
 
61
Lakes DHB
$370,000 to $379,999
 
62
Southern Institute of Technology
$270,000 to $279,999
 
63
Northland DHB
$380,000 to $389,999
 
64
Taranaki DHB
$380,000 to $389,999
 
65
Waikato Institute of Technology
$380,000 to $389,999
 
66
Hobsonville Land Company
$390,000 to $399,999
 
67
Te Wananga o Aotearoa
$270,000 to $279,999

21 Oct 13 to 30 Jun 14

68
Unitec Institute of Technology
$390,000 to $399,999
 
69
Lincoln University
$400,000 to $409,999
 
70
Nelson Marlborough DHB
$400,000 to $409,999
 
71
High Performance Sport NZ
$410,000 to $419,999
 
72
Tertiary Education Commission
$410,000 to $419,999
 
73
Hutt DHB (Hutt Valley DHB)
$420,000 to $429,999
 
74
NZ Qualifications Authority
$420,000 to $429,999
 
75
Earthquake Commission
$430,000 to $439,999
 
76
New Zealand Lotteries Commission
$430,000 to $439,999
 
77
Victoria University of Wellington
$140,000 to $149,999

3 Mar 14 to 30 June 14

78
Public Trust
$230,000 to $239,999

23 Dec 13 to 30 June 14

79
Capital and Coast DHB
$360,000 to $369,999

9 Sep 13 to 30 June 14

80
Financial Markets Authority
$180,000 to $189,999

3 Feb 14 to 30 June 14

81
University of Waikato
$450,000 to $459,999
 
82
Housing New Zealand Corporation
$460,000 to $469,999
 
83
Auckland University of Technology
$470,000 to $479,999
 
84
Bay of Plenty DHB
$490,000 to $499,999
 
85
Waikato DHB
$490,000 to $499,999
 
86
Hawke's Bay DHB
$500,000 to $509,999
 
87
Southern DHB
$500,000 to $509,999
 
88
Tourism New Zealand
$510,000 to $519,999
 
89
Callaghan Innovation
$520,000 to $529,999
 
90
Waitemata DHB
$520,000 to $529,999
 
91
University of Canterbury
$530,000 to $539,999
 
92
Massey University
$540,000 to $549,999
 
93
MidCentral DHB
$540,000 to $549,999
 
94
University of Otago
$540,000 to $549,999
 
95
Counties Manukau DHB
$550,000 to $559,999
 
96
Canterbury DHB
$560,000 to $569,999
 
97
New Zealand Trade and Enterprise
$560,000 to $569,999
 
98
Auckland DHB
$570,000 to $579,999
 
99
Accident Compensation Corporation
$600,000 to $609,999
 
100
New Zealand Transport Agency
$620,000 to $629,999
 
101
University of Auckland
$660,000 to $669,999
 
102
Guardians of NZ Superannuation
$800,000 to $809,999
 
 
 
-------------------------
 
 
Subtotal these 102
$35.7 mln
 
 
Other chief executives and staff
1
Parl. Commissioner for Environment
$280,000 to $289,999
 
2
Genl Mgr of the Parliamentary Service
$140,000 to $149,999

27 Jan 14 to 30 June 14

3
Clerk of the House
$350,000 to $359,999
 
4
Chief Ombudsman
$360,000 to $369,999
 
5
Director of the GCSB
$360,000 to $369,999
 
6
Chief Parliamentary Counsel
$370,000 to $379,999
 
7
Director of Security Intelligence Service
$320,000 to 329,999

1 Jul 13 to 30 Apr 14

8
Deputy State Services Commissioner
$410,000 to $419,999
 
9
Commissioner of Police
$110,000 to $119,999

3 Apr 14 to 30 June 14

10
Controller and Auditor-General
$550,000 to $559,999
 
11
Solicitor General
$580,000 to $589,999
 
12
Chief of the Defence Force
$250,000 to $259,999

1 Feb 14 to 30 June 14

13 
State Services Commissioner
$610,000 to $619,999
 
 
 
------------------------
 
 
Subtotal these 13
$5.6 mln
 
 
 
==============
 
 
Total for all 141
$53.1 mln