Russel Norman to stand down at Green Co-Leader at Party AGM in May after 9 years in role; says time for a change and to spend time with 3 kids under 4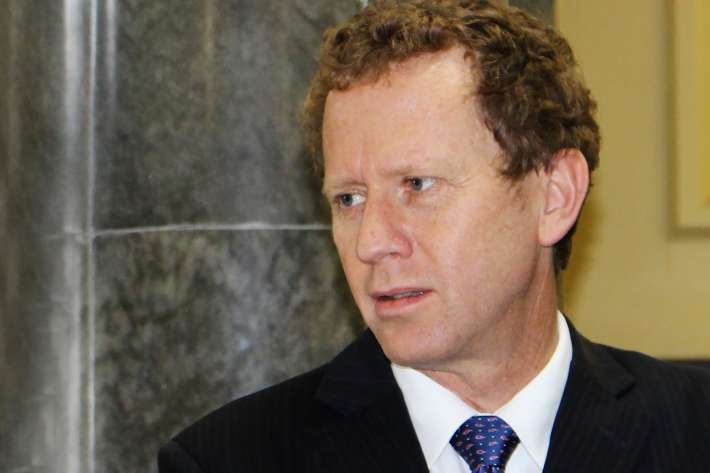 By Bernard Hickey
Green Party Co-Leader Russel Norman, 47, has unexpectedly announced he plans to step down at the party's AGM in May to find a new challenge and to spend with his family, including three children under the age of four.
Fellow Co-Leader Metiria Turei said she planned to stay on as Co-Leader to the next election, while Norman said he was still deciding whether to stay on as an MP after the election of his successor.
Norman announced the decision in a full news conference in the Green Party's Bowen House offices in Wellington, standing alongside Turei and Party co-convenor Georgina Mason.
Fellow Green MPs, including potential candidates Gareth Hughes and Kevin Hague, were also at the news conference.
"After nearly a decade as Co-leader, now is a good time to find a new challenge for myself, and to spend more time with my family," Norman said.
"This is my ninth year as Co-leader and I think it's time for a change. Now is a good time for new leadership for the Party," he said.
"My replacement will start from a strengthened base and will have a full parliamentary term to establish himself in the role and take the Greens into government in 2017. I am proud of my contribution to the Green Party and the green movement and know that others will pick up and build on this work and take our party to even greater success."
Norman said he had made no decisions about what he would do after he steps down, including whether he would stay in party politics or in New Zealand.
"In my nine years as Co-leader we have more than doubled our electoral support to over ten percent. I am personally gratified to have been part of a team that led our Party to its two most successful election results ever," he said.
Norman described raising a young family while being Co-Leader as an "interesting experience." In a speech to start the news conference, he said he wanted to acknowledge the support of his family and his partner Katya Paquin, who is the elder sister of Oscar-winning actress Anna Paquin and was the Green Party's political director.
Katya had their third child over the summer holidays.
"I know that you have carried a lot at home while I have been at events up and down the country," he said.
Norman said he would also have considered his position if the Green Party had been in Government after the September 23 election and his decision might not have been the same.
"If we had have been in Government, it would have been different," he said.
Turei said she owed a huge debt to Norman and that he had left the party in a stronger shape.
"I trust Russel's judgement. Russel's decision is a vote of confidence in me and in the party," she said.
Reaction
Labour Leader Andrew Little said he wished Norman well and that Norman had made a significant contribution to New Zealand politics.
"In that time he more than doubled the number of Green MPs in Parliament and has been an excellent communicator and advocate for his party's issues. I wish Russel well as he gets to spend more time with his young family," Little said.
National MP resigns
Elsewhere, National MP for Northland Mike Sabin, a former policeman, announced he had resigned immediately from Parliament "due to personal issues that were best dealt with outside Parliament." He declined further comment in a statement.
The resignation followed reports that Sabin, who chairs the law and order select committee in Parliament, was under investigation over allegations of assault. Prime Minister John Key pointedly declined to comment on Sabin's situation earlier this week.
There was no comment on when a by-election would be held, although National would be expected to win it.
Sabin won the mostly rural seat at the northern tip of the North Island for a second term at the election in September with a winning majority of 9,300.
Key said in a statement he acknowledged Sabin's decision and his service since 2011, and that he was taking advice on a possible date for a by-election.
(Updated with more detail, reaction, Mike Sabin's resignation, photo)