Westpac Group confirms 'proud New Zealander' David McLean as its permanet NZ CEO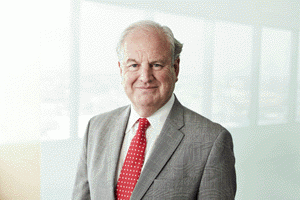 David McLean, who has been acting CEO at Westpac NZ since last August, has been confirmed as the bank's permanent CEO.
McLean, a 56 year-old New Zealander, has been with Westpac for 16 years and succeeds Australian Peter Clare who departed last year due to health reasons.
The appointment of McLean is a break from the recent past with the Westpac Group having tended to bring over Australian executives for a stint running the New Zealand arm. His appointment is likely to be popular internally at Westpac NZ.
Bruce McLachlan, a New Zealander who is now CEO of the Co-operative Bank, was Westpac NZ's acting CEO for nine months during 2008/09. And Harry Price, also a New Zealander, was its CEO during the 1990s at the time of the Trust Bank takeover. However, a run of recent CEOs including Clare, George Frazis and Ann Sherry have all been Australians with most not staying in the role long.
In a statement Westpac NZ chairman Peter Wilson described McLean as a proud New Zealander with in-depth knowledge of all facets of the local organisation.
'Dream job'
McLean himself told interest.co.nz he was excited to get the job.
"I'm definitely very excited, it's the best day of my professional career. It's the dream job as far as I'm concerned," McLean said.
He described his appointment as a case of being the right person in the right place at the right time, and said being a New Zealand was a factor.
"But I'd like to think for my own ego that it was also my other attributes (that got him the job)," McLean said.
A lawyer, McLean joined Westpac in 1999. His roles at the bank have included being head of  debt capital markets for New Zealand, general manager for private, wealth and insurance, and managing director of the New York branch of Westpac Group.
McLean said Westpac was competing in a "very competitive market" that's great for consumers especially those with home loans.
"I think an important thing for banks strategically is that we're into what really is a new world of banking with customer preferences and expectations changing, probably more rapidly than I've ever seen in my time in banking really driven by technology. So what customers want and how they want to be serviced is changing very fast and banks have to respond to that," McLean said.
"And we also have to respond to the fact that not all customers are changing  at the same rate. So some customers still want to go into the branch and have a chat, others want to do everything on their mobile. To me that's tremendously exciting that we're into quite a new world, and we've got to build to that and bring the customers along with us."
In the statement new Westpac Group CEO Brian Hartzer said McLean had done an outstanding job as acting CEO.

"The New Zealand business has performed well and I look forward to supporting its continued success under David's ongoing stewardship," Hartzer said.

"I am pleased we are able to appoint someone that I know is already deeply respected and known by the New Zealand business community. It is important to me that someone with such in-depth knowledge of the business and local market will be taking on this critical role for the Group."
Hartzer said in McLean's tenure to date he has overseen "quality growth" of all Westpac NZ's major portfolios, with the bank delivering a double digit increase in annual cash earnings.

"We continue to see potential to grow and support our New Zealand customers and I'm pleased that an executive of David's calibre will be leading the New Zealand operation. David is one of New Zealand's most experienced bankers with extensive knowledge of Westpac's operations, having been with the Group for 16 years in a number of senior positions across both retail and institutional banking," Hartzer said.
Here's some background Westpac provided about David McLean
Prior to acting as Westpac New Zealand CEO, David was Managing Director of the New York branch of Westpac Group.

David first joined Westpac in February 1999 to head the Debt Capital Markets group in New Zealand. He was appointed Head of Westpac Institutional Bank New Zealand in January 2004.

In 2009, he was also appointed as General Manager for Private, Wealth and Insurance. From 2012 to 2014, David was Managing Director of the Westpac New York Branch. In June 2014 David returned to Westpac New Zealand to take up the role of acting Chief Executive Officer.

Before joining Westpac, David worked as a lawyer in private practice and as in‐house counsel for NatWest, before joining the Capital Markets Group of Southpac/National Bank in 1988. Joining Deutsche Morgan Grenfell in 1994, David was responsible for starting and developing a new debt capital markets origination business. He also established the NZ branch of Deutsche Bank and was their New Zealand Resident Branch Manager.

David is a New Zealand citizen.