Power company Meridian strikes new deal with aluminium smelter's owners to keep smelter going at least till 2018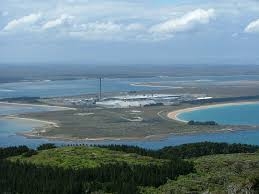 The Tiwai Point aluminium smelter near Bluff has received another stay of execution.
State controlled power company Meridian Energy announced this morning it had struck another deal to extend the life of the smelter at least past January 1, 2018.
The announcement will come as a huge relief to the deep south of the country, and to the Government, which stepped in two years ago with a $30 million taxpayer-funded sweetener to the smelter's owners Rio Tinto. The will-it or won't-it close saga has been long running.
At the time two years ago when the Government stumped up with taxpayers' cash it was in the early stages of a partial privatisation process that ultimately saw it sell 49% of Mighty River Power, Meridian and Genesis Energy. Had the smelter closed at that time it would have had a massive impact on the Government's privatisation plans. The smelter consumes something like 13% of all of NZ's electricity so its closure would have an enormous effect on the whole electricity market.
In terms of the regional impact, the smelter employs about 800 people directly and its closure would be hugely felt in Southland.
Rio subsidiary New Zealand Aluminium Smelters said the new agreement was "good news" for the smelter workforce. Rio owns just under 80% of NZAS, while Japan's Sumitomo has just over 20%.
"We have crossed a hurdle today and now have more certainty about our immediate future," NZAS Chief Executive Gretta Stephens said.
"The agreement provides short-term security for the smelter and allows time for market fundamentals to improve."
Under the deal reached two years ago, Rio could have pulled the plug as early as January 1, 2017, but now that has been deferred by at least another year and with the possibility of the smelter running till 2030 under the current contract. The new deal states that the earliest Rio can give notice of termination of the contract is January 1, 2017 - but with a 12 month notice period from that date, meaning the earliest mothballing of the plant would theoretically be January 1, 2018.
Here is the announcement from Meridian:
Meridian Energy has signed a variation to the existing Electricity Agreement with New Zealand Aluminium Smelters Ltd (NZAS) following extended negotiations.

"It has been a complex and demanding negotiation, but this is a good outcome for Meridian," said Meridian Chief Executive Mark Binns.

NZAS did have the right to terminate the existing contract today with effect from 1 January 2017, but by signing this variation, this right has been waived. The variation commits Meridian to cover the full 572 MW currently used at the smelter from 1 January 2017 at more competitive rates for the smelter than would have applied if NZAS chose to rely on the previous arrangement for the full 572 MW.

"This variation will give the smelter the flexibility to operate at current production levels for the full contract period should it want to and provide Meridian with an improved overall price for its electricity.

Although the smelter already had the option of a contractual volume of 572 MW from 1 January 2017 prior to this amendment, pricing had meant NZAS was incentivised to reduce to 400 MW from that date," said Mr Binns.

"Meridian has always been clear that the contract structure entered into in 2013 was intended to incentivise NZAS to obtain 172 MW from other generators and allow Meridian to achieve market prices for this volume, which would be released from the contract.

Meridian's view was that it was in the interest of other generators to provide that cover to NZAS. While Meridian is disappointed NZAS was unable to reach an agreement with other parties, it believes the new arrangement provides pricing for the 172 MW that is more in line with market expectations," said Mark Binns.

Meridian and NZAS had agreed to an extension of the termination right from 1 July to 3 August, when it was clear that negotiations between NZAS and other generators were not going to be completed by 1 July.

"While other generators have differing views as to the impact of a smelter exit on their competitive position, Meridian has been able to gain sufficient support from some parties to warrant it covering this extra volume from 2017," said Mr Binns.

Meridian is committed to cover Tiwai Point's electricity usage at current production levels through to 2030, but NZAS retains all its termination rights from the 2013 round of negotiations, which includes a 12 month notice of termination that can be given any time from 1 January 2017.
Separately, Contact Energy said it had a agreed to supply some energy to the smelter. This is what it said:
Contact to supply a portion of Tiwai's electricity

Contact Energy Limited (Contact) announced today that it has signed a financial contract with Meridian Energy which forms a portion of the electricity required by New Zealand Aluminium Smelters to operate its Tiwai smelter with the following key terms:
• 80MW
• Minimum of 4 years and a maximum of 14 years commencing 1 January 2017
• Provision of associated risk management from Meridian to Contact under certain limited circumstances

"We are pleased that we have been able to support the continued production of aluminium at Tiwai", said Dennis Barnes, Contact's Chief Executive.
And here is the statement from Rio subsidiary New Zealand Aluminium Smelters:
NZAS power contract variation agreed

New Zealand Aluminium Smelters Limited (NZAS) and Meridian have today entered into a revised contract for 572MW until 2030, allowing the smelter's three potlines to remain fully operational.

NZAS Chief Executive Gretta Stephens said this was good news for the NZAS workforce, Southland and New Zealand.

"We have crossed a hurdle today and now have more certainty about our immediate future," Ms Stephens said.

"The agreement provides short-term security for the smelter and allows time for market fundamentals to improve."

This revised agreement is the latest in a long relationship between NZAS and the owners of the Manapouri Hydro dam dating back to 1963. Over the past year, NZAS ran an exhaustive commercial process to understand if power could be secured from other generators; however, Meridian was the only one, as the owner of Manapouri, able to contract with the smelter to meet its energy needs.

The contract has ongoing flexibility to maintain or reduce the load, or terminate the contract from 2018 based on market conditions.

"While we've taken a positive step today, our combined electricity and transmission prices are still not internationally competitive," Ms Stephens said.

Out of all external costs, Ms Stephens said reform to transmission pricing had never been more important as NZAS' delivered cost of electricity was one of the highest for an aluminium smelter outside of China. Last year alone the smelter paid $64 million worth of transmission costs.

"We believe those who benefit from the infrastructure they use should pay for it, which is not happening now. According to the Electricity Authority's options paper, NZAS pays more than $50 million every year for transmission infrastructure it receives no benefit from," Ms Stephens said.

"Worldwide demand for high-quality aluminium is increasing through automotive and electronics manufacturers. If we can continue production at NZAS, we will be able to take advantage of this future market potential which is good news for Southland and good news for New Zealand."