Migration gains surpass 61,200 in the year to September; more people coming to NZ from AUS than the other way around for the sixth month in a row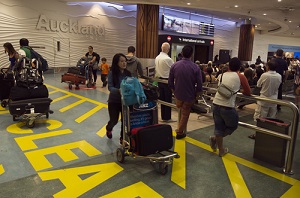 Net migration has surged to a record high of 61,234 in the year to September. 
Statistics New Zealand figures released today show the annual gain in permanent and long-term migrants has been setting new records for the last 14 months.
Migrant arrivals were up 13% from September last year to 118,900, while migrant departures were down 4% to 57,600. The net gain was 61,234 people.
A net 5,600 (seasonally adjusted) migrants came to New Zealand in September alone, making last month's gains the second largest on record behind July this year, during which there was a net gain of 5,700 people.
Statistics NZ notes the rise in net gain has been driven by both more arrivals and fewer departures.
The biggest net sources of migrants over the year were India (12,900), followed by China (8,500), the Philippines (4,700), and the UK (3,700).
Looking at arrivals in isolation, the influx of people coming to NZ over the year was led by those from India, Australia (including both NZ and non-NZ citizens), the Philippines, and China.
Australia lacklustre against NZ
The figures indicate more and more Kiwis and Aussies believe the grass is greener in NZ.
The fall in migrant departures over the year was mainly due to few New Zealanders leaving for Australia, with this figure falling 15% to 21,500 people – less than half of the record 48,800 departures in the December 2012 year.
Looking at this a different way, the net loss of people to Australia decreased from a record 40,000 people in the August 2012 year, to just 200 people in the September 2015 year.
The latest figure is the smallest annual net loss to Australia since 1991.
Considering movements across the Ditch on a monthly basis, there's been a net gain of migrants from Australia for six months in a row.
Before April 2015, there had not been a net gain in migrants from Australia in over 20 years.
But there's a "but"
Westpac's chief economist, Dominick Stephens, warns the migration boom won't last forever.
He says, "With offshore labour markets remaining weak, net migration is likely to remain very strong over the coming year. However, over the next few years we do expect migration will eventually slow.
"New Zealand's economy is slowing and Australia will eventually become a more attractive destination for migrants from an economic point of view.
"What's more, the inflow of foreign migrants is now running well above residence approval targets (90,000 - 100,000 over two years) and consequently many recent migrants on temporary visas will have to return home over the next couple of years."
Changing nature of net immigration
Stephens also points out how the nature of the net immigration boom is slowly changing.
"The number of New Zealand citizens departing the country remains extremely low by historical standards, but has actually been creeping gradually higher for a year now. Meanwhile, the number of overseas citizens entering New Zealand been rising steadily…" he says.
ASB senior economist, Chris Tennent-Brown, highlights the significance of net inflow of migrants over the year including 53,989 working-age people.  
"That strong inflow will support labour capacity, and contain wages. Housing demand will also remain supported by the inflows, particularly in Auckland," he says.
"And the strong population growth courtesy of migration is a factor that is helping keep the cash registers ringing for retailers. In that vein, the strong tourist inflows over the past year are also a contributing factor to the lift in retail spending over the past year."