Strong October growth in US jobs may trigger the Fed to hike its policy rate in December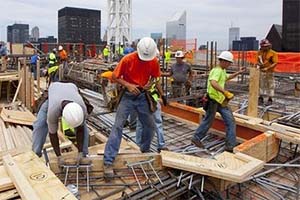 Total nonfarm payroll employment increased by 271,000 in October, and the unemployment rate was essentially unchanged at 5.0 percent, the U.S. Bureau of Labor Statistics reported today.
American jobs growth jumped in October after a weak summer, a result that had yields for 10yr  US Treasury bonds rise sharply to 2.33%, up +9 bps.
Equities on Wall Street dropped sharply on the news because it appears to make a December rate hike by the Fed much more certain. However, the 'stock tantrum' appears to have run out of steam as the trading session wears on, with the overall decline now fairly modest. In fact, both the Dow and the NASDAQ are now posting gains for the session; it is only the broader S&P500 which is still lower.
Yield gains in the US usually get mirrored here, although in the past few New Zealand sessions we have had wholesale yield falls as the US yields have been rising. Local economic prospects have dimmed recently, explaining the divergence.
But today's strong US data may mean that the RBNZ will get the same effect by holding its policy rate if the US does in fact start 'liftoff' on December 17 (NZT). Graeme Wheeler would need to take a risk on that however; the RBNZ MPS is a week earlier on December 10.

The gold price fell sharply on the news and has ended up well below US$1,100/oz.
The NZ dollar weakened sharply against the greenback as did almost all other currencies.
These useful charts show that today's result is unusual in the longer term trends.
As Neil Irwin of the NY Times said:
The job market numbers for September were pretty terrible across the board. Now the results are in for October and they're pretty terrific across the board.

Of course there is no reason to think there was a radical yo-yo effect that caused the economy to add a mere 137,000 jobs in September but a whopping 271,000 in October. Similarly, there is no reason that the number of people who neither had a job nor were looking for one spiked and then fell, or that pay increases came to a halt around Labor Day only to begin soaring again in the run-up to Halloween. More likely the United States job market has been improving at the same relatively gradual pace the last couple of months and, frankly, all year.

Instead, what we've probably just witnessed is a classic study in the challenges of making sense of the fortunes of a $17 trillion economy with 157 million workers in real time.
American hourly earnings have risen +2.5% year-on-year to October, another factor that may encourage the Fed to go now rather than waiting even longer.
Countering that is their participation rate which was stable in October at 62.5%, and which by New Zealand standards is quite low. It is down from 63.0% a year ago.