Standard Capital PB, PB Standard Capital, a NZ financial service provider, an 'undisputed US$1 mln debt' and the man who wants it back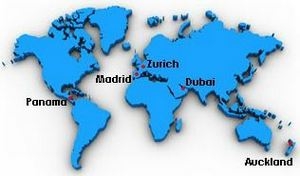 By Gareth Vaughan
When Don McGlashan penned the lyrics to his famous song about Auckland's Dominion Road, he's unlikely to have envisaged a private bank based above a furniture shop on the famous thoroughfare arranging a complex financial transaction for a customer in New York.
But an entity that touts itself as a private bank does give its address as being above the Target Furniture shop at 93 Dominion Road. And it did arrange a financial transaction with an American customer that has left that customer US$1 million out of pocket.
Interest.co.nz has been contacted by a British-based chartered financial analyst, Steven Philipp, whose client is that American and who, with Philipp's assistance, is now striving to get US$1 million back from an entity named Standard Capital PB Limited.
The client, who interest.co.nz has agreed not to name, agreed last year to rent a bank letter of credit in the amount of €100 million issued through Standard Capital PB. The client paid a US$1 million initial deposit on April 30 last year against Standard Capital PB arranging the letter of credit to be used for financing purposes. Someone renting a Letter of Credit could, for example, borrow against it.
The payment was made from a Chase Bank account in the US through Hamilton-based registered NZ financial service provider Worldclear Ltd to an account with Singapore's DBS Bank. From there the money appears to have gone on to Standard Capital PB in Switzerland, although Philipp says his client had expected the deposit to stay at DBS. Standard Capital PB was expected to deliver the Letter of Credit within 10 days. This didn't happen.
Philipp's client ultimately demanded the money back for non-performance and, Philipp says, was promised the US$1 million back six times in writing over eight months. However, it's still yet to materialise. Lawyers have been engaged and Philipp plans to lodge complaints with NZ authorities.
A private bank above a furniture shop on Auckland's Dominion Road?
There's a Standard Capital PB website here (pictured below), where the company touts private banking services and claims to be a NZ company registered and regulated by the Financial Markets Authority (FMA). The website also gives a NZ financial service provider registration number that appears to be bogus.
An FMA spokeswoman confirmed Standard Capital PB is not licensed or regulated by the FMA. A PB Standard Capital Limited was registered as a NZ financial service provider on October 21, 2012 to provide "wholesale and/or generic financial advisor services", but deregistered on November 19, 2013 before the FMA obtained any oversight powers for the Financial Service Providers Register (FSPR). The FSPR is merely a register, a bit like a phone directory, of NZ financial service providers. The entities on it are not necessarily regulated by NZ authorities.
PB Standard Capital Ltd remains as a NZ registered company having been incorporated on August 8, 2012. Companies Office records show its shareholder as Standard Capital PB Ltd, with a Madrid address given for this company. PB Standard Capital's directors are listed as David Hillary of Hamilton, and Arturo Jose Trujillo Villalobos whose address is shown to be in Madrid.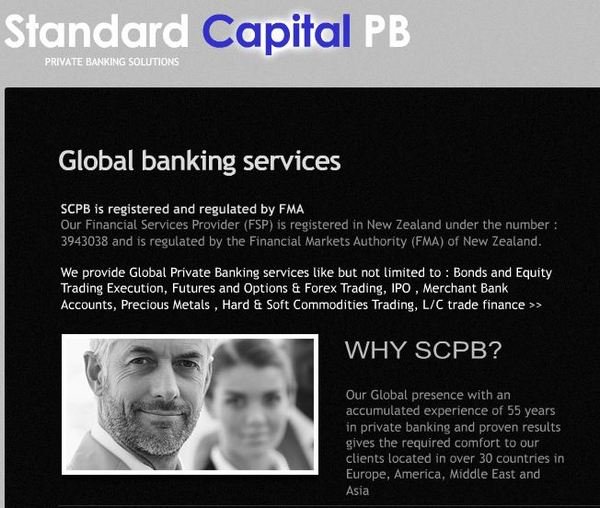 'PB Standard Capital is not active'
A lengthy email exchange interest.co.nz has seen on the missing US$1 million features Hillary who is also director, majority shareholder and managing director of Worldclear Ltd. Locally, Hillary is perhaps best known for his Lost Soul blog where he wrote at length about South Canterbury Finance prior to that company's demise. More recently he has also blogged on this Sue 4 Insult site primarily, he says, about the teaching of Jesus Christ against civil litigation. Hillary was also a registered financial adviser between March 27, 2013 and February 17, 2015.
Hillary maintains the facts are less dramatic than Philipp suggests. Hillary said Standard Capital PB Ltd is a Seychelles incorporated company and a client of Worldclear. His company, Worldclear, processes payments rather than negotiates business deals.
"So it is not appropriate for us to discuss or defend their [Standard Capital PB's] financial or business affairs for which we are not responsible," Hillary said.
He also said PB Standard Capital, the NZ registered company, is not active.
"I resigned as a director [of PB Standard Capital] about six weeks ago. It has never been active. When I was a director it didn't do any business or transactions," said Hillary.
Interest.co.nz has contacted Standard Capital PB CEO Arturo Herrera seeking comment, but he is yet to respond. His name is on correspondence with Philipp's client. We've also attempted to contact Villalobos, also unsuccessfully thus far. The company's website suggests a presence on the first floor of the Target Furniture Building at 93 Dominion Road, Auckland. However a visit there (see picture below) turned up no evidence of Standard Capital PB.
Companies Office records show law firm Laurent Law, which is based at 93 Dominion Road and is described as an immigration specialist, did provide PB Standard Capital with a registered office and address for service for a time. However, Samantha Minny of Laurent Law said her firm has "no dealings" with Standard Capital PB. PB Standard Capital's registered office and address for service is now listed as that of Carter Atmore Law in Auckland's Grafton.
Ivan McIntosh, a director at Carter Atmore Law, said his firm represents PB Standard Capital, the NZ registered company, but not Standard Capital PB, knowing nothing of the latter's activities. McIntosh said he would forward an email from interest.co.nz with questions onto Villalobos.
There is a second Standard Capital PB website here. However, all that's publicly visible is a disclaimer and warning for potential investors.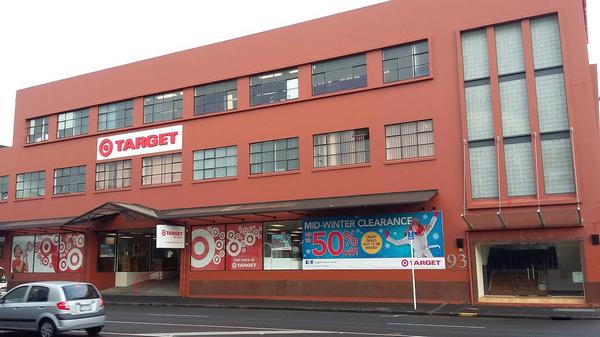 'An undisputed debt'
Hillary, meanwhile, describes the US$1 million sought back by Philipp's client as "an undisputed debt."
"My customer has accepted that they're liable to pay the money back. It's undisputed. They've agreed to pay it back they just haven't paid it back," said Hillary.
"The debtor, Standard Capital PB Limited, lacks sufficient funds to pay the debt. The debt itself is not disputed, and I have seen no indication that the debtor would not pay the debt if the debtor had the capacity to do so. The debtor may and hopefully will generate sufficient funds to pay the debt," Hillary added.
This, however, does beg the question as to what has become of the US$1 million?
For its part DBS Bank won't comment. 
"We are unable to reveal any information to external parties due to [the] banking secrecy act," a DBS representative said.
Michael Magnusson & EBANQ
Meanwhile, Companies Office records show EBANQ Holdings BV of the Seychelles holds a 3.08% stake in Worldclear. EBANQ's CEO is Michael Magnusson. Both Hillary and Magnusson himself confirmed he is the same Michael Magnusson who wrote the book about NZ entitled 'The land without a banking law; How to start a bank with a thousand dollars.' The book featured in this 2014 interest.co.nz article. 
Of Magnusson and his role with Worldclear, Hillary said; "His company's a minority shareholder. He's not a director. He paid for his shares, he's a minority shareholder...he doesn't control the company."
Asked about Standard Capital PB, Magnusson said he has "no interest whatsoever in PB Standard Capital Ltd, whether through shareholding or directorships or in any other way."
He confirmed he does have an interest in EBANQ, which he described as a software development company.
"EBANQ has a minority stake in Worldclear Ltd and recommends its solutions for payment clearing when client's require such features, just as it recommends certain providers for card issuing solutions, web design etc etc," said Magnusson.
Acquitted
Magnusson, originally from Sweden, said although he was accused of money laundering in Panama in 2012 he was acquitted, which interest.co.nz has independently verified.
"I am not the criminal mastermind you want me to be. I have always formed companies, and by forming more than 1,000 financial entities throughout the years, it is inevitable that there will be a rotten egg among all those clients at some point. That does not mean that I condone or facilitate criminal activity. I always exceeded due diligence and KYC [know your customer] requirements imposed by the authorities in all jurisdictions where I formed companies," Magnusson said.
"And just for the record, I am not wanted whether in Panama or elsewhere, nor do I have a criminal record anywhere on earth," added Magnusson.
As for his book Magnusson said it has been "a non-stop banking bestseller on Amazon ever since it was released in 2013." He added that he has had nothing to do with NZ company formations for "quite a few years."
EBANQ Holdings BV's website says; "Our secure state-of-the-art data center in The Netherlands is home to 10,000 physical and virtual servers, hosting more than 500,000 websites and applications, for 57,000 clients from all over the world." And adds; "EBANQ is a trademark and property of EBANQ BV (Netherlands). The EBANQ online banking software app is the property of EBANQ Holdings BV (Seychelles)."
Below is a press release announcing EBANQ's acquisition of a Worldclear shareholding.
EBANQ Holdings BV Acquires 100,000 Shares in Worldclear Ltd 

Worldclear Ltd provides corporates and financial institutions worldwide with access to international payment clearing services. EBANQ Holdings BV provides innovative online banking software solutions to small and medium sized financial institutions. 

HAMILTON, NEW ZEALAND (PRWEB) FEBRUARY 12, 2015 

Worldclear Limited (Worldclear) has announced the sale of 100,000 shares to EBANQ Holdings BV (EBANQ). "We are excited to get EBANQ onboard as investors and partners." says Worldclear founder and New Zealand Financial Adviser David Hillary. "We have clearly identified synergies here, since financial institutions using EBANQ are also potential users of our international payment clearing services." says Hillary. 

"We anticipate software integration opportunities, allowing for automated payment execution features for the users of EBANQ's online banking software, and a long term partnership that will benefit all parties involved." says Michael Magnusson, CEO of EBANQ BV in the Netherlands.

Worldclear offers bank-to-bank wire transfers in any major currency, and settlement accounts in EUR, GBP, JPY, NZD, SGD and USD. "We offer a streamlined application process, while adhering to the highest security standards and AML controls. This puts us in a strong position to service a client segment often overlooked by the major correspondent banks, namely smaller banks and non-bank financial institutions, as well as non-financial corporates with cross border activities," says Hillary. 

Visit http://www.world-clear.com for further information. Please visit http://www.ebanq.com for further information about the EBANQ Online Banking Software.

Worldclear is a New Zealand registered Financial Service Provider (FSP 366526), based in Hamilton.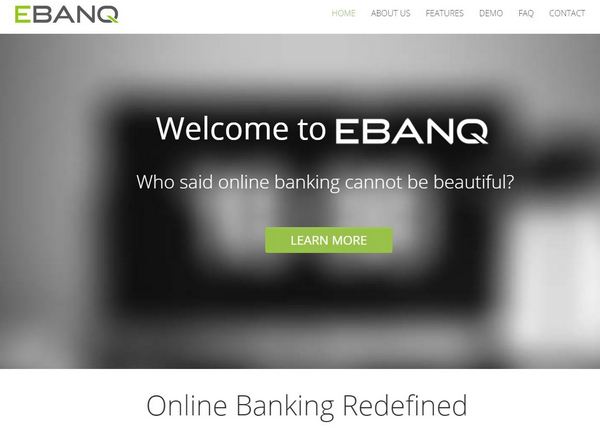 *This article first appeared in our email for paying subscribers. See here for more details and how to subscribe.